By East Side Slim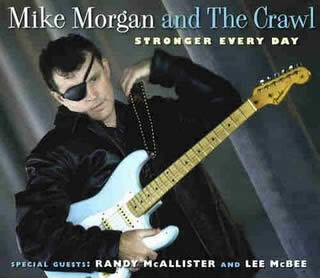 Mike Morgan and The Crawl – Stronger Every Day Severn, 2008

Mike Morgan has been making fine albums for 20 years now, and this latest effort, Stronger Every Day is one of his best. Morgan is a Dallas-bred and based guitarist/singer/songwriter, with influences ranging from Redding and Pickett to Stevie Ray Vaughan and Anson Funderburgh. Morgan's earliest version of The Crawl featured Darrell Nulisch, but this lineup went unrecorded (at least nationally.)

The arrival of Lee McBee around 1990 coincided with an upturn in The Crawl's fortunes, signing to Black Top Records. Between 1990 and 1999 (when Lee McBee left the band for good to pursue his own career) Morgan released 8 albums on Black Top – most with The Crawl, but also an exceptional one-off effort with Jim Suhler. After Black Top's demise, Morgan signed with Severn Records and has now released 3 CDs on the label.

While The Crawl featured a long list of amazing singers over the years (Nulisch, McBee, Chris Whynaught), Morgan has now stepped out front of the band himself (after Lee McBee bowed out of the group.) While Morgan doesn't have the voice of the 3 previously mentioned singers (not too many people do), he does have a very good voice, one that many singers would be happy to possess. Mike also knows when a certain voice will fit a certain song, and toward this end he has enlisted the services of a couple buddies of his – guest McVocals on several songs courtesy of Randy McAllister and Lee McBee. And to show off just a little bit, Mike includes a couple smoking instrumentals for cuttin' loose purposes, don't you know.

The Songs: (all songs and vocals by Mike Morgan unless otherwise specified)
1. All Night Long
--This track is a proto-typical Dallas-styled hard shuffle. This thing kicks hard in all the right places, and Mike's vocals are developing nicely.
2. Where's The Love – (vocals: Randy McAllister)
--This one is Marvin Gaye stopping off at a Texas roadhouse, a great soul tune sung by a fantastic singer (check out Randy McAllister during one of his visit's to B.B.'s Jazz, Blues & Soups in St. Louis). Morgan's guitar work is incisive and biting, and is always appropriate to the song – no unnecessary wanking or noodling.
3. Sweet Angel – (vocals: Lee McBee)
--The one-and-only Mr. Lee McBee sings this one. If he doesn't have one the most heart-rending voices around I don't know who does; you FEEL everything Lee sings. It's always a good day when Morgan and McBee hook up for a project. This song is a slow shuffle, great for belly rubbin' – dig Morgan's killer solo on this track – nasty!

4. You're The One (I'll Miss The Most)
--Another cool shuffle here, with some fine non-credited harmonica work – likely from Lee McBee (who is a phenomenal harp player.) This is a perfect little shuffle, one that is almost impossible to sit still to. Unfortunately, ol' East Side Slim can relate a little too closely to the heartfelt lyric concerning having to let a very special someone go – I'm sure many of you can relate as well.

5. Stronger Every Day – (vocals: Randy McAllister)
--The title track of the CD, this is a slow ballad featuring reverb-laden guitar and an organ bed that gives you feeling of being somewhere off in the distance a bit, definitely capturing a melancholy feel.

6. The Birthday Song
--It's been awhile since we've all been treated to a new "birthday" song, so thanks to Mike for providing us with this one. This is a hard shuffle featuring popping snare and a sharp guitar tone straight out of Dallas.

7. When I Get Back Home – (vocals: Randy McAllister)
--We've got another soulful number here, once again featuring the vocals of Randy McAllister. This song has that great country-soul vibe that was big during the mid to late 1960s.

8. How Much More Time
--And now for something a little different… There's nothing wrong with breaking out of the box a bit, and Mike does that with this song. It's basically a pop-folk tune (with tough edges when the chorus kicks in), and really wouldn't be out of place on a Derek Trucks album at all. Mike Morgan and The Crawl – jam band? Not likely, but this really is a fine song.
9. I Have To Set You Free – (vocals: Randy McAllister)
--One more weeper via the voice of Mr. McAllister. Randy does have a way with this sort of material, as he possesses a very expressive voice and delivery. Mr. Morgan's lyrics here reach deep down into the soul, certainly hitting home with East Side Slim. Hopefully, not too many of you out there have had to live this lyric. On a brighter note (pun intended), Mike's solo turn here is another beautiful example of how powerful a musician can be when playing in an unhurried, tasteful, meaningful fashion.
10. Okie Dokie Stomp – (instrumental; writer: Pluma Davis)
--ah, every Texas-bred guitarist's right-of-passage tune… Mike works it out hard and fine; I'm sure Gatemouth Brown was smiling down on him when this was recorded!
11. I Cried For My Baby – (vocals: Lee McBee)
--Oh, geez…tears came to my eyes while listening to the intro to this one – envision a rich mid-tempo organ bed, with stinging guitar runs with deep (deep!) bends layered on top (that bend at the 15 second mark made me break out a hanky…gorgeous), and then Lee McBee forcefully arrives… This is one of those perfect tunes, folks. Nice… For a reference of sorts, think along the lines of some of Ronnie Earl's '80s stylings, when he worked with Ron Levy and played a little rougher around the edges. Did I mention how good Lee McBee sounds here?
12. 97 Times – (vocals: Randy McAllister)
--This is the final vocal turn from McAllister on the CD, and it's a quicker-tempo tune than his previous appearances, and still very soulful. There's not much Randy sings that doesn't sound soulful. Morgan works the higher-toned register of his guitar here, about as tastefully as anyone you can name, making you listen to him – that's an art too many players haven't learned (or have just plain forgotten.)
13. Funky Thang – (instrumental)
--The title of this instrumental cut sums it up well – funky thang, indeed – but from a roadhouse point of view. Shades of Johnny Moeller's work (Severn house guitarist, solo artist, and with the Fabulous Thunderbirds circa 2010) are evident, mixing up a jazzy feel with a tougher tone and funky grooves. As East Side Slim's daughters are fond of saying, Sweet!
14. Time – (vocals: Lee McBee)
-- This is the final vocal turn from McBee on the album, lending his voice to one last deep Texas shuffle. This reviewer loves the shuffle, especially when played this well. Mike Morgan's inventive – and fun! – guitar fills and solos really push this cut over the top. This is definitely the way to end an album; nice work boys!
The Verdict:
This latest project from Mike Morgan and The Crawl, Stronger Every Day, is another in a long line of fine albums from Mr. Morgan. Mike's vocals are getting more impressive with every CD, and the addition of guest vocalists Randy McAllister and Lee McBee do nothing but make this CD even better. Fans of roadhouse shuffles should enjoy this album, as should fans of Memphis-styled soul. As this CD was actually released in 2008, let's hope that we will be treated to another effort from Mike Morgan soon. OK, let's rate this bad boy. East Side Slim is assigning an STLBluesometer rating of 4.00 to Stronger Every Day.

For more information concerning Mike Morgan and his music, see the following websites:
www.summitartists.com/mikemorgan/about.htm
www.myspace.com/mikemorganandthecrawl
Lee Howland - aka "East Side Slim"