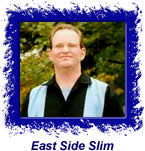 By East Side Slim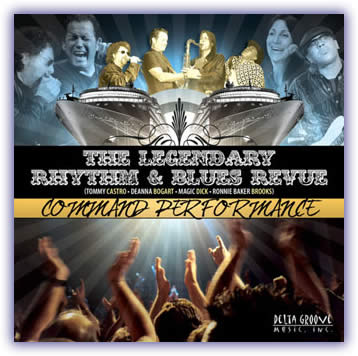 The Legendary Rhythm & Blues Revue – Command Performance – Delta Groove, 2008
The Legendary Rhythm & Blues Revue is an aggregation of blues/roots musicians who first came together while taking part in the October 2007 Legendary Blues Cruise. The core of the group consists of Tommy Castro (guitar), Deanna Bogart (piano, organ and saxophone), Magic Dick (harmonica) and Ronnie Baker Brooks (guitar). They enjoyed playing together so much that the show was taken on the road after they reached shore, and they have toured across North America, and likely overseas, on a semi-regular basis since 2008.


The backing band on the majority of the tracks on the CD is basically the Tommy Castro Band: Keith Crossan, Chris Sandoval and Scot Sutherland, with the addition of Tom Poole on trumpet. Ten tracks on the CD were recorded at various California venues, and 3 tracks were actually recorded on, or during, a Blues Cruise. The 3 Blues Cruise tracks are augmented by several additional musicians, including Curtis Salgado, Marcia Ball, Elvin Bishop and Mike Emerson.

The Songs: (songwriter listed in parenthesis)
1. Can't You See – (Ronnie Baker Brooks)
--The set opener, this rocker kicks off the CD with the "energy knob" turned up to 11, which everyone knows is 1 better than 10. Ronnie Baker Brooks has the vocals here, Deanna Bogart is pounding the keys, and the horn section is blasting away. Ronnie doesn't take a solo turn on guitar until the last minute of the song; this cut is definitely piano and horn driven.
2. I Feel That Old Feeling Coming On – (Scott Nafloyd/Nash Knox)
--Tommy Castro sings on this track, and he does a great job. The tune is a soulful bluesy R&B romper typical of much of Castro's solo work. It has great horn charts, with a horn section made up of 2 saxophones (including Deanna Bogart's), a trumpet and Magic Dick on harmonica.
3. Whammer Jammer – (Juke Joint Jimmy Walden)
--This is the Whammer Jammer made famous by Magic Dick (careful how you say that in a crowd…) in his J. Geils days. This version is a little different, as his harp mic malfunctioned during the live show and he played his harp through his vocal mic. One bonus to that (as mentioned in the liner notes to the CD) is that every sound you hear is produced by Magic Dick, since he wasn't playing through his harp amp at the time. Mr. Salwitz (M.D.'s real surname) can flat out play – Magic Dick on the lickin' stick!

4. Still the Girl in the Band – (Deanna Bogart)
--This song features Deanna Bogart's first vocal turn on the album. It is a mid-tempo tune, more R&B than blues (which is just fine), featuring Deanna's piano playing. It's a long track, too, so it allows a little solo space to some of the other band members as well. Fans of bluesy piano should enjoy this cut very much.

5. See You Hurt No More – (Ronnie Baker Brooks)
--This tune is a rock-blues ballad, sung by Ronnie Baker Brooks. He also plays the guitar here, mostly in a style closer to that of Jimi Hendrix than to more traditional blues players. Ronnie's style, especially when he gets really rock-ish, isn't always my cup of tea, but fans of high-energy guitar will be quite satisfied.

6. If It Ain't Me – (James A. Lane - "Jimmy Rogers")
--Here is the 1st track on this CD actually recorded onboard a Legendary Blues Cruise. It is an old Jimmy Rogers tune, hard-core Chicago blues, featuring Curtis Salgado on both vocals and harp. This is one of the most traditional sounding blues tune on the album, and it sounds very good. According to the liner notes, both Marcia Ball and Deanna Bogart are playing piano, and Mike Emerson is sitting in on B3 organ. Salgado wails on harp, something you rarely get to hear from him on recorded music. His live shows are another story altogether; the man is a wonderful, soulful harp player, and one of the best blues/soul singers working today.

7. If I Had a Nickel – (Tommy Castro/Keith Crossan)
--This tune features the talents of Tommy Castro, and is basically his working band along with the addition of trumpeter Tom Poole. Although uncredited, there is also an organ player here, likely Deanna Bogart. This is a slow-ish, slinky, kinda greasy track, allowing Tommy to work the vocal hard. He even gets to play up a storm on guitar – possibly due to the influence of Ronnie Baker Brooks. Tommy couldn't let himself be outplayed, at least not without a fight.

8. Will It Go Round In Circles – (Billy Preston/Bruce Fisher)
-- Yep, this is the old Billy Preston nugget. Deanna leads the band this time around with her vocals and piano work, and Ronnie Baker Brooks sings the 2nd, or response, vocal. The band keeps things nice and funky, with all the main characters getting a nice solo turn apiece.
9. She's Nineteen Years Old – (McKinley Morganfield)
--Needless to say, this is a hard blues number. As it's an old Muddy Waters chestnut, what else could occur? Magic Dick is featured on harmonica, and Ronnie takes the vocals very deep into Chicago blues. Ronnie takes extended solo runs here, and I enjoyed the tone of his guitar more here than on tracks where he plays more in a Hendrix-inspired style. Baker Brooks sings and plays with enormous energy and emotion throughout the CD.
10. Tell Me Mama – (Walter Jacobs)
--Magic Dick is the featured performer, which makes sense as this is an old Little Walter tune. M.D. even takes the vocal here (the only track on the CD he sings lead on.) The band performs this as a straight old-school blues, with the only histrionics occurring when Magic Dick peels off a couple nice solos. The more harp I hear from Dick, the more I like him.
11. Looking for a Love – (James W. Alexander/Zelda Samuels)
--Looking for a Love… Does anyone remember the J. Geils Band's version of this tune from the '70s? Well, that's what you're getting here. Tommy Castro does his best to do Peter Wolf justice while he sings, and Magic Dick is blowing harp all over the place. Deanna Bogart sings a verse, too, but it isn't raw enough to do justice to he frenzied tempos and energy of the song. Castro sings the majority of the tune, and carries if off well.
12. High on the Hog – (Tommy Castro/Dennis Walker)
--Tracks 12 and 13 were both recorded live on the Legendary Blues Cruise. This tune, High on the Hog, has a definite Elvin Bishop feel, or at least it does to me. It's just got that funky struttin' rhythm and good-timey jivey feel a lot of Elvin's tunes do. Just to cement the tie, Elvin played guitar on the tune, being credited with the 3rd solo – his solo comes after Magic Dick's solo, so it is easy to find; Tommy even shouts him out. This is a fun tune; turn the volume up LOUD and let your body get on up and move around! Don't turn the tune off too early, as Deanna Bogart and Mike Emerson engage in some keyboard wars just after the 6 minute mark of the song.
13. Sea Cruise – (Huey "Piano" Smith)
--What would a blues cruise-inspired CD be without a song like Sea Cruise. It's a natural fit for sure. This is a rollicking version of the song. For something a little different, Marcia Ball takes the lead vocal and plays the piano, and Curtis Salgado is supplying background vocals. It's nice to hear Marcia playing and singing this hard; she's smokin'!

The Verdict:
Command Performance is a nice document of the recent tours conducted by The Legendary Rhythm & Blues Revue. The tracks on the album were recorded at several noted California music venues, as well as on the actual Legendary Blues Cruise. The primary members of the "group", Tommy Castro, Deanna Bogart and Ronnie Baker Brooks, are all well known for their own high intensity and incredibly entertaining live shows when leading their own bands, and they bring that love of performing to the songs heard here. Magic Dick, the 4th primary member of the group, isn't widely know for leading his own band, but he was an integral part of the J Geils band, especially in their bluesier period. He sounds great on this CD; it would not be the same affair without his harp work. For those harp fans out there not familiar with the Magic of Dick, listen up! While this CD certainly can't compete with actually sailing on a Legendary Blues Cruise, is does give you a taste of what you might experience musically. Let's rate this thing - STLBluesometer rating of 3.50.
Lee Howland - aka "East Side Slim"