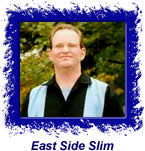 By East Side Slim
Jim Liban Blues Trio – Hot Tongue and Cold Shoulder; 2004
Romie Records/Jim Liban
This CD is the work of three exceptional blues musicians from the Milwaukee area. The trio consists of Jim Liban on harp, vocals and baritone guitar; Jim Schutte on drums; and Perry Weber on guitar and vocals. Simply stated, these fellas are the real deal. Jim Liban is one of the top blues harp players in the world, but woefully under recognized, and is a soulful singer as well. Schutte and Weber have exceptionally strong blues pedigrees (as does Liban), which can be seen below:
Jim Schutte:
He has been a professional drummer with internationally renowned Blues artists from 1972 – Present. Professional recordings include "I Smell a Rat" with Lester Davenport and Jimmy Dawkins, "The American Living Blues Festival Live in Europe" with a host of blues legends, "Hot Wire '81" with Jimmy Dawkins, "Beauty Isn't Always Visual", with Bryan Lee, "Serious" with Luther Allison, Wound Up Tight with Lonnie Brooks and Johnny Winter, and "Bayou Lightening Strikes Again" with Lonnie Brooks. In addition, taught Blues workshops in France for the French government organization, The Federation National of Activities Musical.
Perry Weber:
Currently fronts Perry Weber & The DeVilles, formed in early 2007. The band plays a mix of Blues/Roots/Americana music. Before forming The DeVilles, the members of the group had toured and/or recorded with such luminaries as: Buddy Guy, James Cotton, Jr. Wells, Bryan Lee, Hubert Sumlin, Kenny Wayne Shepard, Jim Liban, and Nick Moss....just to name a few!!

THE SONGS:

1. All Corned Up (Liban) – This instrumental tune has a late night, after hours feel. Incredible tone on the harp! A woozy, late night tip of the hat to the masters Walter – Little Walter and Walter Horton.
2. Hot Tongue and Cold Shoulder (Weber) – This song is written and sung by the group's guitarist, Perry Weber. It has a tasty, stripped down Jr. Watson feel, with clever lyrics. It's a very nice track. Liban plays baritone guitar on this song – no harp.

3. I've Got a Job (Liban) – Slow roller of a track. HUGE harp tone, tasteful guitar and barebones drum work. I like this one a lot! You can taste the sawdust on the floor…
4. Maxwell Street (Liban) – Juke joint-style tribute to what you would've heard on Maxwell Street in the 1950s. Very raw & very cool!
5. I Say What I Mean (Liban) – Clever loping shuffle, in the style of the songs Willie Dixon wrote for Howlin' Wolf. It's got a little bit of a menacing feel to it. That's OK, as this IS the blues!
6. Someday Baby (Liban) – Similar in feel to "Worried Life Blues". It's a 1950s-style slow blues. It's got great acoustic harp & vocals, with spare backing of guitar and drums.
7. Big Fat Woman (Weber) – Definitely NOT P/C, but lyrically it's still a lot of fun, P/C or not. Shoot, we all need to lighten up a little anyway!! Big Women out there, Mr. Weber's lookin' for 'ya! Especially if you wear stretch pants (listen to the song.) The tune is a nice shuffle that features Weber's guitar – no harp on this one either.
8. If You Think (Liban) – This one has a great swamp blues feel tied to a Reed/Taylor rhythm. Close your eyes and you might be able to hear Lazy Lester kickin' this one 40 years ago, although Lester never played harp like Jim Liban! Great gobs of greasy harp in this one folks- WOW!
9. I'm a Selfish Man (Liban) – A stylistic tribute to Rice Miller. Liban's vocals here are reminiscent of Rick Estrin, the harp tone, too. This song gets the Texas double shuffle treatment. Liban work the vocal very hard. Jim and Rick Estrin do the Sonny Boy (Rice Miller) material about as well as anyone out there.
10. You Can't Hurt Me Anymore (Liban) – A nifty little rock'n'roll track, sounding something like George Bedard & The Kingpins would perform (check Bedard's work out – you won't be disappointed.) This tune has an old T-Birds feel, but without the T-Bird grease. That came courtesy of folks like Keith Ferguson and Preston Hubbard.
11. 145 Blues (Liban) – The CD ends as it began, with a late night groovin' instrumental track. This is a set-closing harp showcase for Liban. It reminds me very much of Walter Horton in tone – he was the master of tone. Walter liked to play instrumentals where he played the harp "verses" over and over, each time in different styles and using different tricks. That's what Jim Liban has done with this song.

THE CONCLUSION?
The entire CD has a loose, stripped down juke joint vibe - just guitar, drums, harp and vocals on most tracks. No tricks or gimmicks here, folks. Shoot, the closest thing present to an electric bass guitar (sorry Cornbread) is a baritone guitar. Jim Liban's harp tone is HUGE, both amplified and acoustic and his vocals are very good. The guitar work of Perry Weber is of the Eddie Taylor less-is-more style (Tasty!) and the drums drive the songs along without overpowering them. A true blues ensemble sound in the spirit of the master of Maxwell Street. Let's give it a 4.5 on the blues-o-meter (that's 9 on a 10 scale – not bad at all!)