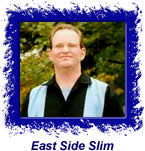 By East Side Slim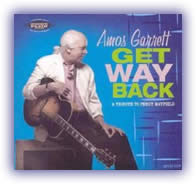 Amos Garrett – Get Way Back: A Tribute to Percy Mayfield
Stony Plain Records, 2008

"Get Way Back" is a tribute album that Mr. Garrett has been wishing to make for many years. Percy Mayfield is a personal favorite of Amos', and is Garrett's primary influence as a singer. For those of you who don't know, Percy Mayfield very well may have been the finest songwriter of the classic R&B era, from the late 1940s to well into the 1960s – he isn't referred to as the "Poet Laureate of the Blues" for nothing! Much of Percy's work, especially lyrically, tended to be dark, with much of that being attributable to a horrific automobile accident that left Mayfield's face severely disfigured. Prior to this accident his career was sky-rocketing due to his musical gifts and matinee-idol good looks.

Amos Garrett is not a high-energy performer and won't be "wowing" you with flash and power. He is instead a fantastic player who is a master of understated guitar licks and nuances, both of which take decades to perfect. The man knows how to play the spaces in-between the notes.

Garrett is a Detroit native (born in 1941), whose family moved to Canada when he was 4 years old. He has been playing professionally for more than 40 years now. He began the usual way, by playing small clubs (in Montreal and in Toronto), eventually become a highly in-demand session player in Canada, as well as in California during time he spent living there.

Over his lengthy career he has recorded with more than 150 artists. These artists are wide-ranging stylistically, and include (but are not limited to) the following artists: Great Speckled Bird,
Anne Murray, Bobby Charles, Jerry Garcia, Bonnie Raitt, Todd Rundgren, Jesse Winchester, Eric Von Schmidt, Paul Butterfield's Better Days (Amos was a member of the band), Maria Muldaur (her bandleader for 6 years), John Sebastian, Emmylou Harris, Geoff Muldaur, Rodney Crowell, John Hartford, Elvin Bishop, Shel Silverstein, Steve Goodman, Doug Sahm & Gene Taylor (The Return of the Formerly Brothers – a Juno Award winner in 1989), Jo-El Sonnier, Gatemouth Brown, Mary Flower, Marty Grebb and Stevie Wonder. All in all, that is an extremely impressive list!

Garrett has long been recording (since the late 1970s) with Stony Plain Records, which is based out of Edmonton, Alberta, Canada. "Get Way Back" is the 10th release from Amos on the label, which is headed by Holger Petersen – check out the Stony Plain talent roster; it's amazing. If all that isn't enough (and it really should be) Amos has been the leader of the house band at the highly respected Edmonton Folk Festival for approximately 20 years.

The Songs:
1. My Jug and I: Talk about your dark songs – "got up this morning/got me a jug and lay back down"… This is a slow blues that rides a gentle swing set up by the rhythm section. The song has very nice horn charts and the organ gurgles along prominently in the mix.

2. Pretty Eyed Baby: This is another slow tune – a late-night love song - with poetic lyrics. Once again organ and horns are featured prominently, and Amos' beautiful guitar work is really heard for the 1st time. His chording is impeccable and his solo run here is dead solid perfect.

3. Stranger In My Own Hometown: This is probably one of Percy Mayfield's most well-known songs. Amos and his band rearrange the tune here, bringing the tempo up a bit behind a double-shuffling drum pattern. Amos' digs into his guitar solos a little more physically here and there's some very cool sax work – including the baritone (what a great instrument!) This was a great change of pace after the first two slower songs on the CD.

4. Never Say Naw: We've got a definite melancholy mood in this song, with the lyric describing a man begging his woman to stop treating him so poorly – "stop being so mean to me…" This song is all late-night vibe; listen to the horns trailing off and the guitar solo Garrett runs off about 2 ½ minutes into the song. It's all feel…

5. The Country: This is a poppy R&B tune that gently swings along Amos' guitar chords. If I hadn't mentioned it before, this CD sounds amazing! - Kudos to the engineer and mixer. Mr. Garrett plays some immaculate solos in this song, along the lines of something you might hear Chet Atkins play. This song is much lighter in mood than many of Mayfield's tunes.

6. To Claim It's Love: This is a love ballad, sung in a very deep baritone by Amos. I didn't care as much for his vocal stylizing on this track, but the song itself is quite pretty. The guitar work here is gorgeous, just about atoning for the vocal – this song would be stunning if performed as an instrumental track, as it has a beautiful melody.

7. River's Invitation: This is likely THE single most famous song written by Percy Mayfield, and it's been covered by countless blues and R&B artists over the years – including an amazing version by James Cotton back in the '60s. Cephas & Wiggins have also recorded a very nice version of the song, but very different from Cotton's version. This is just an example of how great a songwriter Percy was, in that artists from such disparate styles can arrange his songs to fit their personal styles yet retain the essence of Mayfield's original. Garrett's version is performed in a slightly funky, almost second-line style, very heavy on the horns. It all works, especially Amos' guitar lines. His solo here is "dirtied" up a bit and played with a little more bite than many of the solos heard on the CD.

8. Fading Love: We've got another ballad on tap here. This song falls into similar territory as "To Claim It's Love", although this song swings more. Once again there plenty of beautiful guitar work, as well as very nice emotion-filled saxophone work. This would be another track that would work wonderfully as an instrumental due to its strong melody.

9. Get Way Back: This song is also known as "No Romance Without Finance". It's an up-tempo swinger, solidly in the style of late '40s Los Angeles-based R&B. Mix that with a bit of Texas-swing guitar, and you'll have a pretty good idea how this song sounds. Actually, it sounds pretty darn good!

10. Ha Ha In The Daytime: This is another of Mayfield's dark tunes, but it's got a certain feel, a slight New Orleans second-line swing, that really allows it to touch your soul. The deep-toned horn charts impart a sorrow to the tune, and the organ underlying the song drives the melancholy mood home. Don't make the mistake of thinking the tune is morose, as it is nothing of the sort. In fact, the melody is beautiful and the performance here is breathtaking.

11. Lost Mind: This is the set-closer, and it's definitely dark. Shoot, the lyric tells of how the singer lost his mind trying to love his "angel", all the while she's been acting more like a "devil", at least toward him. The song swings along gently, as do most of them on this album, with that ultra-cool, late-'40s early-'50s swing style I really enjoy. Men, take this song's warning to heart: that chick may look to be exciting and sexy, but getting tangled in her web will leave you broken and loveless. Find a girl you can take home to your Mom!

The Verdict:
Though Amos Garrett is noted as a guitar-players guitar player, "Get Way Back: A Tribute to Percy Mayfield" is much more an interpretive vocal album than a guitar showcase - but that said, the guitar work is absolutely beautiful: so clean, so soulful, so perfect.

Amos' deep voice is perfect for interpreting Mayfield's songs, as it brings forward the emotion in Percy's tunes, the loss and pain. Garrett's voice is a very deep baritone – he can harmonize with the baritone sax, and very few singers can do that.

This CD is one of those albums that will grow on you - this is a 3rd listen CD. The 1st time through it's OK, but a little on the somber side. The 2nd time, you'll listen past the vocals and begin to hear how good the musicianship is and how great the song melodies are. Upon the 3rd listen it all comes together - you're thinking this is a damn good album! STLBluesometer = 4.0 - great songs, great musicianship, great sound quality.

Lee Howland, aka "East Side Slim"