By East Side Slim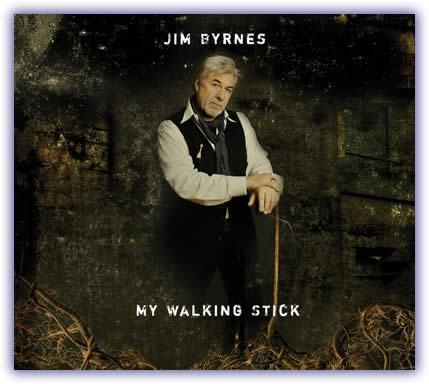 Jim Byrnes is a multi-talented artist, actively working as a musician, singer and actor (film, television and voice-actor). Byrnes was born in St. Louis, MO in 1948, and by the age of 5 had already begun piano lessons. By the time he was in high school, he had performed in the Shakespeare in the Park program and had begun playing guitar. His interested in acting was definitely aroused, which he pursued by studying acting at St. Louis University and at Boston University.

The Vietnam War beckoned, causing Jim to be drafted in the late '60s. He returned from duty at the start of the decade, moving to Vancouver, BC, around 1970, when he also began getting back into acting. In the early '70s, Jim was involved in a serious traffic accident that cost him both legs above the knees – you will see him with his walking stick. During and after his recovery from his injuries, Jim focused his attention on his music for awhile, which led to the release of his 1st album – Burning - around 1980. All told, Jim has releases 6 albums of his music, with 3 (each on the Black Hen label) coming onto the scene since 2004.

Byrnes' musical releases took somewhat of a backseat to his acting career starting in the late '80s. He was extremely busy with television, film, and voice work (much work in the field of voices for animated characters) from the late '80s through the '90s, including four years as a regular character on the CBS series Wiseguy (starting in 1987) and several years spent on various incarnations of The Highlander series. Jim also starred in his own short-lived variety show on Canadian television called the Jim Byrnes Show.

Jim Byrnes is extremely well regarded by the Canadian music community (as well as by Americans who are fortunate enough to be familiar with his music, such as myself.) Byrnes has won the JUNO Award (the Canadian version of our Grammy's) for Blues Album of the Year twice: for That River in 1996 and for House of Refuge in 2007. In addition to those honors, he was also voted the Male Vocalist of the Year at the Maple Blues Awards (Canadian version of our Blues Music Awards – formerly the Handy Awards) in 2007.
I mentioned earlier that Jim is a native of St. Louis. Regarding that, it's not unheard of to catch him hanging out at B.B.'s Jazz, Blues & Soups on the occasions when he is in St. Louis, catching up with old friends and soaking up some great blues music. I've seen him and met him there (I'm quite sure doesn't remember me), and maybe someday one of you will be fortunate to as well.

The Songs:

1. Ol' Rattler – (Jim Byrnes)
--This up-tempo cut kicks-off the CD in fine fashion. It's one of those tunes that sound like an out of control locomotive high-ballin' toward the end of the line. Jim supplies very tough slide guitar and well-known drummer Stephen Hodges drives this thing all the way home.

2. Walk On Boy – (Mel Tillis / Wayne P. Walker)
--This song would not be out of place on a Guy Forsyth album. It's hard-edged, has tough slide courtesy of Steve Dawson (who plays most of the guitars heard on this CD), various percussive effects, and rhythm banjo – yes, banjo. The song reminds me of a modernized, electrified take on old folk/spiritual tunes such as John Henry.

3. My Walking Stick – (Irving Berlin)
--This tune is very cool…it's set to a carnivalesque, hot jazz vibe, just a little sinister, and the male background singers really take the song to another level. It is an ode of sorts to Jim's own walking stick, which he uses to help himself get around.

4. Looking For A Love – (JW Alexander / Zelda Samuels)
--This song mines very different territory. Take some Brill Building pop and merge it with hard-edged bluesy Americana and you'll have an idea of what this cut sounds like.

5. Ophelia – (Robbie Robertson)
--This would be the 1st slow-tune on the CD, if the bridge didn't pick up the tempo and mood so much; it is really like 2 songs in 1. Banjo is utilized to carry the melody and violin is used to great effect to set the various moods.

6. Talk In Circles – (Jim Byrnes / Steve Dawson)
--This is a bluesy Americana (Canadiana?) cut, featuring tasty slide guitar as well as several other guitars (and other instruments) layered together - wall of sound for sure.

7. Three Shots – (Suzie Ungerleider)
--This song is unusual hybrid of styles for sure; sort of a combination of Irish folk music and country blues, and is very atmospheric. Also, it is likely the most original take on the traditional Stack-o-Lee/Stagger Lee theme you have ever heard.

8. Lonely Blue Boy (Danny's Song) – (Benjamin Weisman / Fred Wise)
--This one in an old country-western honky-tonker with shades of doo wop, merged with the eclectic Americana style heard throughout the CD. Jim uses his world-weary voice to great effect here, and Steve Dawson's pedal steel work is extremely tasty. That man (Steve) must play anything with strings or (piano) keys on it – yep, I'm jealous.

9. Drown In My Own Tears – (Henry Glover; check his bio on Wikipedia)
--Yes, this is THAT Drown In My Own Tears. The guys take it nice and slow, with slide and organ used to wonderful effect to set the mood and to build dynamics. This sounds great and is an unusual arrangement of the tune. I think Bennie Smith would have loved this arrangement.

10. I'm Living Off The Love You Give – (Homer Banks / Raymond Earl Jackson)
--We're bringing the tempo back up here. This is a style not unlike something you might hear from Delbert McClinton. It rides a nice mid-tempo groove and features more of that tasty slide guitar from Steve Dawson.

11. What Are They Doing In Heaven Today – (Washington Phillips; arranged by Steve Dawson)
--This song is beautiful…absolutely gorgeous. It is a re-arranged old-time spiritual, and once again Byrnes' world-weary voice rings every bit of emotion from the song. The male background singers, organ work and mandolin don't hurt either.

12. I Want My Crown – (Traditional, arranged by Steve Dawson)
--Here is another spiritual track, but this one is an up-tempo, joyous, celebratory romp. I could see Marty Stuart or some other bluegrass band tearing into this one, although I don't think that they could improve on this track right here. Good God a'mighty…this sounds so nice you better go ahead and play it twice!

13. One Life (Creole Poetry) – (Jim Byrnes / Steve Dawson)
--Well, it had to happen eventually… the CD had to come to an end. This track concludes the CD with a Creole-flavored love song. It is not slow, soft and maudlin, though. It does have that haunted feel heard throughout much of the CD.

The Verdict:

Jim Byrnes and Steve Dawson have put together a fine CD with My Walking Stick. This may be his finest album yet, which is saying a lot as he's won the JUNO Blues Album of the Year twice already. There must be something in the water in the Great White North that leads to great collaborative musical teams, as Paul Reddick/Colin Linden and Carlos Del Junco/Kevin Breit seem to have similar approaches and results – those results being very fine music. You wouldn't call My Walking Stick a blues CD as such, but what it is is a wonderfully eclectic album, one with a spiritual feel running throughout, even on non-religious tunes. This very strong album consists of fantastic slide guitar work, a premier drummer, sympathetic musicians and wonderful songs with amazing, unexpected arrangements. The louder you listen to this CD the better in order to take in all the layers and little touches that Byrnes and Dawson have put into the production and mix. STLBluesometer rating is 4.50. For more information about Jim Byrnes, see the following websites: Official Website www.jimbyrnes.org | MySpace www.myspace.com/jimbyrnes

Lee Howland - aka "East Side Slim"