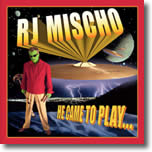 RJ Mischo - He Came To Play
RJ Mischo's latest CD "He Came to Play" is his finest work to date. I have always liked blues harmonica but mostly the west coast cats. RJ falls into the category with other favorites of mine including Rick Estrin (Little Charlie and the Nightcats), Mark Hummel, and Gary Smith.
When you first look at the album cover you may think its something from outer space...well RJ's playing is out of this world. He has several fine musicians on this album helping spice it up including Jude Core (for drummer for Little Charlie) and Frank Goldwasser (Paris Slim). RJ does some of the best rendition work of Sonny Boy and Little Walter that I have heard.
Seeing him live and in person is the way to go with this cat. His energy and humor are top-notch. He also has some first-rate musicians backing him up while on tour. Go see him and you will not be disappointed. Like I always say-go out and see it then buy the CD!!!
1. The Train (Mr. Bo) - nice jumpy opener

2. 20% Alcohol (JB Hutto) - classic blues

3. Mojo Lounge - great tune about a little blues club near San Francisco

4. The Switch - fast tempo w/ cool shakers in the background

5. Telephone Driver (Hang Up and Drive) - my favorite on the disc maybe because it's true or maybe due to my job...I dig it! The only thing I wonder is how a blues man can afford a Hummer?

6. The Pull - nice funky instrumental

7. Bluebird Blues (Sonny Boy #1) - my second favorite; down home blues all the way!

8. Please Help - fast boogie

9. Hippie's Playground (James Dawkins)

10. The Waddle - fun instrumental

11. RJ Come and Get It - Acoustic harp/drum tune. Sneaky blues lyrics

12. I Came to Play

13. Jokerhead - insanely funny laugh on this intriguing track

14. Uh Huh - awesome instrumental to close out the disc
RJ also has a new revamped website! Check it out at www.rjblues.com