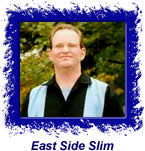 By East Side Slim
Webb Wilder and the Beatnecks – Born To Be Wilder
{Blind Pig Records, 2008}
Not knowing much about Mr. Wilder, I decided that a little research was in order. As it turns out he's an interesting cat. Born John Webb McMurray, and a native of Hattiesburg, Mississippi, Wilder churns out a brand of music he calls "Swampedelic", mixing elements of country, surf guitar and rock & roll, and a little bit of the blues. After listening to this CD I think another good definition of Webb's sound could be southern-fried guitar-driven power-pop. Although some of Webb's songs border on gimmickry, they are often humorous and the band always takes their playing seriously. The band can rock pretty hard, too hard to be accepted by the country crowd, and there's enough of a twang in the music that it could alienate mainstream rock fans. Taken on its' own merits, the music is a lot of fun, and likely goes over best at a live gig. Speaking of live gigs, you'll often hear Wilder run off stream-of-consciousness dialogs that deal with subjects such as motor homes, voodoo, television and other aspects of pop culture.

Born To Be Wilder was originally released as the CD portion of a DVD/CD set titled Tough It Out! – Live In Concert on Landslide Records in 2006. The live show that the material for the CD was recorded at took place in Birmingham, Alabama, in 2005.
The Songs:

1. Tough It Out:
This is a straight-ahead by-the-numbers rockin' tune. It's fine, but not extremely memorable.

2. Stay Out Of Automobiles:
This is a nice little rocker, and a cover of an old Jerry McCain tune. It's got some cool slide work throughout and a nice, tough feel.

3. Baby Please Don't Go:
Now we're cookin' – with gas! The band takes this old blues standard (attributed to Big Joe Williams, but who really knows where it started) and revs it WAY up. Two word suffice – cool guitars.

4. You Might Be Lonely For A Reason:
This song has much more of a Pop sounds, with jangly guitars and R.E.M.-like vocals. It's got a nice little bridge featuring the drums, but it's much to short. The song gets a little too cute for me, especially the spoken word segment (which is thankfully short.)

5. One Taste Of The Bait:
We're into a hard power-pop mode here, with grittier guitars brought back into the mix.

6. Human Cannonball:
This one is definitely hard-edged rock 'n' roll. Excepting the vocal, this song is closer to '70s-era hard rock than anything else.

7. If You're Looking For A Fool:
This is a nice country-tinged rocker with spacey slide guitar fills. I really like this song, and it's a nice change of pace to the set played so far.

8. Sputnik:
This is a cool instrumental track, reminiscent of the tracks hitting the airwaves during the early and mid '60s guitar instrumental craze. Nicely done!

9. Big Time:
We've got another power-pop tune here. It's a catchy song, and the guitar solos are a lot of fun. It's simply good old feel-good music.

10. No Great Shakes:
This is also a power-pop tune, but it didn't grab me like some of the others did. It's nice, nothing wrong with it, it just didn't connect with me. The song does contain some nice slide guitar work.

11. Miss Missy From Ol' Hong Kong:
We've got another power-pop song here. It's O.K., with a clever lyric that you may (or may not) get into – it gets a little kitschy.

12. Poolside:
A fun little rocker, good for a summer drive with the top down.

13. How Long Can She Last:
This is another of the rockin' power-pop tunes that fill this CD. They tend to kind of run together, as there are few tempo or stylistic shifts among the songs.

14. Louisiana Hannah:
Another power-popper. I enjoyed this tune much more than the last couple tracks, as the guitar parts are very cool.

15. I Just Had To Laugh:
The set closer, and possibly the best tune on the CD. This is classic power-pop with a slight country twang. Great tune!
The Verdict:
Born To Be Wilder is Webb Wilder's 1st release on Blind Pig. For some reason this particular recording has a somewhat sterile feel; you have to strain at times to tell it was taken from a live show. It really sounds much more like a studio recording.
For those of you looking for blues content, you won't really find it here. There are a couple of covers of old blues tunes, but they are "rocked up" to a large degree. There are a handful of songs here that I like very much, but there is also a certain sameness to many of the tracks. If you are already a fan of Webb's, you'll likely enjoy this CD. If you're not already a fan, this CD might not be strong enough to make you one. Due to lack of blues content and that sameness of songs, I'm going to go with a score of 3.0 on the STLBluesometer.
Lee Howland, aka "East Side Slim"