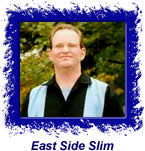 By East Side Slim
The Wood Brothers – Loaded
Blue Note/EMI, 2008

The Wood Brothers consists of two brothers, Oliver and Chris. Oliver sings, well, vocalizes might be a better word, and plays various guitars while Chris plays bass – incredibly well – and sings background vocals for the most part. This is really a side project of sorts for the brothers, as each is a member of other bands. Chris is 1/3 of Medeski, Martin and Wood. John Medeski produced this CD and plays assorted keyboards here when they were required. Billy Martin, the drummer for MM&W, sits on the drum chair for a couple of tracks on Loaded. Brother Oliver Wood fronts the blues-funk-jam band King Johnson out of the Atlanta area. I found a good description (in the All Music Guide) of the sound The Wood Brothers attain, calling this sound "a roots-inflected blend of blues, folk and rock." It's true, and it's very good. The sound tends to be a blend of gentle, backwoods, atmospheric, spiritual, and gutsy. You don't believe me? Then on to the songs…

The Songs: (all songs written by The Wood Brothers unless otherwise noted)

1. Loving Arms: -- This is a sweet song about how much a man can miss his special lady. You can sympathize with musicians, many of whom lead vagabond lifestyles, when you listen to the world weary voice of Oliver Wood singing this one.

2. Postcards From Hell: -- You might think I'm reaching, but this song makes me think of what Paul Simon might have sounded like had a chosen a more bluesy or rootsy direction rather than the poppy route he took (not including his Graceland lp that featured Ladysmith Black Mambazo, which remains a favorite of mine to this day.) It's very gentle yet ingratiates its meaning deep into your mind. Oliver's raspy voice and distorted guitar roughen this song up well, helping it to appeal to blues-oriented listeners.

3. Pray Enough: -- There's a bit of a jam-band vibe to this tune, but all in a good way. It's slow and spiritual and oozes soul. Chris Wood's acoustic bass work here is outstanding. It's hard to play this funky when you play this laidback, but Chris nails it!

4. Loaded: -- This song works a slow, melancholy mood, rooted around Oliver's vocals, both in tone and lyrical content. Oliver makes you FEEL what he's singing about. There's also some very nice steel guitar work here courtesy of Darrick (Darick?) Campbell. Campbell has risen to fame (well, semi-fame anyway) via his Sacred Steel work with the Campbell Brothers gospel group. Sacred Steel is the Holiness Church-based music from which Robert Randolph sprung forth. Randolph has worked with members of Medeski, Martin & Wood (Chris Wood), and all of these folks have become popular with the jam band crowd.

5. Walk Away: -- This one really reminds me of something Paul Simon could have put together. Don't let that scare you away if you don't appreciate his music, as this song is much rougher around the edges than Simon's work. The song is up-tempo (at least compared to the others songs on this CD), and the bass work alone is worth the price of admission.

6. Don't Look Back: (Chris Wood) -- This is NOT the old Boston song of the same name. This song is probably the most folk-oriented tune on the CD. It's a very quiet tune, with Oliver singing in duet with the female vocalist Frazey Ford. The instrumental backdrop is acoustic guitar, with acoustic bass being added in as the song progresses. It's a very beautiful song, one which I like very much – and that's coming from a man who is not a folk music fan as a rule.

7. Twisted: -- This song brings on a swampy-southern vibe, which rides the bass work of Chris Wood all the way home. What a cool bass line in this song! There's splashes of distorted electric guitar thrown around the verses, which the choruses kicking it up a little bit.

8. Fall Too Fast: -- This is a slow pop song that includes a small string section. It all works very well, with a very cool contrast going on between Oliver's rough-edged voice and the sweetness of the strings. Once again, Chris' bass playing is featured prominently – and with good reason. The man is a quiet monster on acoustic bass!

9. Angel: (Jimi Hendrix) -- Yep, it's a cover of Jimi Hendrix' song Angel. But it's no ordinary cover, as The Wood Brothers turn the song upside down and play it as a very cool, syncopated reggae tune, although one with a little darker edge than usual. There's also a guest vocalist on board in the form of the soulful young singer Amos Lee. You'll recognize some of the instrumental stylings Hendrix was famous for as the Wood's left a few of them relatively intact, in a fun way.

10. Buckets of Rain: (Bob Dylan) --This song is a mellow folksy groover. I know, that sounds almost oxymoronic. But it's true. Once again, The Wood Brothers manage to strip a song bare, all the while keeping it sounding gentle and soulful without ever becoming maudlin. Very nice.

11. Make Me Down A Pallet On Your Floor: (traditional) --The guys bring the energy level way up on this one. They take this old traditional tune and add all kinds of bells and whistles (literally), along with adding another dose of Darrick Campbell's steel guitar. There's a special secret instrument in the mix, too, but I'm not going to spoil the surprise for you. I will say it kind of rhymes with a certain city located in western Michigan. You figure it out!

12. Still Close: (Oliver Wood) --Well, that brings us to the set closer. This one features the atmospheric Wurlitzer work of John Medeski and the deep, mournful slide work of Oliver Wood. This is a slow tune, a love song directed to a departed loved one, most likely Renate Wood. She was the Woods' mother, who passed away in 2007, and the album is dedicated to her. It's very spiritual and quite beautiful.

The Verdict:
The verdict is…I like this CD a very much. If you enjoy many different shading of music, blends of styles that are all rooted in a bluesy spiritual base, then this album will bring much satisfaction to the listener. I stated it at the beginning of the review: I like this CD a lot. In fact, I recommend it highly. It's not entirely unlike something you would hear from a band like JJ Grey & Mofro, but to put in it in more bluesy terms, The Wood Brothers are to Mississippi John Hurt as Mofro is to Son House. There is a gentleness and spirituality to these songs that just can't be denied and that will bring joy to all who give this album – Loaded – a listen. STLBluesometer rating? Although not pure blues by any means, this music is so good that I have to give it a 4.0. Lee Howland, aka "East Side Slim"