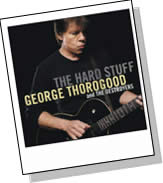 George Thorogood and The Destroyers –
The Hard Stuff
(2006 – Eagle Rock)
George Thorogood and The Destroyers gives us a healthy dose of traditional, bad to the bone Thorogood on these fifteen hard hittin', hard-rockin' blues songs.
This new album sees him honing his talent even further on new self-penned tracks such as "The Hard Stuff" and "Any Town USA", and a selection of classic covers such as John Lee Hooker's "Huckle Up Baby" and Fats Domino's "Hello Josephine".
TRACK LISTING
HARD STUFF
HELLO JOSEPHINE
MOVING
I GOT MY EYES ON YOU
I DIDN'T KNOW
ANY TOWN USA
LITTLE RAIN
COOL IT
LOVE DOCTOR
DYNAFLOW BLUES
ROCK PARTY
DRIFTER'S ESCAPE
GIVE ME BACK MY WIG
TAKING CARE OF BUSINESS
HUCKLE UP BABY
If you like good music, get this CD, you'll be glad you did, make it better sit and listen with one bourbon, one scotch and one beer. It's good times and good listenin' for all. This ain't your wimpy old man blues, it's in your face, down-and-dirty blues with a lot of intensity, I like it that way.