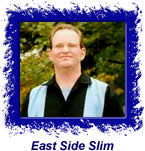 By East Side Slim
Steve Howell – My Mind Gets To Ramblin'
Out of the Past Records, 2008
I wasn't familiar with Steve Howell's work (other than seeing print adds and occasional reviews) prior to putting together my review of this release. Well, listening to this album proved to be a complete pleasure. Steve is a talented finger picking-styled guitar player, utilizing acoustic guitars here as well as Resophonic guitars. His blues/roots influences range from Mississippi John Hurt and Blind Willie McTell to Blind Willie Johnson, Rev. Robert Wilkins, and Robert Johnson (of course.) That's just a short list, by the way. Research about Steve's music shows him to have quite eclectic tastes, having played many music styles professionally, but the heart and soul of Steve's playing and singing looks to be found in acoustic blues and traditional jazz styles.
Steve has an easy-going style of singing, tending to be laid-back; he's not a "belter". In fact, his voice bears a very definite resemblance to that of Elvin Bishop, right down to the accent. Elvin grew up in Oklahoma, and Steve grew up in Kilgore, Texas, which is only about an hour or so west of Shreveport, Louisiana. In fact, Steve eventually ended up living in and playing music in the Shreveport area (as well as the Ark-La-Tex area) for many years. I'm sure he spent many a long night on Shreveport's (Bossier City's, really) Bossier Strip.
The Songs:

1. I Can't Be Satisfied – (McKinley Morganfield) This is, of course, the song that brought early fame to Muddy Waters in Chicago back in the late 1940s. This version is faithful to the original, but not slavishly so. The tune is played here in a light shuffle, with slide guitar being the featured instrument.
2. Louise – (Fred McDowell) Geez, this one is fun-ky. It's all acoustic, and it makes you feel like you're on the edge of a swamp somewhere with a fishin' pole, under a big old tree drippin' with Spanish moss. Nice work indeed! Howell's voice works exceptionally well with this style of tune.
3. All My Friends Are Gone – (traditional / this arr. as by Stefan Grossman) Steve's guitar playing here is quite beautiful, and in the liner notes he tells the reader/listener that the arrangement is based on a version of the song played by Stefan Grossman, who is one of the finest pickers many of you have likely never heard of. While the playing is beautiful, the actual lyrics to the song are simply tragic – young love gone terribly wrong.
4. Mississippi Blues – (William Brown) This song shuffles along slowly, fooling you as to how intricate the guitar playing really is. According to Howell's liner notes, the song is considered the graduation piece for blues finger pickers. I would have to say that Steve has graduated with honors, as his playing here is Blue Ribbon worthy.

5. Policy Blues – (Armenter "Bo Carter" Chatmon) This song was written by Bo Carter, famous as being a member both the Mississippi Sheiks and of the musical Chatmon clan, as well as most likely being a half-brother to Charlie Patton. It you close your eyes it almost sounds like Elvin Bishop is singing this tune – if Elvin and Steve played together it might be difficult to distinguish between the two of them! "Policy" was a gambling endeavor back in the day, sort of an early form today's Lotto or Keno, more commonly known as "numbers". The name "policy" is from a similarity to cheap insurance, both seen as a gamble on the future.

6. Steady Rollin' Man – (Robert Johnson) Steve takes on a tune from Robert Johnson. All blues finger pickers worth their salt have to take on this master player's work at some point. This version puts the rhythm section of the band up front, really driving the song along. On instrumental breaks the Resophonic slide takes center stage; you can feel that thing right in your gut – outstanding!

7. Ain't Nothin' In Ramblin' – (Lizzie "Memphis Minnie" Douglas-McCoy) For those of you not familiar with Memphis Minnie, she might have been the best guitar player of her day (certainly being counted among the top handful of players.) She really shouldn't have been referred to as the best female player around. This is another of those songs that sounds deceptively simply while you causally listen to it, but if you really pay attention you'll hear how difficult a piece it is to play. Steve and the band have it nailed.
8. Prodigal Son – (Rev. Robert Wilkins) Now, talk about your technically proficient guitar players…Robert Wilkins was that and more. Originally a blues player, he gave up the secular life and was ordained as a Reverend. He continued playing guitar, most always in a blues style, but with lyrics changing to religious themes. Howell and band give this song a beautiful treatment, almost approaching a Piedmont-style feel due to the intricate finger picking heard throughout the tune.
9. Dirty Deal Blues – (Rev. Robert Wilkins) Here is another song from Robert Wilkins, who has certainly been an influence on Steve Howell. A finger picking blues player could do a lot worse than to choose Wilkins as an influence! This version bounces along nicely to some cool drum-rim work. For you country blues guitar fans, there's plenty of fancy picking' going on, so you should be quite happy with this song.
10. Windy & Warm – (John D. Loudermilk / arrangements from Chet Atkins & Doc Watson) This song is the only instrumental on the album. According to Howell's notes, he has based this version on those of Chet Atkins and Doc Watson – talk about good players! I can definitely hear the Doc Watson influence in this song.

11. Ain't You Sorry? – (Mance Lipscomb / J.B. Goode) This is a short little songster-type tune, faithful to the sort of thing Mance Lipscomb and Mississippi John Hurt would play. The feel here is a little bouncier, due mostly to the drum/bass accompaniement. It really sounds like something you could hear on the streets of New Orleans, with the bass running a very tuba-like line.
12. Joshua F'it The Battle Of Jericho – (traditional) We've got a little Bible lesson here, with the lyrics based on the story of Joshua bringing down the walls of Jericho with blasts of his horn – along with faith in the Lord. The song features a gentle finger picked guitar line, with tuba-like bass and cymbal work from the drummer.

13. Rowdy Blues – (Kid Bailey) This song doesn't sound nearly as rowdy as the title would lead you to believe, at least not musically. It's a slow song, performed in a slow, funereal-like manner. If you've ever seen a New Orleans funeral street procession, and heard the music there, you'll have an idea. Don't let my description scare you, as this song sounds great, and is one of my favorites on the CD. Listen to the martial snare pattern; it will pull you in to the song, and the guitar pattern is beautiful. As Steve mentions in the liner notes, the song is almost hypnotic.
The Verdict:

This CD, My Mind Gets To Ramblin', is Steve Howell's 2nd release on the Out Of The Past label. For any readers/listeners who love the blues, but have had difficulty getting your ears around Pre-War acoustic blues styles, this CD could prove to be the perfect entry point for you. Steve's playing is magnificent, mostly finger picking in style, and the sound quality of the CD is fantastic – and warm. In addition to the wonderful playing, Steve has written a short paragraph about each song found on the album, providing some historical and personal context to the importance of the artists and their music. The liner notes are almost worth the price of the CD by themselves. Before I forget, kudos should also be given to the band, as they are most definitely an important element in each of these songs, adding acoustic bass, 2nd guitars and drums to the proceedings.
East Side Slim enjoyed this CD very much, especially the 2nd track – Louise. I hit the repeat button half a dozen times on that track before moving on to track 3. If you have an interest in country blues or in folk music in general, you should enjoy this CD very much. I highly recommend this release, as well as all other releases (so far) on the Out Of The Past label (Howell, Buddy Flett, David Egan). I'm ramblin' now, so let's get around to rating this bad-boy: STLBluesometer rating = 4.00. It really is a good piece of work, one that Steve Howell should be very proud of.
Lee Howland, aka "East Side Slim"