The Homemade Jamz Blues Band

By East Side Slim
The Homemade Jamz Blues Band
The following are the 2nd and 3rd CD releases for the Tupelo, Mississippi, and they are every bit as down-home raw as the 1st effort - if not more so. The sound the band achieves one these two discs reminds me very much of the early Son Seals LPs, say around the time of his 1st two Alligator Records releases. The songs on both CDs shake and pound and rattle throughout their duration, with all but one of them written by Renaud Perry (the father of the 3 young people comprising the band.) The band consists of oldest son Ryan Perry on all guitars and vocals, middle sibling Kyle Perry on 6-string bass, and youngest of the trio, daughter Taya Perry on drums. In addition, Renaud plays harmonica on a large number of the cuts, more so on the 3rd CD, The Game.

THE CDS: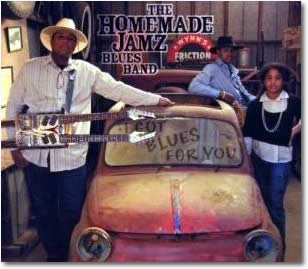 The Homemade Jamz Blues Band – I Got Blues For You – NorthernBlues, 2009
This is the 2nd CD release for the Tupelo, Mississippi, based band on the NorthernBlues label, and it's every bit as down-home raw as the 1st effort - if not more so. The sound the band achieves here reminds me very much of the early Son Seals LPs, say around the time of his 1st two Alligator Records releases. This album shakes and pounds and rattles through 12 tracks, all but one of them written by Renaud Perry (the father of the 3 young people comprising the band.) The band consists of oldest son Ryan Perry on all guitars and vocals, middle sibling Kyle Perry on 6-string bass, and youngest of the trio, daughter Taya Perry on drums. In addition, Renaud plays harmonica on a large number of the cuts.

The Songs: (all songs by Renaud Perry unless otherwise specified)
1. Hard Headed Woman
--This mid-tempo lead track sounds like a combination of Fenton Robinson styled rhythm guitar with Son Seals styled lead playing – sweet and spicy if you will.
2. Rumors
--Heavy rhythm guitar work, along with father Renauds's squalling harp playing, drives this tune. A funky bridge is a very nice change of pace, as this song sounds too much like the previous track, especially rhythmically.
3. Dusk Till Dawn
--This an intense, raw slow blues sung with gusto by young Ryan. However, the lyric content here just doesn't speak to his life; the song conveys very adult themes, such as one would acquire from living a long time and experiencing "things". It will be interesting to see what happens if/when the band itself (and not the father) begins writing the music and lyrics for the songs being performed… I do enjoy the music of the songs, quite a lot actually. The lyrics, as sung by the young singer, just don't allow me to "buy" into the tune.

4. Roots
--A jukin' boogie fest here. This one is just plain fun! Renaud asserts himself on harp during this tune, taking several squalling lead runs during lyric breaks.

5. Heaven Lost An Angel
--This is a slow blues that never quite gels, at least in my opinion. Ryan's vocals are a bit overwrought, and the times Renaud's harp makes appearances it seemed forced into the song, meaning it just didn't fit here. It's great to break the song tempos up over the course of an album, so kudos there for sure. This song likely works well in concert as a vehicle for Ryan to solo from.

6. Loco Blues
--This tune starts out with solo chugging harp (working on a locomotive "feel") for about 15 seconds, at which point the band joins in. Renaud keeps the chugging going throughout the length of the tune, while the band blazes away. Listening to Kyle's fat bottom groove here, leads me to think that he may be the secret weapon of this band. He lays down consistently solid grooving bass lines throughout the CD, even if he is dialed down a bit too much in the overall mix. Speaking to that, the drums, especially the cymbals, are mixed right up in your face throughout. If you like a drums-out-front sound, this CD is for you.

7. King Snake
--I like this tune. It reminds me of early period Son Seals: raw, funky and intense, straight out of a juke someone (although none of The Homemade Jamz Blues Band can legally be in a juke!)

8. Hobo Man
--Mid-tempo hard-edged electric Mississippi blues here, with Ryan singing more comfortably than on the slow blues tracks. There's a lot of harp here, none of it fancy enough to stand up to Ryan's guitar playing. Juke joint harp stylings can clash with hard-edged electric guitar, as it's not always a good fit. Note that players such as Albert King, Freddie King, Son Seals, etc… rarely played with harp players; the fit of instrumentation styles just isn't a good one at times.
9. Alcoholic Woman
--Another mid-tempo hard blues, with young Ryan singing about being with an alcoholic woman…this is another case of the lyrical content just not matching the players' own experiences. It's fine if Dad writes the songs, but the lyrics should reflect the interests/lives of the kids, not the middle-aged parents.
10. In The Wind
--This starts off great, with a deliberate, dark, serious-sounding guitar/band intro. I love the feel of the tune, but am not as crazy about the times when Ryan gets growly with his vocals (think of Johnny Winter growling). Ryan possesses a good voice, one which will only grow stronger and even better over the years, but at this point still calls-out his youth at times.
11. Grits Ain't Groceries – (Titus Turner)
--Yes, this is the song made famous by Little Milton, which is also known and performed as "All Around The World". This high-energy arrangement is very different than Milton's (a good thing), with the band putting their own raw electric stamp on the tune.
12. I Got Blues For You
--This tune displays the essence of the sound of The Homemade Jamz Blues Band. It's both raw and funky, sounding for all the world like a mid-1960's Ace Records (Johnny Ace) platter. This thing just screams Mississippi, and is a fine end to a solid album.
The Verdict - I Got Blues For You:
This 2nd CD from The Homemade Jamz Blues Band is interesting. I really dig the raw vibe of the album, as that raw straight-to-your-soul juke sound makes me feel alive. Musically, this thing lights a fire inside. Lyrically is where I have real trouble with the direction this album takes. The father of the band members, Renaud, wrote all but one song on the CD and he is listed in the liner notes as essentially a member of the band. But what sounds fine and genuine being sung by a 35-45 year old man, at times sounds disingenuous, if not downright silly, coming out of the mouth of a late teen (at the time of the CD's recording sessions.) The band is very talented and has unlimited potential; they've really only scratched the surface so far – and what a large scratch it is. However, at some point the "kids" need to incorporate themselves and their own lives – what they know – into the music, especially lyrically. When that occurs there will be no stopping this outfit within the blues world, and hopefully beyond! It's time to rate this bad boy; East Side Slim is giving a STLBluesometer rating of 3.00 to The Homemade Jamz Blues Band's I Got Blues For You.
Homemade Jamz Blues Band – The Game – Artist Released, 2010
The Songs: (all songs written by Renaud Perry unless otherwise specified)
1. Washing Clothes
--This an up-tempo North Mississippi Hill Country groover, all about how hard it used to be to wash clothes, and how much fun it could be to watch a shapely woman washing those clothes...pre-electric days don't you know.
2. I'm The Man
--We have a slow electric delta-blues here, built around the tired braggadocio of the title. Musically it's nice, but how many more songs do we really need on this subject?
3. The Game
--Dig the intro to this one, as Ryan works a deep-toned groove, buoyed strongly by Kyle's deep-bottomed bass work. There's no harmonica playing here, and the absence of it is palpable. This song would sound great at night in the car, flyin' down the highway with windows open and top down!

4. Tupelo
--A fitting title for a song, as the band is from Tupelo. This one is a mid-tempo number, with distinct shades of the Mississippi Hill Country sound. It reminds me a bit of Alvin Youngblood Hart's electric work, or possibly very early North Mississippi Allstars (prior to them becoming jam-band favorites.) Listen closely to Kyle's bass playing here; this young man is going to be something. What am I saying; he already is!

5. Burned Down The House
--The choogling harp playing of Renaud is brought back into the mix on this tune (a bit too brightly), with Ryan singing about how his one girl found out about his other girl, with the 1st proceeding to burn down his house. Nothing like have lyrics to sing that are age/experience appropriate… Ryan takes a very cool solo turn around the 2:40 mark, and his playing is strong throughout the song.

6. Blues Train
--This is a rough-hewn groover, built around a thick, heavy groove produced by Kyle. It also serves as a feature for Renaud's harp playing, which is placed very high in the final mix.

7. Gotta Bad Bad Feeling
--This cut is a contemporary-styled slow blues, performed as in the guitar-bass-drum power-trio format. Kyle's guitar stylings are the focus here, and he plays with economy and taste throughout. It would have been easy for him to have shown-off and played a thousand notes per measure (an exaggeration, but you get the meaning), but Kyle chose to play with real feeling, making each note mean something.

8. Telling Lies
--Squalling harp takes center-stage throughout the course of this mid-tempo, rocking bluesy number. This song began to wear on me a bit before it played out. Fans of heavy guitar chording may find it more redeeming that this reviewer did.
9. Duck Hill Stomp
--We're back to the Hill Country here, and that's a good thing. This is an up-tempo groover, with Ryan shouting out the lyric and using very percussive strumming in his guitar work. Pops Perry is playing harp here, but it is back a little farther in the mix, where it is fits better with the overall feel of the song. This harp work is rhythmic in nature, and just works better when mixed as such, rather than right up in the listener's face. I should make mention again of Kyle's bass playing, because it's very nearly the star of this show. That young man knows how to work a groove!
10. Nothings Changed For The Po
--The album closer, this tune is a little different than most anything else heard on the CD. It's a little more raw than many of the other songs, slow of tempo, deep in the groove, with the lyrics being a diatribe about how the poor are still poor and nothing seemingly will be changing that. This really is a fine tune, with just the core 3-piece digging deep and playin' nasty and greasy; very nice, indeed.
The Verdict – The Game:
Well, it's official; father Renaud is billed as a full member of Homemade James Blues Band. As the band has pretty much always been his vision, he writes all the songs, and his harmonica playing has been placed up front and center, it only makes sense to stop billing himself as "featuring". It was a bit disheartening to read through the promotional literature delivered with the CD, as the only band member mentioned by name is Renaud, and the only musician truly referenced there is also Renaud. Maybe the Perry children are OK with this, maybe not, but as Pops Renaud writes all the band's songs (lyrics included) there are times when singer/guitarist Ryan is singing lyrics and the juxtaposition of his age versus the lyrical content just doesn't make much sense. As Ryan is the front man, and the band's fame has been built on the deep bluesy youthfulness of the band, at some point the lyrics should reflect this.

Musically, the CD is a lot of fun (as long as the lyric-youth issues aren't troubling to the listener.) Deep grooves abound as a rule (courtesy of Taya), Ryan's guitar work is as gritty and fiery as ever, and bassist Kyle's work is exceptional, quite frankly. Renaud's harp playing is adequate, squall-styled amplified work, if taking on a bit of sameness by the end of the CD. I do think his harp work was featured a bit too much throughout the course of the CD (this is coming from a review who is a harp fiend), usually at the expense of Ryan's guitar. Honestly, Ryan's guitar skills and older-than-his-years vocals are the primary drivers as to why people have taken so strongly to the band. Youth only gets you so far; if you can't play, people won't stay. That said, these 3 siblings can definitely play. Let rate this bad boy. East Side Slim is assigning an STLBluesometer rating of 3.5 to "The Game" from Homemade Jamz Blues Band. The only reasons I'm not rating it higher are, as stated previously, the further encroachment of Renaud's harp playing and the too often misfit of the lyric content to the band's youth.
For more information concerning Homemade Jamz Blues Band, see the following websites:
www.hmjamzbluesband.com
www.facebook.com/pages/The-Homemade-Jamz-Blues-Band-Official-Site/111678058888865
www.northernblues.com/bio_homemadejamz.html
Lee Howland - aka "East Side Slim"