Goin' to Kansas City

-- by Shannon
--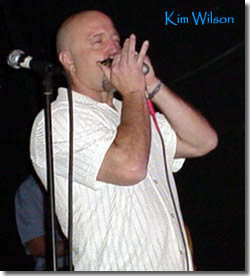 On February 23, 2005 I made the journey to Kansas City to see the harmonica legend Kim Wilson. Having recently moved to Wisconsin, little did I realize that Kansas City was roughly and eight hour drive!! Let me just tell you this—it was worth EVERY MILE! I had not see Kim since he was in town a few summers ago in St. Charles at an outdoor festival. At that time, his new album "Lookin' For Trouble" was just debuting. So, needless to say I was looking forward to seeing him as it was long overdue.

Once we got to Kansas City and the Grand Emporium I couldn't believe what I was seeing. The bar has been recently renovated and looks sort of like an upscale Chicago or New York night club. In my opinion I actually enjoyed the way the club looked before with all the memorabilia hanging on the walls of past and present performers. Granted the club is now beautiful, just doesn't have a very bluesy tone or feel to it. I am actually a little concerned that maybe the club wont stay a blues club now that its been remodeled, but that's just speculation.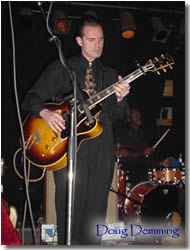 There were only about 15 people in the joint when we arrived around 8pm so that was a bit disconcerting. By the end of the night however the place was packed! Kim was actually playing as a soloist on this night as a favor the friend Doug Deming front man of the Jeweltones from Detroit. The band was fantastic and Kim was the perfect harmonica/vocal compliment to the ensemble.

Kim just seems to gets better as time goes by. Talk about someone who can lay down the old time Sonny Boy and Little Walter tunes. The man is a genius. I actually asked him about the old stuff and by saying "man, your pretty good at that Sonny and Walter stuff huh?" Kim said "Well, you know." Yeah, Kim, we ALL know.


Kim was very cordial and friendly and we even got a chance to chat about some of the ways the world is today. I also want to add how impressed I was personally with Doug Deming. It was actually his 39th birthday on this night and terrific is the only word I can think of to describe his guitar playing. His band, the Jeweltones are incredible also. You can learn more about Doug and the band at www.dougdeming.com. All in all it was a great trip, but I will have to learn to try to stick more close to home! Learn more about Kim and the T-birds on pollstar.com and fablulousthunderbirds.com.