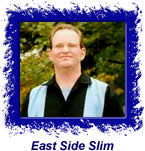 By East Side Slim
Monster Mike Welch – Just Like It Is
BGB Records/VizzTone Label Group, 2007

Mike Welch, from the American Northeast, has been on the international blues scene for 15 years, yet the man is only 28-29 years old! Dubbed "Monster Mike" by Dan Ackroyd at the opening of the 1st House of Blues club some 15 years ago, Mike has seen his career move through three distinct phases already, from young teen phenom in the mid 1990s, to in-demand session guitarist, to a deep, soulful solo artist whose early promise had been fully realized with the release of "Just Like It Is". Welch met Bob Margolin that same night at the House of Blues opening, and surprised Bob with his asking to be shown some of the deepest nuances of Muddy Water's playing style – all at only 13 year of age. Mike gained his love of blues early, being influenced by listening to his father's record collection at a very young age. Welch was playing guitar by age 8 and participating in blues jams by the age of 11. He was bitten early and deeply by this music that we all care so much about. One of Mike's most noted influences is Ronnie Earl (a great choice for an influence!), and I also hear Duke Robillard influences, as well as some of the gritty Texas players. It's all good!

Monster Mike has appeared on releases from such noted artists as Sugar Ray Norcia, Johnny Winter, Nick Moss and Shemekia Copeland, as well as lesser-known artists (at least to the general public) such as Tom Hambridge (Susan Tedeschi), Brian Templeton (ex Radio Kings), Ottomatic Slim and Chicago Bob Nelson. Mike has also released a slew of his own albums (at least 6 now, with his 1st CD being released when he was just 16), each one showing his growth as a musician and vocalist. Speaking of his vocals, Mike's singing has become very soulful as he's aged (although he's still only around 28!). To my ears his voice sounds very similar in tone/texture (but not in histrionics) to that of Jack Bruce during Bruce's years with Cream. Something of note in the liner notes to this CD is the fact that Mike chose to list his performing vocals 1st, with his guitar playing listed 2nd.

The Songs: (All songs by Mike Welch except where noted)

1. She Makes Time: This song kicks the CD off in fine style. It's got the feel of one of Jack Bruce's old Cream tunes, but deeper, or more soulful. Let's call it a soulful rave-up with stinging guitars lines. I like this song – a lot!

2. Please: OK, things just got funky. You've got a bed of B3, a really funky bass line, STINGING single note guitar and a great vocal attack. You know, I thought that first song was great, and then this one comes along…shoot, they're both great!

3. My Baby Loves Me: It's time to slow things down a bit, moving into slow blues territory. Monster Mike's voice comes to the front here, and frankly, I think he did a fine job. He sings with passion, dynamics and soul, all three being good things in my "book". If you're thinking that his guitar work won't be featured here, rest assured that it is – in spades! The Ronnie Earl influences show up here, the type of things he was playing with his '80s version of the Broadcasters.

4. Don't Expect Me To Cry: This tune moves along with a rumba feel, reminding me of the sort of tune I've come to admire from Mark DuFresne (Roomful's previous vocalist – check out his solo work). The piano is featured heavily, with a "Mary Ann"-ish piano line running through the song. If you can sit still while listening to this song you better go ahead and call the doctor right now, 'cause you must be dead!

5. Keep On Walking: This is the 1st song on this CD to even approach a shuffle, although it's really closer to the swinging shuffle variant that you heard from Roomful of Blues during Sugar Ray's days with the band. There's lots of piano, the bass player drives the tune forcefully (with that '70s Fab T-Bird-style bass sound – thank you Keith Ferguson!) and Mike continues to sting you with his guitar work. It sounds like there's a whole swarm of stingers in this tune.

6. I'm Gonna Move To Another Country: You can hear Mike's love of Albert King on this song, especially in the intro. He just tears it up, eventually bringing the entire band back down when the 1st verse kicks in. The song really reminds me of one of Otis Rush's slow blues: lot's of dynamics and passionate, anguished vocals, along with stinging guitars lines (I know you're all tired of reading stinging, but it almost perfectly describes Mike's playing style on this album.)

7. Sticky Whiskey: This is the only instrumental track included on the CD. Think Ronnie Earl playing Texas gritty, maybe channeling Stevie Ray, and you'll have a pretty good idea of what it sounds like. It's got big bends, cool rhythm lines, and a great bottom end. Speaking of great bottom ends…oh, wait, that's an entirely different subject…back to the music.

8. A Perfect World: This song has a late night, jazzy feel, and Mike's guitar work sounds like it's straight out of Chicago's West Side circa 1960 – shades of Buddy Guy and Otis Rush.

9. Now That You're Gone: This tune is very cool, and sounds like what you'd get if you crossed Duke Robillard-era Roomful with early Fabulous Thunderbirds. It swings, but it's also tough as nails. This is a great tune!

10. I'm Not A Stupid Man: This song swings along nicely in the Northeast swingin' blues tradition – in the manner of bands such as Roomful, The Broadcasters and The Bluetones. You really hear the influences of Ronnie Earl and Duke Robillard throughout this record, but Monster Mike is in no way slavish to these influences as he is ultimately his own man on guitar.

11. Love That Burns: (Green / Adams) This is a nice slow blues – a perfect change of pace after the last couple of hard swinging tunes. This is the 1st of only 2 covers songs on the CD. This song was written by Peter Green and Cliff Adams during Green's years with Fleetwood Mac in the late '60s. It 1st appeared on Mac's second LP, "Mr. Wonderful", in 1968 but didn't appear in America until 1969 on the "English Rose" LP. (my thanks to Allmusic.com)

12. Move Along: "Move Along" shuffles along nicely, and is one of the few, if not the only, true shuffles on this CD. It has clever lyrics concerning how the protagonist in the song just may be a lot better off down the road now that his antagonistic woman has decided to leave him. You can't sit still when listening to the music; your head will be bobbing and your feet will be tapping (your back end might be bouncing too, if you bother to get up!)

13. I Got A Strange Feeling: (Dixon / Perkins) This tune is might be better known to a lot of you as "When Your Left Eye Jumps". It's the 2nd cover tune on the CD, and is a great, deep, West Side slow blues. Buddy Guy sang the original version of this song, so Mike picked a tough singer and guitar player to live up to. While he didn't quite match Buddy's vocal intensity (who could?), his guitar work is right there. Mike really is that good, and that deep. By the way, the song was written by Willie Dixon and Al Perkins and was recorded by Buddy back in December of 1960 for Chess Records. However, the song wasn't released to the public until 1974 on the Chess LP "I Was Walkin' Through the Woods." (Information from the liner notes to the CD "Buddy Guy – The Complete Chess Studio Recordings".) The Chess family never did know what to do with Buddy Guy…what a shame.

The Verdict:
Monster Mike should not be thought of as one of "those young guitar slingers" anymore, but as a mature, deep bluesMAN who is passionate about his chosen life's work, and whose love for the music shines vibrantly through his music. If you enjoy the music of Ronnie Earl, Duke Robillard, Roomful of Blues, Fabulous Thunderbirds, Sugar Ray (Norcia) & The Bluetones you will enjoy this CD immensely.

The band members that Welch assembled for the recording of this album are some of the American Northeast's best players, many spending time playing with Ronnie Earl and Sugar Ray Norcia. Give a shout-out to Anthony Geraci on keys, Brad Hallen on basses and Mark Teixeira on drums.

This CD is excellent from start to finish, and we as a blues community can hopefully look forward to decades of incredible music coming from the hands and voice of Mr. Mike Welch. Do yourself a favor and pick up a copy of Monster Mike Welch's "Just Like It Is". Now it's time for the STLBluesometer rating. This is a good one, so I'm giving it a SOLID 4.5 rating. Great job Monster Mike!

Lee Howland, aka "East Side Slim"