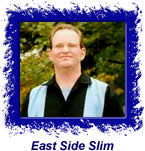 By East Side Slim
Sleepy John Estes with Hammie Nixon – On 80 Highway
Delmark, 2008

Sleepy John Estes, supposedly that nickname due to his ability to sleep while standing up, was born in the Brownsville, TN area around 1904. He recorded for a number of record labels over the course of six decades, starting in 1929 and continuing sporadically into the 1970s. His style of music was always down-home, and he relied upon his expressive voice to put his music over rather than on guitar showmanship. Estes was never considered an exemplary guitarist.
Hammie Nixon was also born into the Brownsville, TN area (1908). He too began his professional career in the 1920s, playing harmonica. Nixon helped to pioneer the use of the harp as an accompaniment instrument. Prior to this, the harp had been used primarily as a soloing instrument. Hammie played in several jug bands, working on kazoo, guitar and jug in addition to harp. Nixon and Estes played together on and off from the 1920s until Estes' death in the late 1970s.
Sleepy John was 70 when this CD, On 80 Highway, was recorded back in 1974. His singing voice was not very strong by this time, sounding all of 70. Hammie was around 66 years old then, but his voice was still very strong – he sings on many of the cuts on this CD. There is nothing fancy musically to be found on this CD. It is all played back-porch style, with simple song structures, acoustic guitar, acoustic harmonica and some kazoo. This is very much in the pre-war style the two men are known for, and the music here will grow on you with repeated listens. While this is a good representation of how Estes and Nixon sounded in their later years (it's very well recorded and remastered), it is not the place to start if you are just exploring Sleepy John's and Hammie's music.

The Songs: (all songs traditional from public domain except where noted)

1. Love Grows In Your Heart
--There isn't anything fancy here. It's a strictly acoustic performance from Sleepy John and Hammie, with Sleep John only strumming chords on guitar and Hammie fluttering his harp in his usual manner. Estes sings the vocal on this track. While it is a simple tune, the true beauty lies in the lyric. It speaks to a universal truth, of letting love grow and rule your life, pushing away the darkness and hate.

2. Potatoe (sic) Diggin' Man
--This tune is a down-home track sung by Hammie, using the potato diggin' metaphor for sexual prowess. Hammie's voice works well on this track, as it does on all the cuts he sings on. He had a powerful voice that has lost little of its power at the time of this recording.

3. Talk
--This is a little joke telling session between Sleepy John and Hammie. It can be a little tough to understand everything the men are saying, as it will take you a couple listens to catch-on to their speaking dialect – that and the fact that both men talk incredibly quickly.

4. I'll Be Glad When You're Dead – (Sam Theard)
--The talk of track 3 leads directly into this song, which is likely better know to many readers as You Rascal You. Sleepy John sings here, strumming along on guitar a little more vigorously than on the 1st couple of songs. Hammie puts the harp down and instead serenades us with kazoo.

5. Holy Spirit
--The title of this song is self-explanatory. The men both sing on this old spiritual, with Hammie singing a lead line and Sleepy John answering with a response line. The only instrumentation heard through most of the tune is John's guitar, with Hammie adding some harp near the end.

6. 80 Highway
--This tune carries the same melody familiar to many of you as Since You Left Me Baby. Sleepy John carries all the singing here (which isn't necessarily a good thing, as he voice hadn't aged especially well at this point), and Hammie accompanies throughout on harp. This is a nice gentle tune, which Hammie's harmonica playing carries along.

7. When The Saints Go Marching In
--This could very well be the most subdued version of this song you've ever heard. Usually associated with a brass band, or at least a couple of horns, the men take the song and turn it into a back-porch affair. That said, the more subdued arrangement places much greater emphasis on the lyric to this tune, which is about seeing Jesus and your loved ones (again) upon reaching Heaven. Personally, I think this version carries much greater weight than the brassed-up versions, which many times turn into dance tunes. Now, I'm not saying you can't have religious tunes combined with dancing, retaining the meaning of the lyric. You most certainly can!

8. Corrine Corrina – (Williams/Chatman/Parish)
--Both men sing here, with Sleepy John calling and Hammie responding. Hammie's kazoo is brought out again, too. While 3 men were credited with songwriting credits, I'm wondering if anyone truly knows who the original composer of Corrine Corrina was…

9. President Kennedy (take 14)
--Holy cow, fourteen takes! Sleepy John and Hammie couldn't have been happy about that. Many blues artists composed and sang songs about President Kennedy upon his assassination. Kennedy was looked on with great hope by the African American community in general, as he seemed genuinely intent on pushing forward Civil Rights issues. This is a deep track, with the focus on lyrical content. Instrumental backing is sparse and respectful.

10. IGA
--This tune has Sleepy John singing and strumming, with Hammie playing harp. Sleepy John's woman seems to be looking a little too closely at a man who works down at the local IGA grocery – and John is not happy about it.

11. T Model Ford
--no, this tune is not about Fat Possum artist T-Model Ford. What this tune is about is Henry Ford's T Model Ford, and how Sleepy John prefers the old T Model over all the fast cars flying around the roads later on. No matter what happened, it only took 2 men to set the T Model Ford back on the road, and off you go again.

12. Do Lord Remember Me
--Hammie takes the lead vocal work on this old spiritual song. His stronger voice was much better suited to this type of material than was Estes' voice. Sleepy John strums along and provides response lines to Nixon's lead, and hand-claps were used here for rhythm.

13. Vernita Blues
--This is one of those deep, deep blues, sung by a man when he's having a tough time with his woman. Sleepy John sings this, and plays guitar a little harder than on most of the tracks on this album. Hammie is using his harp to wail along behind Sleepy John, raising and lowering his volume for dramatic effect. This could very well be the best track on the CD, and it is my favorite for sure.

14. Mary Come On Home – (John Adam Estes)
--Estes sings this track, also, and he seems to be playing with added vigor here, too. This song is very similar in style to Vernita Blues, although the tempo is quicker. The melody is not too different from some of the tunes of John Lee "Sonny Boy" Williamson, who was from the same general area of Tennessee as were Sleepy John and Hammie.

15. President Kennedy (take 13)
--This take of the song is quicker than take 14 (heard earlier on the CD), and not as melancholy. The lyric is sung to what is essentially the melody from Worried Life Blues. Sleepy John sings here, with Hammie playing harp.

16. Talk
--More talk, Hammie talked so fast I can hardly keep up with him. Here he's telling a story about threatening to cut a man who keeps messing with him, leading into talking about a woman who owned him $20 bucks that may be facing the business end of Hammie's shotgun

17. Brownsville Blues – (John Adam Estes)
--The set closer, this is a performance of Sleepy John's tune, 1st recorded in 1929. At least that's what they tell us at the beginning of the cut. Brownsville, Tennessee was Estes' home town, and this song details some of his experiences living there. The tune is very definitely down-home in style, about as down-home as you can get. Sleepy John is singing, almost hitting the guitar string (rather than strumming), and Hammie Nixon is playing very simplified harp chords and notes.

The Verdict:

This CD, On 80 Highway, is a good representation of how Sleepy John Estes and Hammie Nixon sounded during their later years – Sleepy John was 70 when this was recorded back in 1974, and Hammie was only 4 years younger. The sound quality of the CD itself is very good; however, John's voice was getting weak by this time and his guitar playing consisted mostly of chording. Hammie's voice was still very strong, and his harp work was still in very good shape. This is not the place to start when listening to Sleepy John and Hammie (you need to go back several decades for that), but it is a nice back-porch style album, and a fine document of two legendary bluesmen in their later years. I'm going to give this CD an STLBluesometer rating of 3.00

Lee Howland - aka "East Side Slim"