 By Cornbread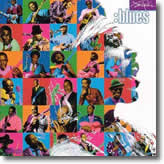 Jimi Hendrix – Blues
{originally released 4/26/94, re-released 11/30/98 | Experience Hendrix/MCA Records}
Blues is a collection on songs, mostly covers recorded during different periods of Jimi's career. Jimi not only pays homage to some influential blues forefathers on this CD, but forever cements his place in history as a bluesman and one of the most influential guitarists of the 21st century.
Born Johnny Allen Hendrix on November 27th, 1942, in Seattle, his name was changed to James Marshall Hendrix at age 4. Hendrix died September 18, 1970 in London, he was 27. Hendrix was inducted into the Rock and Roll Hall of Fame in 2004.
Blues Contributors are:
Billy Cox | Buddy Miles | Jack Casady | Mitch Mitchell | Noel Redding | Steve Winwood
1. Hear My Train a Comin' – this is an acoustic version, played on a 12-string guitar, rich in the style of delta blues.

2. Born Under a Bad Sign – over 7 minutes, this Booker T. Jones song is kicked up several notches with Jimi's signature heavily distorted electric guitar playing on this mostly instrumental rendition.

3. Red House – should be called red hot smokin' electric blues!

4. Catfish Blues – nuttin' goes better with catfish than Cornbread. This song is a bit slower vocally, with the intensity of his guitar chops second-to-none. Excellent drum solo.

5. Voodoo Chile Blues – recorded in 1968 and is as good as anything coming out now. The backing organ is a bonus.

6. Mannish Boy - Muddy Waters song, done up voodoo child. Man, that's some fast guitar playin'.

7. Once I Had a Woman – Jimi playing guitar, some harmonica, some vocals half-way into the song, but they don't last long, I guess they'd just get in the way of the guitar playing anyway.

8. Bleeding Heart – has shorter guitar vibratos similar to B.B. King, except with distortion and volume.

9. Jelly 292 – sounds like the electric shuffle to me, the piano is a nice addition to this intense instrumental.

10. Electric Church Red House – bluesy vocals and lots and lots of guitar.

11. Hear My Train a Comin' – an electric twelve minute bonus included on the re-release, you'd never know it was the same as the first song.
Total time 72:31 – wow!
This CD should come with a warning label. Definitely not for the light at heart, if you're a guitar lovin', blues aficionado you'll probably like this.
Thanks to my Brother, Matt for turning me onto this.
I liked this CD, it did well on the STLBluesometer - rating 4.783

Ciao' for now, peace.
Peter 'Cornbread' Cohen, CBP

Email - Cornbread@STLBlues