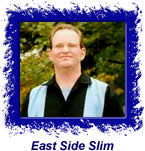 By East Side Slim
Jason Ricci and New Blood – Done With The Devil
Eclecto Groove Records, 2009

Just in time for spring is a new release from Jason Ricci and New Blood. Jason has become the heir-apparent to the throne of harmonica king over the last few years (although Dennis Gruenling is still in the running), and his talents are on full display on Done With The Devil. Jason is one of the hardest working musicians in the country, and it's been great to see good things continue to come his way – he's earned it through sheer hard work (sometimes enormous talent isn't enough – but that usually takes sheer hard work, too.) This CD is the 2nd release for the band on Eclecto Groove Records (a subsidiary label of the Delta Groove blues/music concern), and with it the band continues to expand their sound. Where their previous CD, Rocket Number 9, was a darker, more rebellious affair, the new CD is brighter, and more accepting. It is still chock full of fire and passion, as would be any release from Jason and the band, and it is a treat for the ears – especially if those ears are connected to musically adventurous minds. If you're stuck on 3 chords and a cloud of dust, you best move on.

A few notes about the band members would seem to be in order. Jason has been mentioned already, but a couple other facts should be thrown out there. Ricci is among the most technically proficient harmonica players in the world (even if he doesn't want to admit it). He's a master of the difficult overblow technique. I have to admit in fairness that I am not a huge fan of the sound overblowing produces on harp (I'd rather hear a good chromatic harp player – overblowers sound to me like they are de-tuning their harps). If you're not familiar with overblowing, the end result of a player being able to combine overblowing of notes with bending of notes is the ability to play a diatonic harmonica in a chromatic fashion – the bending and overblowing "make" the notes missing from the diatonic scale for that key appear. It' really magic, but you didn't hear that from me…

Shawn Starski has been Jason's guitar foil for several years now. While he used to exist as almost a secret weapon for the band, that is definitely not the case anymore. Once you get featured in Guitar Player magazine your abilities have become very well known. Shawn has the ability to slip in to and out of many musical styles, always playing with great taste, tone and emotion, regardless of the style required by the song (hmm… playing to the song; what a novel idea…) Simply put, Shawn is the real deal!

Bass man Todd "Buck Weed" Edmonds has been with the band a couple years now. He is a highly skilled player (jazz trained?) who has the ability to follow Jason and Shawn wherever they choose to go musically. I call him bass man because on this CD he plays electric bass, upright acoustic, sousaphone and even bass harmonica. Drummer Ed Michaels is the newest member of the band, joining in time to be able to record this CD with the band. He contributed one song, too, singing on it as well. Ed is also a player of great talents, and does an amazing job of supplying the beats to the wide array of song styles found on this CD. He works his backside off during a live show, that's for sure! Speaking of live shows, Jason Ricci and New Blood are regular performers in St. Louis, having found a home away from home at B.B.'s Jazz, Blues & Soups. In fact, the band is scheduled to play there again on May 27, 2009.

The Songs: (primary credited songwriter(s) listed in parenthesis)

1. Done With the Devil – (Jason Ricci, Shawn Stachurski)
--The title song of the CD kicks things off with a jolt of rockin' Mississippi Hill Country-influenced blues. If you took some Junior Kimbrough, then mixed it with some vintage Get Your Wings-era Aerosmith, you'll have a very good idea of what this track sounds like. Jason spent a year or so as a young man living with and learning from the Kimbroughs, Burnsides, etc… and it's actually nice to hear him mix some of this style into his recordings again. This just might be one of the coolest Aerosmith songs that Aerosmith never wrote.

2. Sweet Loving – (Jason Ricci, Shawn Stachurski)
--You might not be used to hearing a gentle, almost Memphis soul-styled number from New Blood, but that is pretty much what you have here. There is definitely a less "violent", almost sweeter, theme to this entire CD when compared with Rocket Number 9 (the band's previous release.) This tune, Sweet Loving, is a love song. You the listener can decide to whom it was written. You better go out and purchase a copy of this CD so you can figure that out…

3. Holler for Craig Lawler – (Jason Ricci, Shawn Stachurski)
--The band is pretty firmly in jam-band territory here. That style isn't one of my favorites in general, but that's not to say that some of the songs aren't a lot of fun. This is a long one (over 6 minutes), giving each of the band member to stretch out with some solo space. The tune is a little long and a little loose for my tastes, but Jason absolutely tears it up on harp. There couldn't have been anything left of his harps but pieces when he finished this performance.

4. Broken Toy – (Todd Edmunds, Jason Ricci)
--The tempo is brought way back down with this song, which is based on a slow bluesy riff. It's got a bit of a Tom Waits feel, due to its melancholy mood and due to Jason's vocal delivery. The lyrics sound very much autobiographical to Jason life, and to the lives of other men who have come out to the world-at-large as gay men. I haven't yet mentioned the guitar playing of Shawn Starski, and I need to correct that right now. While he spends most of this tune chording, he throws a solo out there near the middle of the song that is simply stunning.

5. Ptryptophan Pterodactyl – (Todd Edmunds)
--When was the last time you saw either of those words in a song title? The song itself is a sort of jazz-fusion excursion, and reminds me very much of some of the music performed by The Rippingtons, or maybe even some of Lee Oskar's jazzier work. While it's definitely jazzy in nature, there's a pretty melody in place that never gets lost among the soloing. This sort of thing, if not performed well, can leave be kind of cold. However, the melody is solid, the playing phenomenal and the song structure tight. This tune will grow on you; I promise.

6. I Turned Into A Martian – (Glenn Danzig)
--You turned into a what?! Wow, talk about a jarring juxtaposition of song styles… From the style of Tom Waits, to The Rippingtons, to a shot of punk rock a la The Misfits. The only thing going on here is a punk rock party (check all guns and knives at the door…), although played by incredibly skilled players. This is a cool track, and probably the most aggressive cut on the CD. Even so, it's not really dark (probably due to the oh-oh-oh background vocals), at least not in comparison to many tracks on Rocket Number 9.

7. As Long As I Have You – (Willie Dixon)
--Its rare when New Blood performs a hard blues cover on a CD anymore, but that's exactly what they do here, taking on this classic Willie Dixon tune. This cut is pure blues, with Jason blowing acoustic harp, Shawn playing Chicago-style blues guitar, and an organ gurgling along under it all. This was a treat for a blues-head like me. Thanks boys!

8. How It Came to Be – (Shawn Stachurski)
--This is the 1st cut on the CD where Jason doesn't handle the lead vocals. Guitarist Shawn Starski handles the vocals this time around, acquitting himself well. The song follows the lead of the previous tune, as it's also firmly in the blues camp. This one is stripped down, played with acoustic instrumentation (including Dobro) in a delta blues vibe.

9. Life Of Denial – (Todd Edmunds, Jason Ricci, Shawn Stachurski)
--Life of Denial moves the band back into more familiar territory (familiar for the listener that is), motoring along a rockin' bluesy road this time around. When Ricci really cuts loose on harp it sounds like he's turning those things inside out (which he almost literally is when he starts overblowing).

10. Afro Blue – (Ramon Santamaria)
--Jason Ricci and New Blood take you on a jazzy instrumental excursion on this track. He plays the tune with only diatonic harmonicas, although he plays them chromatically via the extensive use of both bending and overblowing. Jason is an amazing technician on harp, as well as a very soulful player (the two traits do NOT always co-exist in the same player.) Listen carefully to this song in order to hear examples of his overblowing technique. Also, do not ignore Shawn Starski's jazz-based guitar work. I enjoy bluesy jazz-styled guitar chording immensely (Kenny Burrell anyone?), and Shawn shows off a few props here. This is a killer cut!

11. Keep The Wolf From My Door – (Ed Michaels)
--New Blood drummer Ed Michaels wrote this tune, and he takes the lead vocal as well. It's basically a mid-tempo hard blues, with sousaphone (this is the big horn you stand inside of; it's the marching band version of the tuba) used in place of electric bass. The tune has a cool, funky feel, and the fact that Jason isn't singing allows him to blast-off on harp. Ed's voice fits this type of material well – look for him to possibly do more singing with the band on their more traditional blues material. And, once again Shawn's guitar work is incredible, as it throughout this CD. He is no longer Jason's secret weapon in the band – the word is definitely out considering the guitar skills of Mr. Starski. Before I forget to mention it, there's the added bonus of Shawn Kellerman also playing guitar on this song. Check him out next time he plays St. Louis @ Beale On Broadway (or at a venue near you.)

12. Enlightenment – (Sun Ra)
--Well, this brings us to the end of the set. The band goes a completely different direction here, tackling a Sun Ra instrumental composition. It starts out in full carnival/sideshow vibe (which I've always found musically rewarding, if a little twisted… most anything in a minor key works for me.) Anywho, those of you with adventuresome and/or eclectic tastes will definitely dig this cut. The song moves back to a "middle ground" for awhile, before going back to the carnival for the last section of the tune. If you like the music of Kevin Breit or Carlo Del Junco, you will have an idea of what this sounds like – and you'll like this tune! This is one of my favorite songs on the new CD. The guys brought out a few musical tricks for the song, too, including: chord harmonica, polyphonia harmonica (look it up!), bass harmonica (played by bass player Todd Edmunds) and accordion. I think some of Jason's best, and most soulful, harp work on this CD is found in the middle movement of this song. That's my own humble opinion and you are free to purchase the CD and form your own opinion (hint, hint – buy this CD!)

The Verdict:

The music contained on Jason Ricci and New Blood's new CD Done With The Devil is quite a departure from the music heard on their last Eclecto Groove CD. That's good for a couple of reasons. The first reason is: why would you want a duplicate of the previous work? That's kind of boring, for the band and for the listener. The second reason is more personal… I felt the last CD (Rocket Number 9) was very dark, very rebellious in tone and in theme. At times that made it a difficult listen for me, even if at the same time the musicianship was amazing. Rocket Number 9 was conceived and recorded during darker times among the band members' lives, and it showed in the final product. Done With The Devil seems to have been put together during happier, more positive moments (hence the CD's title, DONE with the Devil) – and I really dig many of the songs here! Don't take away the feeling that this release isn't tough and full of fire – it is full of both. If you had trouble getting your head around Rocket Number 9, give Done With The Devil a spin or two. You could end up being well rewarded for the effort. As always, Jason and Shawn show the technique and soul that fans have come to expect (hopefully not take for granted) and admire from them. Additionally, the other members of the band, Todd and Ed, are more fully integrated into the band's creative processes. Jason's singing voice is likely never going to be his strong suit, but he's working constantly on his singing, leading him to become a good vocalist. And as fans of the blues know, you don't always have to be able to sing like a canary in order to be a great vocalist. A lot of being a good, or great, vocalist is about what's in your soul; Jason has plenty of soul. Time to rate this bad boy - STLBluesometer rating of 4.00 for Done With The Devil from Jason Ricci and New Blood


Lee Howland - aka "East Side Slim"