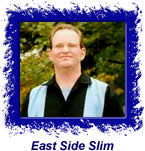 By East Side Slim
David Egan – You Don't Know Your Mind
Rhonda Sue Records/Out of the Past Records, 2008

For those of you not familiar with David Egan, he is considered to be one of America's best contemporary soul and blues songwriters. As such, his songs have been heard on Grammy-nominated recordings as well as in feature films. The list of artists who have recorded Egan's songs is impressive, as the list includes: Percy Sledge, Solomon Burke, Joe Cocker, Etta James, The Fabulous Thunderbirds, Tab Benoit, Marc Broussard, Irma Thomas, Marcia Ball, and many, many others.

Egan is a Shreveport native and grew up surrounded by music. Don't forget that Shreveport was the home of Louisiana Hayride, Shreveport's answer to The Grand Ol' Opry (but with a much wilder take on things.) He grew up in a "symphony" family, and he attended church with Buddy Flett while growing up – their Mothers sang together in the church choir. Eventually Egan and Flett played together in the bars along Shreveport's notorious Bossier Strip as members of the band A-Train (after Egan had spent time in college and in Nashville as an aspiring songwriter.) The two men still collaborate on songwriting to this day.

During Egan's time in Nashville he hooked-up as a member of Jo-El Sonnier's band. This allowed Egan to soak up the Cajun sounds of southern Louisiana as he toured extensively with Sonnier's band for about two years. He eventually moved to Lafayette (the center of the universe for all things Cajun), and joined the band Filé. During this time he continued to write and market songs, and he also was a member of the Louisiana super-group Lil' Band O' Gold. In 2001 Egan left Filé in order to concentrate on leading his own band. He released his first solo David Egan album in 2003 (Twenty Years of Trouble), and in 2008 he released the album being reviewed here, "You Don't Know Your Mind".

The Songs: (all songs by David Egan unless otherwise noted)

1. You Don't Know Your Mind: (David Egan & Buddy Flett) -- Well, if this isn't the best song Dr. John didn't write I don't know what is. This tune leads off the CD in fine style, with gobs of south-Louisiana Gris and mojo. As a bonus, we get to hear Shreveport's own Mr. Buddy Flett on guitar – welcome back Buddy! You know, it's a bad thing when you don't know your mind, and the woman at the heart of this song doesn't know "jack" – "…woman, don't be so crazy. Sometimes, I think that when you cut yourself, woman you BLEED crazy…." That's rough – and crazy! Anyone out there know a woman like that? I sure hope not!

2. You're Lyin' Again: -- This one is a very nice New Orleans-styled piano-based stop-time romp. That was a lot of hyphen, wasn't it? Anywho, think Fats Domino playing really heavy in a Willie Mabon "I Don't Know" vein and you will have a good idea of the feel of this song.

3. If It Is What It Is (It's Love) – with Jennifer Niceley: -- A change of pace right here, this song is a pre-WWII Jazz-styled vocal duet between Egan and Jennifer Niceley. It's got a poppy, gentle feel, with lots of jazzy guitar chording, some vibes and a little trombone thrown in for good measure. It's a pretty tune, and it will make you smile.

4. Bourbon In My Cup: -- Talk about your change of paces…from the love song feel of the last track to singing of "so many troubles that the man has blues and bourbon in his little Dixie cup" on this track. This song has a great lyric and a late night blues feel, along with some beautiful, soulful piano work. Egan possesses a dusky, soulful, expressive singing voice, and he uses it to good measure here.

5. Love, Honor and Obey: -- This song has a sort of Memphis soul/swamp pop/2nd line feel. It's kind of an odd little track, hard to label (Good!), but it's a lot of fun to listen to. You know, it's just got a very cool vibe, as well as another of Egan's interesting lyrics. The man has a way with words, no doubt about it. The female backing "aaahs" give the tune a bit of a hipster vibe, like something you might hear on a James Harman CD. Yes, definitely a James Harman hipster vibe!

6. Money's Farm: -- This song is most certainly rooted in New Orleans. Egan is playing electric piano here, and there's a great 2nd line rhythm. "There's no trespassin' on Mr. Money's farm…" Mr. Money sounds none too friendly, although the tune itself sounds plenty friendly and will put a big smile on your face.

7. Small Fry: -- You've got a singer-songwriter feel here, with a pleasing piano line driving the song. Small Fry is a great title, as the song is somehow "childlike" in nature – but only in good ways! You're head will be bobbing along to the tune, and you'll smile every time you hear the splashes of slide guitar thrown around. The credits don't say who played the slide here, but it sure sounds like it could be Mr. Buddy Flett.

8. Best Of Love Turned Blue: -- Interesting song….the rhythm is a slow, funereal 2nd line rhythm, with a funky electric piano lying on top of that. Egan sings it in a laid back, almost lazy style, and just when you start getting really sucked in they hit you with a trombone solo. Did I mention it has another of Egan's cool lyrics? I like this tune a lot.

9. Sing It: -- Alright, a perfect song for the Mardi gras season! You all just have to know that I love that stuff, especially if it references Professor Longhair at all. This one is all New Orleans street parade. Nothing is over-the-top; it's ensemble playing, with the musicians moving in and among each other. Congas, Bari sax, lots of percussion…cha cha cha.

10. Proud Dog: -- Well, we've got some New Orleans-styled piano and horn-powered street funk here. What a cool lyric; I wish I could write 'em like this. This one is a lot of fun! You know, we just need more trombones in our music…listen to this CD for a trombone fix. Instead of "more cowbell", we all need to start saying "more 'bone".

11. Smile: -- What a nice ending to the CD…an uplifting lyric, some STOMPIN' piano (once again, think Fats playing heavy, very heavy). This tune is a showcase for Egan's singing and piano playing, as both are out front here. He's just pounding the ivories on this song; I hope the piano was useable when he finished.

The Verdict:
David Egan isn't the most prolific artist you'll see in terms of albums releases (probably because he's so busy writing songs performed by other artists), but when he does release a new album you know you are in for a treat. That is certainly the case here. This CD is firmly rooted in south-Louisiana music styles. You will hear things that sound familiar from time to time, little runs here, a rhythm there, with David taking it all and mixing it with his wonderful songwriting, playing and singing. Now that's a gumbo if I've ever heard of one. It's very hard to resist the pull of the songs here, so why even try? Get yourself out there and purchase this CD (well, you'll probably have to buy it off the 'net), slap it into a player, and prepare to entertained. This one would be especially appropriate for a Mardi gras party.

Lee Howland, aka "East Side Slim"