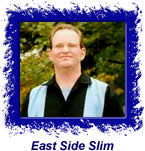 By East Side Slim
Rick Estrin – On The Harp Side
Artist released (no label), 2008

Most of you will recognize Rick Estrin's name from his work with Little Charlie & The Nightcats. While Rick fronted that jump-blues styled band for close to 30 years, and continues to front and also lead the band now that Little Charlie has bowed out, this CD is a showcase for old-school electric blues, and Rick's harp skills, rather than the jump blues the Nightcats have been know for. By the way, I use the term jump-blues in conjunction with the Nightcats lightly, because they were always much more than that. Anyway, if you're expecting the Nightcats sound here you won't be getting that. This CD is (mostly) full of '50s and '60s style blues harp tunes, along the lines of music first heard from Little Walter, James Cotton, Rice Miller, and others. The album really is a labor of love for Estrin, as he covers songs by many of the artists that have influenced his own playing (4 of Rice Miller's tunes). Rick also wrote 6 new songs (as well as reprising 1 song written for and recorded by The Nightcats several years back) for the CD, all them fitting in seamlessly with the 10 cover tunes. As stated by Rick in the CD's notes, "People have been asking me for years to do a more low-down, harmonica-focused CD… here it is". Yes, here it is… and it's an absolute treat from start to finish!

The band members heard on this CD (all playing ensemble style – everything geared toward the song) are some of the best around, and most of them are current or past members of the Nightcats. On guitar you get to hear new Nightcat guitarist Kid Andersen (who also recorded and engineered the On The Harp Side CD), as well as Rusty Zinn (who has worked with Estrin on and off for years, and can be seen in Rick's new instructional DVD). The current Nightcat rhythm section of J Hansen and Lorenzo Farrell play drums and bass respectively and former Nightcats Ronnie James Weber and Joey Ventittelli also make appearances. Just for good measure, noted Bay-area keyboard man Bob Welsh appears on several tracks, playing pianos, organs and guitar.

For those of you waiting for a new Nightcats CD, you won't have to wait long; there's an early June 2009 release date set for Twisted from Rick Estrin & The Nightcats. If that hasn't been keeping Rick busy enough, he has also put together a harmonica instructional DVD, geared toward more advanced players. It's a lot of fun to watch even if you are only a beginning player, or even if you are a non-player, and I will be reviewing that project for STLBLUES.NET.


The Songs: (songs composed by Rick Estrin unless otherwise noted)

1. Headin' Out
--This hot little instrumental number kick off the CD in fine style, with the band vamping along being Rick as he treats us to a some very nice Little Walter-inspired harp playing. By the way, this song is featured prominently in Estrin's instructional DVD.

2. Tell Me Mama - ("Little" Walter Jacobs)
--Speaking of Little Walter, here is one of his more famous tunes for you. While John Lee Williamson was the father of Chicago-style blues harp playing from the late 1930s through most of the '40s, Little Walter took harp playing to uncharted levels in the 1950s. Walter's playing was so influential that he's still venerated to this day – he really was The Man! Rick and the boys play a fairly faithful version of the tune here, including the clippity-clop percussion effect used in Walter's original version of the cut.

3. Fattening Frogs For Snakes – (Rice "Sonny Boy Williamson" Miller)
--Ah, the first of Rice Miller's tunes Estrin chose to cover on the CD. While Little Walter was a hugely influential player, Rice Miller's work is the stuff that really touches me. He played with a funky groove all the time, and was a very good lyricist and vocalist. Most importantly, he put it all together in a package that was pretty much irresistible. Fattening Frogs… was one of Miller's most famous cuts from his Chess Records days, and as with the last Little Walter track, Rick and the boys play a faithful version of the song. Turn it up loud so that you can better hear some of J Hansen's brush work.

4. Tell Me Baby – (John Lee "Sonny Boy" Williamson)
--Sonny Boy 1, the original Sonny Boy. Rick takes us down-home here, with acoustic harp, vocal and acoustic guitar from Kid Andersen. This use of the acoustic harp on this track allows Estrin to use many hand effects to shape the notes he plays. He also sings in a manner where the cadence and rhythm of his voice becomes an instrument of sorts. This cut offers a great modern take on the Bluebird sound. Very nice!

5. Blues For Doe
--We've got an after-hours-style harp instrumental here. Lot's of mood, "feel", whatever term you prefer to use, no one rushing the music along, with spaces between the notes adding almost as much texture to the song as the notes themselves. Personally, I hear George "Harmonica" Smith influences here, but even if I'm wrong (and it wouldn't be the 1st time!), this is still a fantastic cut.

6. Porn Bred
--OK… this one is funky, with a capital F. There's only one guy who played this way back in the day, and that was James Cotton. Geez, this song sounds so cool. I don't mean that as in "neat", but as in laid-back and in the pocket, always pushing at busting loose. The band is amazing, and Rick is blasting notes and chords in the manner of Mr. Superharp. Cotton's bands could get as funky as anyone, and he worked only with the best guitar players, such as Matt "Guitar" Murphy (who is possibly my favorite blues guitar player.)

7. Gangster Blues – (Eddie Burns)
--This is a tough shuffle featuring Rick's amplified harp and J Hansen's drum work. J is the current drummer for the Nightcats, and he's a pleasure to listen to. Just wait until Harlem Nocturne, a couple tracks down the road. Nothing fancy here with Gangster Blues, but the guys sure can make nothing fancy sound mighty fine.

8. Don't Lose Your Eye – (Rice "Sonny Boy Williamson" Miller)
--Rick takes on one of Rice Miller's slow blues here, once again in very much a down-home manner. This time it's Rick on acoustic harp and vocals, with just some sparse upright bass work from Ronnie James Webber. You can really hear the similarities between Rice Miller's and Rick's vocal approaches on this song, along with Estrin shaping and bending notes all over the place. Do yourself a favor and turn this one up nice and loud.

9. Big And Fat
--Here's an interesting track, as Rick and the band reprise a song originally recorded by Little Charlie & The Nightcats on the Shadow Of The Blues album. The arrangement and sound on this new version is quite different than on the original. There's a much tougher edge to the tune here than on the original, with some amazing (and complicated) chord work from Rick on harmonica. This new version of the song just sounds more dangerous, not unlike something from the early years of the Fabulous Thunderbirds. I'm not saying it sounds like old T-Birds, but it's got that kind of dynamic tension that the T-Birds often achieved.

10. Harlem Nocturne – (Earle Hagen)
--Almost every sax player since the '50s has tackled this tune, and Rick turns in a very fine, very atmospheric version of it here on harmonica. This version of the tune has some great touches; listen especially close to the brush work provided by past Nightcat drummer Joey Ventittelli – it sounds so nice.

11. Too Young To Know – (McKinley Morganfield)
--On The Harp Side wouldn't really be a tribute to down-home blues without a song from Muddy Waters' catalog, and Rick takes on one of Muddy's slow blues here. The guitar playing from Kid Andersen is spot-on, and Rick's harp work is downright nasty. This track is totally stripped down with only sparse percussion and bass present, keeping the spotlight firmly on Rick's vocals and harp, along with a sidelight on Andersen's guitar playing.

12. Gettin' Out Of Town – (Rice "Sonny Boy Williamson" Miller)
--Man, this is as down-low and funky as Sonny Boy 2 ever got. Rick's working the big 12-hole diatonic hard (that big harp has a very different sound, one which I enjoy very much), building up a killer groove, and his vocal style is reminiscent of Miller's. It's got that funky, groovy, slightly dangerous edge that Miller's vocals often conveyed. I've heard the word insinuating applied to Rice Miller's vocal style, which really is a good description. This tune is solo Estrin, just blowin' hard and singin' now and then. This cut may very well be my favorite from among the cover (tribute?) songs heard on the CD.

13. The Lottery Blues
--If this cut doesn't bring back memories of Muddy Waters' work I don't know what would. It leads off with a great lick in the Little Walter mold, moving directly into a slow blues. As with most of Estrin's self-penned tunes, there's great emphasis on the lyrics and on the song structure. This song is simply ensemble Chicago-style blues of the first order. Everyone is playing to the song, and it sounds amazing.

14. The Scissorbill
--This track is a swinging instrumental, probably the most "Nightcat"-like tune on the CD. Rick's playing swing's like crazy here, and there's an organ gurgling along just underneath everything, sometimes rising up and grabbing your attention before falling back underneath. Kid Andersen comes in with a sweet, jazzy, extended solo that fits in perfectly. You'll never notice 5 1/2 minutes have passed when the song ends. If you can keep your head and feet still during this song then you must be one hard son-of-a-gun.

15. Keep It To Yourself – (Rice "Sonny Boy Williamson" Miller)
--This is one of my favorite Rick Miller tunes, and it looks like it might be one of Rick's favorites, too. Rick's sense of rhythm and timing, at least to me, seems very similar to those of Rice Miller's. If you want to hear a modern player really nail that style, Estrin is the go-to man. A couple other cats who work this style well are Steve Guyger and R.J. Mischo; check 'em out if you aren't already familiar with them.

16. Murmur Low – (Arthur "Big Boy" Spires)
--Here's another low-down old-school blues, featuring Rick on acoustic harp and vocal along with Kid Anderson on acoustic guitar. I think I've seen where James Harman refers to this form of blues as "back porch style". Yes, it sure is, and it sounds great. Pay special attention to the way Estrin delivers the lyric. In fact, just kick back, open your ears and listen to this cut – you'll be amazed at how much is really going on. Players this good make songs like this sound too easy to pull off, but we all know better than that; there's years of work involved being able to interpret and play this well.

17. Dog On Dog
--The set ender, it's fitting that the tune is another hot instrumental in the Little Walter mode. Walter was a master of the hot instrumental track, and Rick and the boys do-it-up right. Just listen to the band backing Rick here; while he's wailing on harp (but always under control) the drummer is crashing along, with Zinn and Andersen playing the dual guitars lines you hear in the best of Chess Records blues tracks – imagine Robert Lockwood and Luther Tucker pushing this tune along and you'll get the idea.

The Verdict:

After listening to this CD a couple of times, OK, maybe 8 or 9 times, it's very obvious (at least to me) that putting this CD together was truly a labor of love for Rick Estrin - and for the band members as well. The fellas are incredibly well-versed in the styles heard here. They aren't just master musicians, they're also huge fans of the music they're playing, and it shows in everything everyone plays (and doesn't play – any noodlers out there need to put this CD on constant repeat.) Albums like this don't come along often anymore (direct yourselves to Steve Guyger's Radio Blues or Dennis Gruenling's I Just Keep Loving Him – A Tribute To Little Walter if you really dig On The Harp Side), making the discovery of this CD a definite treat. You might have to do a little digging to find it, as it's self-released by the artist, but the effort is well worth the reward of hearing the CD. Based on past reviews of mine readers probably know this type of music ('50s and '60s ensemble electric blues) is my favorite, but that said, I'm still giving this an STLBluesometer rating of 5.00 – dead solid perfect. It's really too bad that On The Harp Side doesn't have larger distribution… maybe Alligator could consider picking up the rights to distribute the CD down the road? With a brand-new Rick Estrin and the Nightcats CD coming soon on Alligator, that likely wouldn't happen for some time. So, all the more reason for readers of STLBLUES.NET to run out (well, hit the Internet) and purchase On The Harp Side from Rick Estrin.

Lee Howland - aka "East Side Slim"