 By Cornbread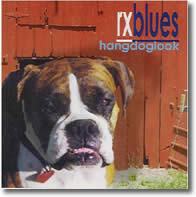 RX BLUES – HANGDOGLOOK
{2000 | Kode Blue Records}
Rx Blues gives us plenty to gnaw on with 13 original tracks.
"Doc Diaz" and group offer up 48 minutes of some of the best St. Louis blues on both sides of the big muddy. Hangdoglook is another fine, fine blues CD – it's just what the doctor ordered.
"Doc Cornbread" prescribes buying this CD, listening to it over and over again, tell a couple of friends about it, take 2 aspirin and email me in the morning.

The Band:

Jose Diaz Jr. – lead/rhythm guitar, slide guitar, dobro
Jeff Davis – lead/background vocals, bass, acoustic guitar
Gwyddon Kelly - lead/background vocals
Ray Thompkins – 'aka' "Bongoman" – lead/background vocals, conga drums
Kory Schaefer 'aka' "Crunchy" – keyboards, guitar
Jeff Niggli – drums, vocals

The Songs:

1. Hang Dog Look – guitar from the beginning, Davis & Kelly both on vocals

2. I Like It Rough – bass galore, a funky song with a Tower of Power sound

3. Monday Trash – Kelly gets down at times with her singing, dominant bass, an organ solo, and of course great guitar blues

4. Light In My Eyes – a jazzy slower song featuring Jeff Davis

5. Get Along With You Baby – a swingin', toe tappin' tune. I really dig the piano solo

6. Dark Side Of A Man – lots of distorted guitar work, backing vocals, a really good song

7. Life Without Love – mega instrumental lead and bluesy vocals, this is an awesome song! I'd bet your doctor can't play a guitar like Dr. Diaz can.

8. Can't Buy A Rumor – vocals are a bit grittier than others songs, check out Parker on this song. Parker? Yes, Parker, Diaz plays a Parker Fly.

9. I Don't Love You – adds Stu Williams, Jim Rosse & Jody Coffman on horns again to this eclectic jazz, blues, rock song

10. Steppin' To The Front – dominate drumming, horns, James Brown style vocals, this song is fair

11. Up 'Til Now - Imagine Diaz, steppin' to the front, dark sunglasses on and a great solo, his guitar probably still smokin', vocals were OK, the song repeated itself too often

12. Enough Enough – Al "Mr. Big" Winkeler adds harmonica to this tune, I liked it. A great combination with the steady beat, vocals, and guitar playing. I'd like more harmonica on some of the other songs.

13. Missing Link – an acoustic song, made me smile, man this is this a great song – more please!
The Website:
www.rxblues.com
The Rating:
We get 13 tracks, I liked all the songs except for three – all-in-all a good CD, give me more acoustic, more harmonica, think about ditching the horns (OK, maybe leave them on one song if you must). With fresh batteries in the ever so reliable bluesometer this CD gets a 4.015 out of 5.

Ciao' for now, peace.
Peter 'Cornbread' Cohen, CBP