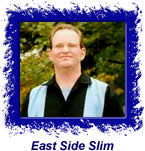 By East Side Slim
Moreland & Arbuckle – 1861
NorthernBlues Records, 2008

Moreland & Arbuckle (M&A) are 2 young men from the state of Kansas. They have a deep love of Mississippi Hill Country blues, hard Chicago slide-guitar blues and Piedmont blues. Basically, these young men love the real-deal blues. Aaron Moreland handles the guitar work, while Dustin Arbuckle blows harp and sings. Their full lineup is finished off with Brad Horner playing drums.
If you like your blues raw and real, then M&A should be right up your alley. They've come into such acclaim that NorthernBlues has signed the band, with 1861 being M&A's first release on the label. By the way, 1861 refers to the year that Kansas became one of the United States of America.

The Songs:

1. Send You Back To Georgia: (Hound Dog Taylor) --
The boys from Kansas play this one every bit as raucously as you would expect, as the song was originally written by Hound Dog Taylor. If you aren't familiar with Hound Dog you need to be. Check him out.

2. Fishin' Pole: --
This song is just plain infectious. Nothing fancy, no gimmicks, just distorted guitars, cool harp and a great vocal performance.

3. Tell Me Why: --
After 2 scorching tracks to lead off the CD, the boys bring it down a bit. This one has a laid-back Hill County feel. M&A's love of RL Burnside is showing here.

4. Diamond Ring: --
What a cool intro – B3 and harp, leading into a hypnotic guitar groove. I think the boys were trying to conjure Junior Kimbrough's ghost with this tune. Being young fellas, they do turn up the heat by the 2 minute mark.

5. See My Jumper Hangin' Out On The Line: --
This is a tune RL Burnside is famous for performing. M&A performs it in all its raw, earthy glory. Nice job boys!

6. The Legend: --
Mix some up-tempo raw blues, a spaghetti western and heartbreak lyric and you'll have an idea how this song sounds. I'll give you a hint – C-O-O-L!

7. Never Far Behind: --
This one is all country juke. Driving drums, acoustic harp, lots of resonator guitar. If your BBQ party is getting dull put this song on – all will be good! Watch out for that false ending…

8. Teasin' Doney: --
This song is a slower-style Hill Country-type tune. Dustin sings this kind of thing very well and plays the heck out of that harp – acoustically, too. At about 2:50, the song morphs into an electric organ jam.

9. Please, Please, Mammy: --
Shades of Jimmy and Eddie! (Reed and Taylor that is) This song has that old Vee-Jay feel that Reed and Taylor played oh-so-well, although Dustin Arbuckle is a much better harp player than Jimmy Reed was.

10. Pittsburgh In The Morning, Philadelphia At Night: --
This is a stomper folks! This song could go on for 30 minutes in a hot, sweaty southern juke; it's all groove, baby!

11. Wrong I Do: --
The boys bring it down after the last few smokin' tunes – especially after the last one. This is a pretty little acoustic track, resonator and vocals with just a little harp for seasoning. Very nice.

12. Wiser Jam: --
M&A and the band cut loose on this set ending tune. It's the boys getting' down and exploring grooves. It is a little long (6 ½ minutes) but it's a lot of fun.

The Verdict:

This CD, 1861, is a must-buy for all fans of hard driving, raw, in-your-face, from-the-gut juke joint blues. Moreland & Arbuckle played St. Louis near the end of September '08 at Beale On Broadway (thanks Bud!) and I'm very sorry I couldn't make the show (sorry Bud!) I have nothing but the highest recommendation for this CD – 4.5 on the STLBluesometer!

Lee Howland, aka "East Side Slim"