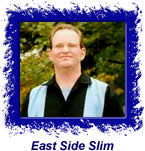 By East Side Slim
Watermelon Slim & The Workers – No Paid Holidays
NorthernBlues Records, 2008

This CD, No Paid Holidays, marks the 3rd release by Watermelon Slim & The Workers on the NorthernBlues label. Each release has garnered Slim and the band more attention and accolades, and deservedly so. Watermelon Slim (born William "Bill" Homans) is one of the most passionate bluesmen working today, and is skilled as a vocalist, songwriter, lyricist, slide-guitarist, guitarist, and harp player. He's also an artist, a member of MENSA, and one of the most interesting characters you will ever have the pleasure of meeting.
Slim's band, The Workers, are an incredible band to have behind him. They are his road band as well as his studio band. Slim and the Workers ARE a band. The Workers consists of Cliff Belcher on bass (and merchandise sales), Ronnie "Mack" McMullen on electric guitar, and Michael Newberry on drums (and band arrangements.) Of special note is the manner in which Watermelon Slim plays slide guitar. Rather than having the guitar hang in front of on a strap, he lays his dobro on a table or board in front of him on supports as he stands upright and plays it as if it was a lap steel guitar. He also places all sorts of mojo items on the table, usually knocking several of them to the floor over the course of the night due to his animated playing style. If you have a chance to catch the band, DO IT; you won't regret it.

Mr. Homans has an interesting history. He was raised in North Carolina and served in Vietnam, where he was wounded. He released an antiwar LP in 1973 titled Merry Airbrakes. He's been a truck driver on and off for years, has served as a driver for certain slightly nefarious characters in the Boston area (see the song "The Wheel Man" from his last cd), and has seen fit to move to Oklahoma and raise Watermelons. He's also an artist and has earned multiple college degrees. Slim released 2 CDs with the band Fried Okra Jones (on the Southern Records label) in the early 2000s prior to hooking up with The Workers. As you can see, he tends to keep himself very busy.
The Songs: All songs written by William P. Homans (Watermelon Slim) unless indicated otherwise.
1. Blues For Howard: -- Song #1 in a 14 song program, and a winner all the way. This up-tempo tune prominently features Slim's slide guitar work, and features a piano solo provided by guest player David Maxwell.
2. Archetypal Blues No. 2: -- Listen for the line "most of my heroes are dead". Slim sings here about how spiritual the blues can be, and name-checks some of his main influences. This tune is hot moving shuffle fueled by the slide work Slim. He tears that guitar up here!
3. Call My Job: (Perkins/Williams) -- This is the same song made "famous" (at least in blues circles) by Detroit Jr. (Emory Williams). The Workers put a nice funky edge of the tune, and Slim brings out his harp for the first time on the CD – showing that his skills on harmonica are very solid.
4. Dad In The Distance: -- The tempo slows here after 3 tough up- to mid-tempo tunes. It's a melancholy blues with outstanding drum work by Michael Newberry – Newberry is The Worker's secret weapon. Slim uses his slide guitar to great effect, using it as another voice in the song. All the fathers out there, listen to this one closely, as Slim sings about how difficult it can be sometimes to let go of your children as they grow and move on into their own lives, not needing you any longer in the manner that they once did. It's a great song, and really should be considered for year-end awards for blues song of the year.
5. You're The One I Need: (Ronald Lee "Ronnie 'Mack' McMullen" McMulen, Jr ) -- This song follows a laid-back Latin beat (listen to Newberry again!) Once again Slim pulls out his harp, and shows off a little here – but only as it fits the song (noodlers take note, don't overplay.) The man can play harp! This is a very strong track.
6. Bubba's Blues: -- Slim & The Workers bring the tempo and edge back up on this song. The slide is back, with guest slide guitar player Lee Roy Parnell contributing the slide to this song. The tune rides a mid-tempo shuffle groove, but smokes due to the guitar work and due to Slim's vocal delivery. He can sing you softly to sleep or raise the rafters, and a little of everything in between. Slim's philosophies for living are sung about in this song. Again, it's another hard blues shuffle with loads of slide work. The Workers simply excel at this type of song, so strap yourself in and enjoy the ride! I don't think old Slim would expect anything less.
7. And When I Die: (Laura Nyro) -- This song is a huge change of pace from the last couple of songs. It's an acoustic solo piece, with just Slim singin' and tootin' a little bit of harp. Slim always includes a couple of solo-type tunes on his CDs. In this song Slim tells about how he'd like to pass along into the hereafter, with no demons on his trail.
8. Into The Sunset: (William P. Homans/Michael Newberry) -- We've got a slide-fueled blues boogie tune here. You can feel yourself traveling down the road, man – courtesy of Michael Newberry's drumming! There's great lyrical imagery (of the Old West) present, which Slim takes pride in delivering to the listener. In fact, most all of his songs paint lyrical pictures of sorts, including the cover songs he chooses to perform. Listening to this tune is downright addictive, but listen anyway!
9. Gearzy's Boogie: -- Now this tune is hot! It's the only instrumental on the CD, and features Slim blowing the reeds out of his harp! Take a breath, Slim!!
10. This Traveling Life: -- This song finds Slim in field holler mode. He's hollerin' a prayer of thanks to God about flying to Australia/New Zealand to play his music for the good people "down under" and for being able to have experienced the things in life he's had the chance to see and hear. In lesser hands trying to pull off a song like this could become maudlin or insincere, but due to Slim's authenticity and passion the results are outstanding – inspiring and powerful would be better words.
11. Max The Baseball Clown: -- This is another solo acoustic piece, this time with Slim singing his story and playing acoustic guitar. The song is about Max Patkin, who was a clown who entertained at ballparks across America for decades. Max was playing ballparks before the idea of the "San Diego" chicken was even hatched. Are you old enough to remember Max? I am, and I saw him once when I was a very young boy.
12. The Bloody Burmese Blues: -- This is a very powerful contemporary electric blues song. It could very well be the best song on the CD, and could be another contender for song of the year. The lyrics are about Slim viewing the atrocities committed against people by their governments, and how "we" should stop being innocent bystanders and do something positive to put an end to human suffering at the hands of other humans.
13. I've Got A Toothache: -- The title says it all. Slim talks this one out over a sparse band arrangement, describing the agony of a toothache he's experienced and how it's making him very blue.
14. Everybody's Down On Me: ("Mississippi" Fred McDowell) -- The last song on the CD, which is a cover of a Mississippi Fred McDowell tune. Watermelon Slim is playing solo dobro slide and singing here. Slim performs the song with great respect for the original, playing it in the spirit of McDowell's version. It certainly showcases just how powerful a performer Watermelon Slim is, displaying his passion and sincerity for the blues and for his blues heroes. Amazing!
The Verdict:
I wholeheartedly recommend this CD to anyone reading this review. Watermelon Slim & The Workers are one of the most entertaining bands you will hear anywhere. Slim is incredibly passionate in his vocal delivery and in his guitar and harp playing. To paraphrase NorthernBlues chief Fred Litwin, "Sli is one of the most honest bluesmen alive". The Workers are extremely tight, and each musician in the band more than knows his way around his chosen instrument. The Workers can flat out play! This is the 3rd CD from Watermelon Slim & The Workers on the NorthernBlues label, and it is every bit as good as the 1st one. Hopefully there will be many more releases to come from these fellas from Oklahoma. I'm going to give this album a rating of 4.75 on the STLBluesometer scale. It's a good 'un!!
Lee Howland, aka "East Side Slim"