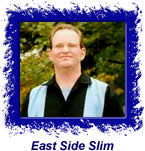 By East Side Slim
Al Basile – The Tinge – Sweetspot, 2007
Al Basile is a New England-based teacher, fiction author and cornet (trumpet variant) player, who spent many years as a member of Roomful of Blues. He has also worked with Joe Turner and Red Prysock. While he might have exited from Roomful back in the 1970s, he never really quit playing with members of the band, and Duke Robillard has been a good friend and songwriting partner for years. Al has released several fine solo records over the years, the last several on his own Sweetspot label, and most of them have utilized past and present members of Roomful of Blues – especially Duke Robillard. Each of Al's Sweetspot albums has had a stylistic theme of sorts. His last CD, Groovin' in the Mood Room, featured a small-combo Memphis soul/R&B feel, Blue Ink was his most bluesy, Red Breath mined the big-band era vibe of players such as Cootie Williams, and The Tinge has a jazzy theme (of sorts.) The theme here is The Tinge itself – based on the Spanish Tinge, which is a rhythmic pattern that eventually led to the invention of jazz (see the liner notes for an expanded explanation.) Basile possesses a Master's Degree in creative writing, which is put to good use in his crafty lyrics and in the paragraph or two that he writes about each song, found in the liner notes to the CD.

The musicians used on this CD deserve at least a quick shout-out. Of course Al Basile is singing and playing cornet. The incomparable Duke Robillard is on all guitars, and produced the album as well. Longtime Robillard cohorts Marty Ballou and Mark Teixeira are on bass and drums, respectively. Mr. Bruce Katz is providing the stunning organ and piano sounds, and the saxophone section consists of Rich Lataille and Doug "Mr. Low" James. Recognize any connections to Roomful of Blues? If the answer is yes, then good for you! If the answer is no, then shame on you…
The Songs: (all songs by Al Basile)
1. Go Back Home to the Blues
--The leadoff track to the CD, this one swings along very nicely. It sets the tone to the entire CD, with its uptown-feel, jazzy-swing and bluesy-rhythms. Basile and Robillard both play great, tight solos here. Not too many folks record music like this anymore, and that's a real shame. However, you can certainly enjoy this!
2. Just Wait and See
--This track kind of reminds me of what might occur if you crossed B.B. King with Tower Of Power. It's bluesy but not blues, jazzy but not jazz, really more uptown R&B with a bluesy base. It's a very nice song, with a great late-night feel. Bruce Katz and Duke Robillard both add much to the mix.
3. Airlift My Heart
--This is a slow love song, or rather a falling out of love song. Thankfully it is not maudlin, as some of these sorts of tunes can be. It has a vaguely New Orleans funereal feel to the beat (a slow tinge?), and Al's use of a muted (bathroom plunger) cornet adds greatly to the atmospheric vibe of the song.

4. Not the Wrong Woman
--Ah, this is nice… Bruce Katz is laying down some very fine piano lines, with the sax section sliding in and out of the proceedings. This tune is all groove and feel, riding along on the cool rhythms set up by "walking" acoustic bass and cymbal work.

5. Can I Trust You with a Kiss?
--To me, this sounds like a lost '60s-era Muscle Shoals mid-tempo soul tune – not quite a weeping ballad, but definitely slow and sensual. Katz' organ work is very much in the Muscle Shoals/Memphis vein here. The entire cut just reminds you of how good that music was (and still is!)

6. Give Me the Rainbow
--This song is in the style of the old jazz standards. It has a beautiful melody, the lyric is important and is well delivered in a crooning style, and each of the soloists plays a concise and well thought-out piece that fits into the song's overall melody.

7. Too Slow
--This is soulful R&B, stylistically similar to some of Ray Charles' work just before he moved heavily into his countrified material. The cut is very bluesy, and Basile sings it in a gruffer voice than he uses for many of the CD's other songs. Al mentions in his notes to this song that the feel was inspired by Eddie "Cleanhead" Vinson, and that Duke Robillard and Doug James helped to give this a definite old Roomful sound. It's all true, folks. This tune is one of East Side Slim's favorite songs on the CD.

8. While We're Dancing
--The title says it all. The song is an ode to the days when couples wanted to touch while dancing, holding hands and touching a shoulder or back, feeling the breath and body-heat from their partner, maybe even getting lost in the moment. It's a tender song with a pretty melody.
9. Daddy Got a Problem
--Al roughens it up a bit on this track, playing an introduction featuring some nice growling cornet. This is another bluesy R&B number, this time with a modified shuffle beat. Duke Robillard and Bruce Katz both weigh in with very cool, very concise solos, as does Basile on his cornet. If all was fair in radio land today (and it hasn't been for decades) this cut could very well have been a hit.
10. She's in Love with Losing
--This is a melancholy R&B tune with some nice work on the Wurlitzer from Bruce Katz. Bruce is one of my favorite keyboard players, and I have yet to catch one of his appearances at B.B.'s Jazz, Blues & Soups here in St. Louis. Well, that's my loss, and yours, if you haven't caught his show either.
11. You're Still Right
--This is one of the more bluesy tunes on the CD. Duke is playing some Delta-inspired guitar licks throughout the tune, and Bruce is laying down some barrelhousin' piano lines. This song is much grungier than anything else on the CD, and it helps to give the album a little more bite.
12. Losing My Cool
--This tune is very "cool", pun fully intended. This one dips once more into the Memphis/Muscle Shoals soul bag, and does a nice job of capturing the feel of that era without being simply a carbon copy of that music. It's very heavy on organ, but not in-your-face with it, and Duke is comping along with style.
13. Strawberries and Cream
--This is the one song on the CD which I didn't care for very much. For me, the tune is just a little too cloying. That's just my personal taste, and should not dissuade you from enjoying the song – different strokes for different folks.

The Verdict:
The Tinge is a fine piece of work from Al Basile and his cohorts. Al's voice fits the material well, and his cornet playing is a real treat. It's a nice change of pace to hear cornet/trumpet played in the styles heard here (which span the history of blues, soul, and small-combo jazz), especially when Al uses various mutes and growl effects. It speaks to how well respected Basile is in New England musical circles when you peruse the names of the band members used to record this CD. The boys achieve a '70s-era Roomful of Blues sound and the addition of Bruce Katz on keys (who almost steals the show – as he usually does) makes it all even better. The CD was produced by Duke Robillard, who seems to have an instinctual feel, and unabashed love, for swinging jazz and blues, and for all the styles of music represented by the songs on this CD. This is definitely one of those sneak-up-on-you albums, meaning each time you listen to it you will like it more. I'm going to give this CD, The Tinge, an STLBluesometer rating of 3.50 - if you have a real love of pre-bebop jazz styles you'll rate this one even higher.
Lee Howland - aka "East Side Slim"