The Mannish Boys - Double Dynamite - Delta Groove Music, Inc., 2012

By East Side Slim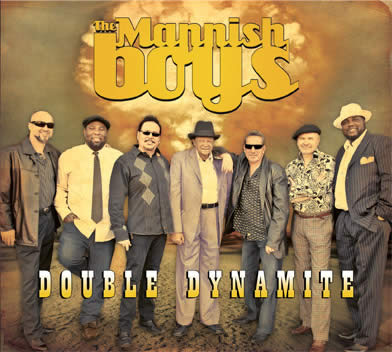 The Mannish Boys – Double Dynamite – Delta Groove Music, Inc., 2012
The Mannish Boys blues and rhythm revue is back with its 6th release, and the core of the band has changed a bit from previous CDs. This time around the band features Finis Tasby (this may end up being some of his last recorded work, due to health problems), Randy Chortkoff (band and label founder), Kirk Fletcher (1st-call LA-based blues guitarists for years, and he's still a relatively young man), Frank Goldwasser (Paris Slim), Willie J. Campbell (ex-James Harman Band member) and Jimi Bott (the only drummer on the set, and just maybe the finest blues drummer working today, as well as being a veteran of The Mighty Flyers and of The Fabulous Thunderbirds.)

Even with this amount of talent on hand, the band rarely sticks to utilizing only these artists (excepting Jimi Bott.) As is typically the case, The Mannish Boys efforts tend towards an R&B revue format. The guest list on Double Dynamite is as impressive as it is long - the guests on-hand include: James Harman, Mud Morganfield, Jackie Payne, Bob Corritore, Rod Piazza, Jason Ricci, Elvin Bishop, Mike Finnigan…..whew, had to take a breath there…Rob Rio, Rich Wenzel, Bill Stuve, Cynthia Manley, Nathan James, Kid Ramos, Junior Watson, Fred Kaplan, Woody Woodford, James Michael Tempo, and more.

So many songs were recorded with so many featured artists that 2 discs (each with 13 tracks) were necessary to bottle this genie. Disc 1 – subtitled Atomic Blues – focuses on hard, traditional, '50s-'60s era electric blues. Disc 2 – subtitled Rhythm & Blues Explosion – still showcases plenty of blues but also folds in material of the R&B and soul veins, including plenty of brass action. To say that you get your money's worth with the purchase of this double CD would be extremely accurate; this set is on fire from cut 1 to cut 26.

The Songs: (songwriter in parenthesis)
Disc One – "Atomic Blues"
--all guitars heard on disc one are by Fletcher and Goldwasser, with the exception of a solo on track 2.
1. Death Letter – (Son House)
--Sugaray Rayford is on vocals for this slide guitar driven, martial take on the Son House tune. Goldwasser slashes and burns his way through, emphasizing just how harrowing the lyrics are.
2. Mean Old World – (Walter Jacobs)
--Finis Tasby delivers a world-weary vocal take to this Little Walter classic, while Rod Piazza mans the harp chair with the power and grace we've come to expect (and appreciate.) An added bonus is a tasty slide guitar solo turn by Elvin Bishop.
3. Bricks In My Pillow – (Robert Nighthawk)
--The band delivers this classic in an unusually jaunty arrangement, featuring Rob Rio's barrelhousing piano and Rayford on vocals.

4. She's 19 Years Old/Streamline Woman – (McKinley Morganfield)
--Jackie Payne is on-board for the vocals here, taking a nice turn on this slow blues. Also, Piazza is back for another turn on harp, playing in a style ol' Mud would have been plenty proud to have on his own records. Jackie Payne has worked with guitarist Steve Edmonson for years (including a couple of CD releases on Delta Groove), and if you aren't familiar with Payne's work seek it out; he's a talented soul and blues singer. (Edmonson has been battling health issues…well wishes to Steve.)

5. Never Leave Me At Home – (Frank Frost)
--Finis Tasby is back on vocals, on this stripped-down, mid-tempo shuffle, a bit rougher than the Jelly Roll Kings work but still sounding oh so nice. Randy Chortkoff supplies the down-home harmonica work, playing acoustically.

6. Elevate Me Mama – (John Lee "Sonny Boy" Williamson)
--Interesting….a Sonny Boy 1 classic worked up firmly in a Muddy Waters hard-blues arrangement, with harp provided by Bob Corritore. If the vocals sound eerily like those of Muddy, that's because his son, Mud Morganfield, was brought in to sing on this cut. To say his vocals possess the spirit of his father would be an understatement…

7. Please Forgive Me – (Randy Chortkoff)
--This one is a bit of a rarity, a Mannish Boys song written by someone actually in the Mannish Boys. Sugaray Rayford sings and Randy Chortkoff blows powerful harp in this sturdy mid-tempo ensemble blues number. This one is sneaky good….with each listen it gets better and better. Rob Rio is working over his piano and Kirk Fletcher digs in and cuts loose! This one's about a groover, baby.

8. Everybody Needs Somebody – (Walter Jacobs)
--Tasby's 3rd vocal effort on disc 1 may be his finest, as he imbues Little Walter's tune with true depth of emotion. Also on hand, and in outstanding fashion, is Jason Ricci. He provides a remarkable harp tone throughout the cut, all taste and feel and, well, more emotion. This is a slow blues, and it's a beauty.
9. Bad Detective – (James Harman)
--James Harman takes the spotlight on this groovy number, writing it, singing it and playing tasty harp. The tune features Harman's wise-guy, blues-wizard persona, as well as his usual insightful lyrics. Kirk Fletcher also stars, serving as Harman's foil, much in the manner that Hollywood Fats once did. And, don't forget to pay attention to Rich Wenzel's piano playing here…it sneaks up on you, but provides much color to the song.
10. You Dogged Me – (Randy Chortkoff/Mitch Kashmar)
--The Men are going old-school here, working a Jimmy Reed-via-Fabulous Thunderbirds shuffle and riff. Firmly in Reed's style, but with the edge of the early T-Birds The cut also features 2 harp players, with Chortkoff playing 1st position (the Jimmy Reed stuff) and Goldwasser in 2nd. After listening to this a couple of time, it really reminds me of the prime years of Mike Morgan & The Crawl when the band featured Lee McBee.
11. Bloody Tears – (Willie Dixon)
--If the title isn't harrowing enough, the sounds coming out of your speakers prove even more so. Frank Goldwasser takes the vocals and lays his slashing slide guitar all over this thing. Willie Dixon may have written the tune, but this one is an ode to Elmore James!
12. The Hard Way – (Otis Spann)
--This is a nice take on Spann's tune, although I don't know if Sugaray Rayford quite captures the anguish and raw emotion that Spann did on the original recording. That said this is a fine slow blues featuring a stand-out performance by Rob Rio on piano and Frank Goldwasser on lead guitar. For those of you unfamiliar with the lyric, it's about trying to make it in this mean old world when you haven't had the luxury of a formal education, about how cruel and tough the going can be. But it's also about how you shouldn't underestimate someone's intelligence…formal schooling and raw intelligence are not necessarily partners.
13. Mannish Boy – (Mel London/Elias McDaniel/McKinley Morganfield)
--Atomic Blues closes out with one of the blues true standards – Mannish Boy (performed by The Mannish Boys…get it?) Mud Morganfield is brought back to the mike to provide that Morganfield magic (that's Muddy, y'all), Corritore blows like James Cotton, and everyone hoots and hollers and carries on a bit. No new ground is broken of course, but it's a fun, exciting, true-to-tradition performance none the less. Aint' that a man….YAH!
Disc Two – "Rhythm & Blues Explosion"
1. Born Under A Bad Sign – (William Bell/Booker T. Jones)
--The Mannish Boys take on a classic that is forever tied to Albert King. The band percolates along nicely, albeit not achieving King Albert's critical mass. Finis Tasby is singing this one (with a bit too small a voice), but Elvin Bishop is handles himself well on lead guitar, substituting his jagged slide work for Albert King's massive bends.
2. That Dood It – (Rose McCoy/Rudolph Toombs)
--The band moves in a decidedly R&B-ish direction with this tune associated to James Brown (one of several on Disc 2), touching on the comedic and doo-wop flourishes of bands such as The Coasters. The cut does also works as a nice feature for Kirk Fletcher and Rob Rio.
3. You've Got The Power – (James Brown/Johnny Terry)
--This one is a tough R&B/soul duet between Sugaray Rayford and Cynthia Manley, working an old (pre rhythm only) James Brown groove. This cut sounds like it was lifted right out of The "5" Royales songbook (who were an early influence for James Brown), which is most certainly a compliment.

4. Drowning On Dry Land – (Allen Jones/Mickey Gregory)
--Rayford handles lead vocals here, acquitting himself very well – he has a voice that fits soul material very well. Guest Mike Finnigan supplies tasty B-3, and Kirk Fletcher's lead work is sweet as rum punch. Drowning on Dry Land has been recorded by scores of artists, but notables include O.V. Wright, Albert King and Roy Buchanan.

5. Mr. Charles Blues – (Ray Charles)
--Ray Charles wrote this as homage to one of his favorite piano players, Charles Brown. Mike Finnigan displays why he's a 1st call vocalist (wow!) and tickles the ivories here, too. Bill Stuve (of Mighty Flyers fame) is dancing with that ol' upright bass fiddle, making this thing swing. Late night classy blues right out of 1952. Beautiful…

6. Cold Sweat – (James Brown/Alfred "Pee Wee" Ellis)
--I'm not sure why anyone covers this tune on a recording at this point, as James Brown's version is simply definitive. However, The Mannish Boys work this out as an instrumental (sans hoots and hollers) much more in a Tower Of Power pocket than a JB pocket. Essentially, it's an instrumental feature for the horn section and for Kirk Fletcher's fretwork.

7. Later On – (Jimmy McCracklin)
--Ah, a cover of the great Jimmy McCracklin – that's always a good choice. This is basically a dramatically slowed -down version of "Think". Finis Tasby is singing here, and his voice is a very nice stand-in for McCracklin's. Noted special guests included Nathan James on lead guitar (what a feel!) and Fred Kaplan (a great choice for this material!) on piano.

8. You Don't Love Me – (Aaron "T-Bone" Walker)
--Kid Ramos is back playing guitar for The Mannish Boys, and tackling a T-Bone classic. Talk about a great fit…Kid is all about tone (and taste), as was Mr. Walker. Also back on-hand are Finis Tasby and Fred Kaplan, and if truth be told, this reviewer could groove on Fred's piano playing all night long. What a talent! If you are a fan of Lloyd Glenn's work then you will also dig Fred Kaplan (if you don't already!)
9. Bed For My Soul – (Jeffrey Monjack)
--This is a nice change of pace, with Jackie Payne back on vocals for a tune with a decidedly "Delbert" feel. It's a groovin' choogler, riding a laid-back B-3 bed and sporting some decidedly tough acoustic harmonica work courtesy of Jason Ricci. It's a very real treat to hear Ricci playing in this fashion, as his skills and tone are so righteous, and also a bit easier to get one's head/ears around than with some of Jason's own recordings.
10. Why Does Everything Happen To Me – (James Brown)
--James Brown via Guitar Slim…yep, that's just about right. The things that you do to me sure sound nice when you say please, please, please. Kid Ramos steps to the fore here, expertly supplying biting, jagged Guitar Slim stylings, and Sugaray Rayford lies back with a relaxed, emotive vocal reading.
11. I Woke Up Screaming – (Willie Headen)
--Finis Tasby's world weary vocals are perfect for this cut, making you believe he's in pain with his baby's straying. Junior Watson –JUNIOR WATSON – works his magic, dancing and bopping and slashing all over, and Bill Stuve keeps things deep in the pocket. And don't forget that brass….
12. West Helena Blues – (James Cotton)
--This is the blues, people - tough, real, take-your-time slow. Sugaray is singing once again, and I might add, very well. He's a highly expressive vocalist, and it doesn't hurt when you've got Fred Kaplan on B-3 and Jimi Bott on drums. Randy Chortkoff has the somewhat impossible duty of filling Cotton's harp shoes, but Randy really is an accomplished harp man, learning 1st-hand from folks such as William Clarke.
13. Hittin' The Groove – (James Harman)
--Aw, this much groove just shouldn't be legal (but I'm glad it is!) James Harman simply takes the party over, with his trusted secret weapon - Michael Tempo - layering in all sorts of tasty percussion. Harman's sly vocal turn is a beautiful thing to behold, as is the fact that he's basically working with his old band again – Willie J. Campbell, Kid Ramos, Tempo, and Fred Kaplan (with Nathan James, from his newer bands, on-board for good measure.) And if that's not enough…drum fans, you better – I say – you better listen to what Jimi Bott is puttin' down.
The Verdict:
Well, what do you say about something as well thought out and well performed as Double Dynamite? I could lay a long line of superlatives on you, but that would be pandering and likely still not enough praise for this effort. The Mannish Boys blues and rhythm revue hits on all cylinders here, with only a couple vocal-duty choice to quibble with – and even those are minor. With this many artists involved, and so many songs, this album could have collapsed under its own weight – or just simply bogged down and sounded mechanical and rote. None of that is the case of course, as the 2 CDs serve as vivid records of how this music is supposed to be played – with passion, enjoyment, skill, subtlety, and more than a pinch of mojo dust. And, the 2 songs brought in and sung James Harman just about steal the show – the man is a national treasure. Alright, it's time to rate this bad boy - Double Dynamite by The Mannish Boys is hitting the charts at a 4.50 on the STLBluesometer.
For more information concerning The Mannish Boys, see the following websites:
http://www.themannishboys.com
https://www.facebook.com/pages/The-Mannish-Boys/319430594093

Lee Howland - aka East Side Slim