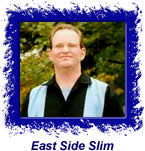 By East Side Slim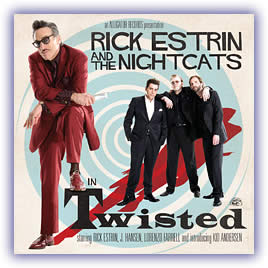 Rick Estrin and The Nightcats – Twisted – Alligator Records, 2009
As most blues fans probably know, Little Charlie Baty chose to come off the road, exiting from Little Charlie and The Nightcats and taking his name with him. Many fans had always assumed that band front-man, vocalist, harp player and songwriter Rick Estrin was Little Charlie. An easy enough mistake to make, but a mistake just the same. Well, Estrin has now taken full control of the band with Baty's departure and has rechristened the group Rick Estrin and The Nightcats. This rechristening has also led to a change in the band's overall sound. Known primarily as a jump blues band (although that was never entirely accurate) under Little Charlie's reign, the band under Estrin's control is a tough, hard-edged blues band that typically plays to an ever-present groove.

So, who took on the guitar chair in the band? That person happens to be Kid Andersen, the best Fabulous T-Birds guitarist who never actually played for the band. Kid does not play in Charlie's style at all; his tone tends to be grittier, greasier, more Texas influenced. When I hear Kid play, I hear influences such as Junior Watson, Freddie King and the Vaughan brothers. Kid is originally from Norway, and by the time he was 18 years old he was backing touring American bluesmen who came through Norway. He moved to California when he was 20, and within a few years had joined Charlie Musselwhite's band – Kid knows how to back great harp players. He has also released several solo CDs.

The Nightcat rhythm section has been stable since 2003. J. Hansen is still the drummer. He has been playing professionally since age 13, and began playing in Dixieland and Trad jazz styles. He continued playing various jazz and R&B/funk styles through college (and beyond), eventually landing with Steve Lucky and the Rhumba Bums in 1999. He joined The Nightcats in 2002. Bass player Lorenzo Farrell caught the jazz bug in high school, switching from piano to upright bass. Lorenzo has played jazz for many years, and he also ended up in Steve Lucky's band during the same time period J. Hansen was in the band. Farrell joined The Nightcats in 2003, reuniting the rhythm section of J. and himself.
The Songs: (all songs by Rick Estrin except as noted)
1. Big Time
--This tune kicks the CD off in fine fashion. It's full of sweat and attitude; mean sounding harp, dirty guitar, and heavy rhythm. This tune could fit well onto one of James Harman's Black Top era albums.

2. Back From the Dead
--This one contains some killer guitar work from Kid Andersen, especially during his solos. No harp on this song, as it's a rockin' tune featuring Kid's guitar. The clever lyrics are about the tough life Estrin led back in the day, and how he knows how fortunate he is to be around today, doing what he loves to do – making music.
3. U B U
--This song rides a very cool groove, with Kid again displaying some tough guitar lines. Rick steps up to match him with his own down-and-dirty harp work. Kid and Rick sound great playing together.

4. Walk All Day
--A funky, struttin' blues about women who know how to walk. Guys, you all know this is the truth - East Side Slim knows it well. You see that certain woman, whose manner of walking speaks directly to that inner, caveman brain. Girls like that will drive a good man crazy – crazy with passion. If you've got a girl like that, make sure to hold on to her! "Girl when you walk that way, I can watch you walk away all day…" Rick speaks the truth!

5. Catchin' Hell
--Change of pace time… This is a deep, slow blues, with some beautiful guitar work courtesy of Kid. His work here sounds to me kind of like a cross between Magic Sam and Stevie Ray.

6. Earthquake – (Kid Andersen)
--This is a fun rockin' instrumental used as a feature for Kid Andersen. Surf blues anyone? It's watusi time! Rick isn't to be left out, as he lays a screamin' harp solo on us.

7. P.A. Slim Is Back
--This is an up-tempo, swinging tune, probably the closest in style on the Twisted album to the band's sound as Little Charlie and The Nightcats. The song is a harp playing feature, at least when Rick isn't singing, and Kid knocks off a blistering solo. I'm not sure who P.A. Slim is (Estrin's alter-ego?, maybe a conglomeration of several folks?), but the song sure sounds great.

8. A Ton of Money
--This is a mid-tempo rockin' blues tune, with a seriously nasty sounding guitar tone. That's nasty as in very cool. Who hasn't ever dreamed of what they could do with a big old pile of cash?
9. Take It Slow
--You are taking it slow here, as this cut is an atmospheric, slow-blues instrumental with deep Chicago roots, and a deep, deep groove. Rick's amplified harp playing here is phenomenal, full of fire and feeling, and Kid's backing-work on guitar is dead-on perfect. Kid really knows how to mesh his own playing with a harp player.
10. I'm Takin' Out My In-Laws – (J. Hansen)
--This up-tempo bluesy/rockabilly-flavored track is written and sung by drummer J. Hansen. I'll tell you what, he isn't singing about taking his In-laws out to dinner. You figure out the rest! With J. on vocals, Estrin gets another chance to display is formidable harp talents. On this tune, he's playing in an old-school Chicago style – very few harp players out there perform that style better than Rick.
11. Cool Breeze – (Rick Estrin, Kid Andersen, Lorenzo Farrell, J. Hansen)
--Aw, this is very cool. It's a chromatic-driven jazzy instrumental, swinging along very nicely. Kid has to play a little prettier here, but he still manages to mix a little grit in there. As is the case with many jazz tunes, each player gets some solo or featured playing time.
12. You Can't Come Back
--This tune, featuring a very clever lyric, is performed in a modernized Rice Miller style. Sometimes your woman leaves you one too many times for her own good, and that's what this song is about. A good man is usually better off when a woman like that finally moves on.
13. Someone, Somewhere
--This song is an acoustically performed deep, slow blues. Kid sounds wonderful on the acoustic guitar, and the brushed drums are a treat. Rick uses his harp to add color and shading to the song. Muddy Waters made his name singing this type of tune, and I would like to think that he would approve of this one whole-heartedly.

14. Bigfoot – (Kid Andersen)
--The big finale, this instrumental cut is a greasy rockabilly-styled raver, with touches of Texas swing, surf and Link Wray thrown in for good measure. It's a LOT of fun!
The Verdict:
Those of you who are expecting the new Nightcats CD to sound like a Little Charlie CD will be taken by surprise by Twisted, the new album from Rick Estrin and The Nightcats. This album is definitely Rick Estrin's show, and the songs are focused around his songwriting and musical tastes, his harmonica playing, and the guitar playing of Kid Andersen. Kid is a great player, with a tone and style quite different than that of Little Charlie Baty. While I do miss hearing new material from Charlie, (he's an incredibly inventive musician), Kid's playing is greasier than Charlie's, a little rougher-around-the-edges and more twangy. Mostly it's greasier, which fits the tunes here wonderfully – there's very little jump blues present, but everything swings like crazy. If Rick writes it, it's going to have a swingin' groove to it at some level. The songs run the gamut of styles here, from hard blues, to rockabilly, to greasy guitar-driven blues, to slow blues, well, you get the idea. Hopefully, Estrin and the current configuration of The Nightcats will stay together for many more albums, as they are definitely onto something good! Let's rate this bad boy - STLBluesometer rating of 4.50 - this one just gets better and better every time you listen to it!
Lee Howland - aka "East Side Slim"