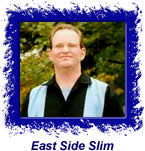 By East Side Slim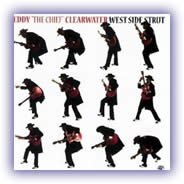 Eddy "The Chief" Clearwater – West Side Strut
Alligator Records, 2008
Eddy Clearwater's real name is Eddie Harrington, and he a member of the musically-inclined Harrington family, whose members include the Rev. Harrison Harrington, Carey Bell (who's real last name was Harrington), as well as Steve and Lurrie Bell. He gained the "Chief" moniker due to the fact that he enjoys wearing Native American headdresses on-stage while playing. This is considered to be a nod to his Grandmother's Cherokee ancestry.
The southpaw (that's left-handed for all you non-baseball minded folks out there) guitarist gained his stage name from Jump Jackson. Jackson was a drummer in Chicago when Eddy arrived on the scene out of Birmingham, Alabama, and served as Eddy's manager for a time. As a prerequisite for agreeing to manage Eddy's career, Eddy had to agree to Jackson's request that he use the stage name of "Clear Waters" (a take-off on "Muddy Waters"), which later morphed into Clearwater.
Eddy was heavily influenced by the reigning kings of the West Side blues scene in Chicago, men such as Magic Sam (Sam Maghett), Freddie King, Otis Rush, George "Buddy" Guy and Luther Allison. The West Side sound was more intense, edgier in some ways, than the older South Side blues sound. The sound was developed by a younger generation of players, who were willing to incorporate some of the harder edges of rock 'n' roll into their blues. Eddy was also heavily influenced by Chuck Berry, and for some time was considered a "Chuck Berry knock-off" by some people.
Eddy recorded 45s for many small record labels during the '50s and '60s. These included his uncle's (Rev. Harrison Harrington) Atomic-H label, as well as LaSalle and Federal. Eddy has recorded albums for several other labels over the years as well, including 3 for Rooster Blues, 3 for the Bullseye/Rounder family of labels, 1 for Blind Pig, and his current CD, West Side Strut, his 1st album for Alligator Records.
The recording for West Side Strut was financed by Eddy prior to having a label affiliation. This is becoming a fairly common occurrence today, as it is becoming increasingly difficult for artists to gain label affiliation. On the up-side, it also allows an artist to record what they want to record, without label interference. Eddy recruited long-time friend Ronnie Baker Brooks to produce the album, and Ronnie brought his talents, along with his own band, to the project as producer, guitarist and vocalist. Needless to say Ronnie's hand is all over this CD, so fans of his should very well enjoy West Side Strut. In addition to Ronnie and his band, this album also features guest appearances by Billy Branch, Lonnie Brooks, Jimmie Johnson and Otis Clay!
The Songs:
1. A Good Leavin' Alone: (Eddy Clearwater & Ronnie Baker Brooks) -- I love the title of this song; it will make sense when you hear the lyrics. This song is opens the CD in a full-tilt, hard shuffle mode. It's very similar in feel to some of the heavy shuffles Magic Slim is known for. The song features the harmonica work of Billy Branch, and there's a lot of tough, in your face guitar work from Eddy heard here, too.
2. Hypnotized: (Eddy Clearwater) -- This tune is a strange one. On the one hand it's a great up-tempo contemporary electric blues tune with fiery lead guitar work from Ronnie Baker Brooks. On the other hand, the song has this wavering tone heard throughout which rises and lowers in pitch, simulating some sort of hypnotic signal. On first listen it is fun and kind of clever, but upon repeated listens the hypno-tone becomes irritating. As the CD is 56 minutes long or so, there would have been plenty of room to include a "straight" version of this song that had the hypno-tone removed. I really like this song a lot (minus the hypno-tone), so it's a shame that Eddy and Ronnie (and the folks at Alligator) felt inclined to leave the gimmicky tone in the song.
3. Gotta Move On: (Clearwater & R. Baker Brooks) -- The tempo is brought way down for this slow blues. It's a nice change of pace after the two fast tunes that opened the disc. The song has a dark feel to it, with lots of room for saxophone work (backing and solos). Eddy is singing about the breakup of a relationship, and the pain and difficulty of "moving on" with one's life after the end of a long relationship. This song is a winner!
4. Walking Through The Park: (McKinley Morganfield) -- We've got Eddy's take on the Muddy Water's classic here. It starts off with a raw, modern-feeling intro that segues into a fairly faithful rendition of the song. Billy Branch is back in the game, lending his harp skills to the tune to great effect, and Eddy's West Side-style guitar solos are raw and vibrant – and right up in your face! The song also has a fun little sung-talked section where Eddy and Billy trade little asides about the girls they're watching walk by. This is one of the finest renditions of this old warhorse of a song that I've heard in a long time.
5. Do Unto Others: (Karen Leipziger & Richard Fleming) -- This is a slow blues with definite gospel undertones, featuring a lead-trio format on vocals by Eddy, Jimmie Johnson and Otis Clay, joined by Lonnie Brooks on background vocals. Also, Ronnie Baker Brooks plays lead guitar on the track. The song was co-written by Karen Leipziger, who happens to be Eddy's friend and publicist and has contributed songs to several of Eddy's more recent albums. I like it this one!
6. Blue Over You: (E. Clearwater) -- This is a groovy little shuffle, with nice rhythm harp work provided by Mr. Branch and some nice organ fills. This is probably my favorite song on the album; it doesn't sound quite like anything else on the CD, as it's basically built along rhythm work rather than screaming lead work. It has a nice warm tone, and is almost impossible to hold still to. It must be that groove thang at work!
7. Trouble, Trouble: (Lowell Fulson) -- Ah, a cover of one of the masters, Mr. Lowell Fulson (if you don't own any of Fulson's work, get out and pick up the 2-CD set Chess released back around 1997.) Eddy performs this song in fine style, capturing the feel of the original while adding some of his own spice to the mix. It sounds like Fulson could have been one of Clearwater's early influences, which is not a bad way to go in the blues world. You really get to hear Eddy play in the true West Side style on this track, probably more so here than on any of the other tunes on this CD, and at just over 6 minutes in length you get to hear a lot of it!
8. Too Old To Get Married: (R. Baker Brooks) -- This song is a duet with Lonnie Brooks, with Lonnie being given credit for co-lead vocal and for co-lead guitar. There's no Earth-shattering messages going on here; it's just a fun romp by two old friends who clearly enjoyed playing together. They might be too old to get married, but they're both too young to be buried! Both men are in their 70s now, but it would be hard to tell from listening to this song. They brought it hard, folks!
9. Came Up The Hard Way: (E. Clearwater) -- This is an acoustic duet performed by Eddy and Ronnie Baker Brooks. It probably would have worked best as the set-ender, as it really doesn't fit well (stylistically speaking) between the songs it's placed among. That said, the song sounds great! It's a nice side of Eddy's that isn't often caught on tape (vinyl?, plastic? – that doesn't sound right!) The song is divided into 3 segments: the 1st is played and sung by Eddy in a slower tempo, with the middle section played and sung by Ronnie in a more mid-tempo style. The 3rd segment is slower again, with Eddy and Ronnie mixed together. In the song each man details his upbringings and how each came to be able to be called bluesmen. It's a very nice track, one which I enjoyed very much.
10. They Call Me The Chief: (R. Baker Brooks) -- This is a funky, rockin' tune written by Ronnie expressly for Eddy. It features loads of electric guitar and funky horn lines, with splashes of organ chords thrown into the mix. It's really much closer to a '70s hard rock tune than to a blues tune, but it's also a lot of fun to listen to. Frankly, it conjured up images of Blackfoot (the band, not J.D.) for me – does anyone besides me remember them?
11. Rock-A-Blues Baby: (E. Clearwater) -- OK, about all I can say about this one is that it's an odd duck. It's the one track on the CD where you can hear Eddy's love of Chuck Berry-styled bluesy rock 'n' roll, but it's been rendered almost unrecognizable by lots of modern processing, echo effects and unusual (odd?) instrumental flourishes. If you enjoy this one, more power to you, but I'd have much rather heard the song played in a more traditional style, or at least a style that didn't conjure up images of '80s new-wave pop music. I'm not kidding…
12. A Time For Peace: (E. Clearwater & R. Baker Brooks) -- This is the last song of the set. It's a slow gospel-inspired blues, featuring Eddy's vocals, organ, electric piano (a Rhodes?), light percussion (mostly cymbal work), and a female gospel choir. It's a beautiful song with a message for the ages – we need to lay down our hate, prejudices, fears, etc…and embrace each other with the love the Good Lord intended us to live by. Nice.
The Verdict:
Eddy Clearwater is a man of many tastes, a musician who is known to incorporate gospel, country, rock 'n' roll and deep blues into his repertoire. He certainly manages to do that on West Side Strut, which bears the heavy influence of Ronnie Baker Brooks' hard rockin' blues style. Eddy and Ronnie have put together a fine album here (with Ronnie's own band providing the instrumental backing on most tracks), one containing enough stylistic variations to keep listeners from becoming overwhelmed by all of the guitar work. Fans of rockin' blues, and especially those of Ronnie Baker Brooks, should enjoy this CD immensely. If you aren't familiar with Eddy Clearwater's work, check this album out as it should serve as a fine entry point to his work for most blues fans (other than the ill-conceived track Rock-a-Blues Baby.) If you like what you hear, check out some of Eddy's other albums, including: "The Chief", "Mean Case of the Blues" or "Reservation Blues". As far as West Side Strut is concerned, the guest stars all shine, without tarnishing any of Eddy's own luster, so let's assign a STLBluesometer rating of 4.0 to West Side Strut.
Lee Howland, aka "East Side Slim"