 By Cornbread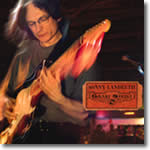 Sonny Landreth – Grant Street
{Recorded April 23 & 24, 2004, released 1/25/05 | Sugar Hill}
Sonny Landreth has been busy, very busy. In 2004 he performed at Clapton's Crossroads Guitar Festival, Jazz de Montreal, New Orleans Jazz Festival, performing with Jimmy Buffett at Fenway Park and a Grammy nomination for Best Contemporary Blues. Landreth has had seven solo albums, this is his eighth CD and first live recording.
Landreth's live performance at Grant Street in Lafayette, Louisiana with Dave Ranson on bass and Kenneth Blevins on drums is fantastic. Way back in the day I avoided live recordings – I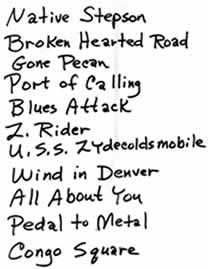 was young. Now I love them, you get the artist raw with full intensity, you can hear the audience. This live CD is no exception, it's made me a fan, I'll add the rest of Landreth's CD's to my collection. I suggest y'all do the same.
From the start of the first song you'll realize that Landreth is master of his domain, a combination of Jimi Hendrix with the precision of Santana. Need proof, check out song 2 (my favorite track). Broken Hearted Road has more guitar than vocals. Gone Pecan is a fast paced tune with a southern flair to it.

This CD has plenty of hard core guitar playin'. I liked the mix of vocals and instrumentals. Vocals get a bit rooty on Blues Attack. Congo Square has a solid beat, distorted guitar in excess, for me the highlight was the bend finale' – that note seemed to hold on and not let go. Rating 4.013.
Check out Sugar Hill Records and Sonny Landreth's sites for more information.

Ciao' for now, peace.
Peter 'Cornbread' Cohen, CBP