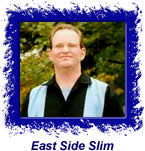 By East Side Slim
Jeff Healey – Mess Of Blues
Ruf Records (world-wide except Canada)/Stony Plain (in Canada), 2008
Jeff Healey burst onto the World's musical radar scope back in the late-1980s/early-1990s, although he was a child musical prodigy of sorts, having played his first gigs at 6 years of age. He gained much acclaim due to his incredibly fast and clean blues/rock playing, but also to the manner in which he played, and always continued to play. Healey played guitar sitting down, with his Strat lying on his lap. He began playing this way as a young man because of his being blind. Jeff lost his sight as a baby due to a rare form of cancer, which he battled for most of his short life. He lost his battle to the disease on March 2nd, 2008. Jeff was only 41 years old and was just 3 weeks shy of reaching his 42nd birthday.
Jeff Healey was not confined to playing blues/rock guitar. He also had a love of traditional '20s/'30s jazz, and played trumpet during his jazz work, in addition to jazz guitar. Healey was also a noted record collector, amassing a 78-rpm collection of more than 30,000 platters. If all of that weren't enough, he also operated a music club in Toronto, Canada, playing in the house band behind some of his guest musicians.
With his hand-picked "best bar band in the world" behind him, Jeff recorded Mess Of Blues. The band is made up of Dan Noordermeer: rhythm guitar & vocals; Dave Murphy: keyboards & vocal on track 7; Al Webster: drums; and Alec Fraser: bass, acoustic guitar & the vocal on track 4. The songs included here are mostly covers, and were chosen due to the fact that they have been favorites of the band's fans over the years. Four of the ten tracks on the CD are live recordings, two being recorded at a show in London, England, and two others being recorded at Jeff's Toronto club. As the liner notes don't distinguish which tracks are which, I've made my best attempt to determine which is which in the song notes.
The Songs:
1. I'm Torn Down: (Sonny Thompson) --This is the tune made famous by Freddie King during his days with Federal Records. This song is definitely a feature for Jeff's guitar work. If you're a fan of the high-energy overdriven guitar sound used throughout the CD then you'll like this song a lot. The piano is also featured prominently here, played in a pounding roadhouse style. It sounds like this is one of the two live tracks recorded in London, England.
2. How Blue Can You Get: (Leonard & Jane Feather) --Jeff could never be accused of not playing enough guitar for his fans. On this slow blues, Healey shows his dexterity on the fret board, running off multi-note runs all over the place. There's organ work featured on this track, and the organ player is given solo space here alongside Jeff's guitar work. In fact, after each player gets to show off in solo fashion, they come together soloing back-and-forth against each other. This sounds like one of the two live tracks cut at Jeff's club in Toronto. It's a long one, coming in at just under 9 minutes.
3. Sugar Sweet: (Mel London) --You may be familiar with Muddy Water's version of this song. Well, this version sounds nothing like it! Healey and the band transform it into a contemporary up-tempo groover, making it just a little bit funky. The organ is again featured prominently in the mix, to great effect.
4. Jambalaya: (Hank Williams) --This is indeed a take on the Hank Williams classic. The vocal is provided by Jeff's bass player, Alec Fraser. Piano is featured heavily on this, as Healey doesn't seem to mind spreading the solo work out to everyone. No egos here! Jambalaya is usually a crowd favorite at live shows, and the boys really do a great job on the song, but I'm not really sure if we need too many more recorded versions of the tune, at least for awhile.
5. The Weight: (Robbie Robertson) --This isn't too big a surprise to show up on a CD of mostly covers by a Canadian guitar player (Jeff is from the Toronto area.) The song was of course made famous by The Band, and was written by Robbie Robertson, who was the guitarist in The Band. Robbie also happens to be from Canada. This is a faithful version of the song, with wonderful piano and organ work featured along with Jeff's guitar playing.
6. Mess O' Blues: (Doc Pomus & Mort Shuman) --This a great old rhythm & blues track, co-written by the great writer Doc Pomus. It's got an old '50s rock and roll feel, swinging along gently on the bed of Jerry Lee Lewis-styled piano. I liked the song a lot, except for Jeff's guitar solo. He played it in this CDs typically heard overdriven style, which just didn't fit the song at all.
7. It's Only Money: (Dave Murphy) --This is a fast rock 'n' roller sung by keyboard player Dave Murphy. You can sure hear that he's studied Jerry Lee Lewis and the old boogie players. There's nothing fancy here, just good old piano boogie rock n roll. Oh, don't worry about Jeff; he laid a stinging solo line or two in here to let you know he's around.
8. Like A Hurricane: (Neil Young & Steve Fiddle) --This sounds like it may be the 2nd live track from Jeff's Toronto club that is included on this CD. This track was written and made famous by yet another Canuck, Mr. Neil Young. Like A Hurricane was performed by Neil Young & Crazy Horse back in the day, so you can imagine how that allows Jeff to dig into this song with all the distortion and power he chooses to employ.
9. Sittin' On Top Of The World: (Lonnie Chatmon & Walter Vinson) --Now, how old is this track? It's probably impossible to know who actually wrote it, but Chatmon & Vinson recorded a very early, fairly famous version of it as part of The Mississippi Sheiks. This particular version may be the 2nd live London, England track on the CD. The song definitely takes the listener back into a slow-blues vibe, especially early on in the track. The power and intensity increase as the song moves along, with the keyboard and guitars battling it out.
10. Shake, Rattle And Roll: (Charles F. Calhoun) --We've got another rollicking piano-driven song here, with a nice old r 'n' r feel. The guys tear into this old standard, having a lot of fun while doing it. There are lots of solo piano runs in the Jerry Lee style, and Jeff plays some tasty solos in and around the piano work. This is a nice track, sho' nuff.
The Verdict:

Originally intended to be a blues/rock tribute to his fans who loved that aspect of Jeff's music, this CD instead ended up being a posthumous tribute to Jeff Healey himself, as he passed away about a month prior to it's scheduled release date. Jeff and his house "bar" band tore into a batch of fan-favorite covers, having a pretty good time themselves. If you're a fan of Healey's blues/rock guitar styling from the 1990s you won't be disappointed by this CD. There's loads of high-speed, scorching, overdriven, heavy guitar work here, the kind of which made Jeff's reputation years ago.
Special mention should be made of the keyboard work (piano and organ) provided by Dave Murphy. The man is an amazing talent, and it wouldn't be a stretch to say that he might have stolen the show here. He plays rollicking boogie piano runs, emotion-packed organ work, and contributed one song to the album.
Jeff's vocals have never been his strongest asset, and are serviceable here. They aren't bad at all, but they're not going to knock you out, either. All but one of the songs are covers, with a couple being of the warhorse variety. The songs are incredibly well played, as everyone in Jeff's band is a top-shelf musician. I'm going to give this CD a 3.5 rating on the STLBluesometer scale. While the piano work really knocked me out, Jeff's vocals and the song selection didn't click for me. If you really dig guitar, you will likely enjoy this very much, and would probably boost the rating quite a bit.

Lee Howland, aka "East Side Slim"