Please Mr. Foreman
Originally recorded in 1985. Tommy has four original compositions of this giant blues packed CD that covers the gammet: electric blues, Delta, R&B and Rock. The Blues Eldorados were Tommy Bankhead on guitar and vocals. L.A. Ben Wells (L.A. stands for Lola Alabama) on drums. Lonnie Brown on Bass (check out track #5 "Making Love is Good for you" - he cut loose on this dance tune). Keith Doder played harmonica and "Papa" Ray on horn for the second song "There is Something on Your Mind".
Song #6 "Cummins Prison Farm" is a traditional Delta song featuring Bankhead singing accompanied only with the moaning cry of Doder's harmonica. I really liked this song, it sent chills down my back.
Song #9 "How Many More Years" is an unbelievable version of Howlin' Wolfs song. Bankhead is great on vocal and guitar and Oliver Sain played piano.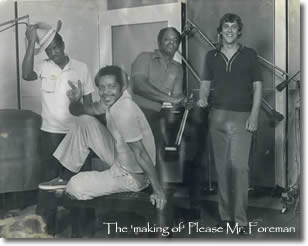 At times Tommy's vocals are filled with plenty of raw blues. The guitar work is primarily a lot of short, subtle riffs, if anything, I would have liked more.

"Nothing Like a Good Woman" is a slow burning tune. On "Down With the Blues" the tempo rises several notches.
Tommy Bankhead's health began to fail in the early '90's and unfortunately he passed away December 16, 2000, he was 69. Bankhead has two other recordings available on CD, Message To St. Louis and Please Accept My Love.
We have a limited run available of this great CD. Get it while and if you can!
Tommy's Sampler / order page is right here.

See Tommy's other reviews below, and his inclusion in my top ten!See Tommy's other reviews below, and his inclusion in my top ten!
Ciao' for now, peace.
Cornbread