Rough Grooves – Live At BBs

By East Side Slim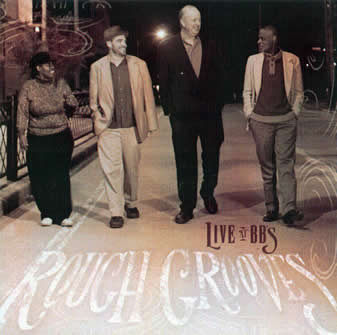 Rough Grooves – Live At BBs – artist released, 2008
Those of you living outside the immediate St. Louis, Missouri area, might not be familiar with the Rough Grooves band, but Rough Grooves happens to be one of the premiere blues bands in town – one could almost say that they are one of St. Louis' "super groups". The band is comprised of Rich McDonough – all guitars: lead, rhythm and slide; Eric McSpadden – harmonica and lead vocals; Sharon Foehner – bass and vocals/lead vocals (and occasional guitar); and Joe Pastor – drums (occasional lead vocals during their live sets).

Each of the 4 band members are veteran players, possessing decades-long experiences performing blues, jazz and folk music. Rich McDonough's guitar stylings can also be found on internationally released titles by Kenny "Blues Boss" Wayne and Larry Thurston.

This CD, Live At BBs, was recorded back in April 2007 in front of an enthusiastic live audience at St. Louis' premiere blues club: B.B.'s Jazz, Blues & Soups – affectionately referred to as "BB's" by those who know and love the venue (don' miss the food, either!) The band members are the same now, per July 2011, as they are on this CD. Thanks go out to the band for leaving some of the between song spoken interludes in place on this recording, allowing the listener to feel more like they were "there".
The Songs: (songwriters, when known, in parenthesis)
1. Lumpty-Dumpty
--This 6 minute long instrumental opens the album. The cut gives a nice synopsis of what this band is about, showcasing the gorgeous ensemble nature of the group while at the same time providing tasteful, concise solo space for the lead players in the band – McSpadden on harp and McDonough on guitar.
2. Call My Job – (Emery Williams Jr, aka Detroit Jr.)
--This faithful reading of the Detroit Jr classic retains the cool funkiness of the original and serves as a feature for Rich McDonough's singin' slide and fiery solo work. (Eric McSpadden on vocals)
3. Don't Start Me Talking – (Rice Miller aka Sonny Boy Williamson)
--Eric McSpadden takes the vocal turn here, singing this famous Sonny Boy 2 title. Eric's classy harp work is a feature here of course, as the song was written and performed by one of the all-time great harp players. For fans of guitar, there is plenty of beautiful work present thanks to the gifts of Rich McD.

4. Help Me – (Rice Miller aka Sonny Boy Williamson)
--This may be Sonny Boy's most famous song, and Eric uses his deep, burnished voice to great effect here. The rhythm section of Joe and Sharon are really digging in, providing that sense of power and menace that the original song contained. Some of Rich's most tasteful playing on the CD can be heard during this tune, as he uses dynamics very well, playing quietly to pull you in and make you listen before "wow"ing you with some fiery licks.

5. The Things I Used To Do – (Eddie Jones aka Guitar Slim)
--The band pulls the tempo back with this blues ballad. Rich's impassioned guitar playing comes to the fore here (as always), and Eric's vocals make you feel every word.

6. Hoochie Coochie Man – (Willie Dixon)
--This is, of course, the Muddy Waters' classic. The band takes it straight and reverential, with Rich laying in plenty of his singin' slide and Eric blowing plenty of harp (blowing hard, too!) Eric's deep-toned voice makes it clear that there's a MAN singing this song, as the lyrics make clear that women in possession of shrinking violet natures need not apply!

7. Wait On Time – (Kim Wilson)
--This tune finds the band working on all cylinders. Joe and Sharon are fully in charge, driving this track along, allowing Rich and Eric to cut loose on their ends with passionate guitar, harp and vocals. The song is an old Fabulous Thunderbirds cut, initially appearing on their debut LP.

8. Phone Booth – (Richard Cousins, Robert Cray, Dennis Walker)
--This is the most contemporary of the songs Rough Grooves placed on this CD, and it's definitely a guitar-featurette for Rich. If only Robert Cray played with this passion on a more consistent basis... Well, Rich sure does, and it's on full display here. Rich's fiery playing spurred Eric to great heights of playing during this tune as well, with Eric busting a lung with his heavy playing. (Eric McSpadden on vocals)
9. Howlin' For My Darlin' – (Chester Burnett aka Howlin' Wolf; Willie Dixon)
--Sharon takes the lead vocal on this tune, allowing Eric to concentrate solely on harmonica, a very good thing as we are treated to more of his playing when he doesn't have to sing. Eric is a very tasty harp player and it's always a pleasure to hear him! Rich plays jangly Hubert Sumlin-inspired guitar on much of this song, and Joe is making a joyful noise on his trap set. Very nice indeed!
10. Shake Your Money Maker – (Elmore James)
--This one is really a medley of sorts. It's starts out on a gentle, beautiful note, with a "Will the Circle Be Unbroken" gospel feel courtesy of Rich on slide and Eric on acoustic harp. After a couple minutes Rich starts exercising those fingers a bit, letting you know something else is coming. You hear a few bars of "Money Maker" from Rich in solo mode, then the entire band kicks in, with Sharon taking lead vocals and Eric and Joe singing along on the choruses.
The Verdict:
This live CD is a fine document of a Rough Grooves show. During the course of their live sets Eric, Sharon and Joe will all sing lead (still can't get Rich to sing…although his slide guitar singin' is mighty fine!), with Eric often featured on a majority of tunes. The 4 members of this band happen to be among the best musicians on the St. Louis scene, and together they know, and seem to truly enjoy, how to create a fantastic ensemble blues band sound. Sum greater than the parts – indeed! (…and the parts are very, very good)

Readers from outside the St. Louis area may have a difficult time understanding just how blessed St. Louis is in regards to the mother lode of musical talent living and performing here, being especially blessed in blues talent. As fans of the music we are very spoiled; we get to hear amazing bands and musicians – such as Rough Grooves – continuously. In addition to being great musicians, these folks are good people, too. How can you beat a combination like that? Alright, it's time to rate this bad boy. Live at BB's from Rough Grooves is earning an STLBluesometer rating of 4.00. I might have rated it even higher if the CD contained more originals than covers, but the covers are played so well, with so much emotion, skill and fire, that it's hard to hold that against the band.
For more information concerning Rough Grooves, see the following websites:
www.stlblues.net/jukebox/bio_rough_grooves.htm
Lee Howland - aka "East Side Slim"