St. Louis is a fantastic music town, with some of the best blues to found anywhere! Some visitors made a great weekend of music even better, as the Handy award winning talent of Marcia Ball and the long running Roomful of Blues brought thier distinct sounds to St. Louis for 2 very special shows.

Roomful appeared at BB's, thanks to John Wolf of Bonehenge music for helping arrange this show. John, one of St. Louis' finest trombone players and currently performing with the Soulard Blues Band, was a member of ROB from 1998 to 2000.

ROB just released a new CD titled Standing Room only, and Cornbread's review gives it a "'solid 4.007" on the STLBluesometer

From the RFT "With a history that stretches back to 1967, Roomful of Blues is one of the most durable ensembles in music. As one might expect, they've had many personnel changes over the years, with saxophonist Rich Lataille, who joined in 1970, currently the senior member. But even while key alumni including guitarists Duke Robillard and Ronnie Earl and vocalist Lou Ann Barton have gone on to successful solo careers, Roomful has proved remarkably resilient in weathering the ups and downs of the music business by continually restocking itself with capable musicians.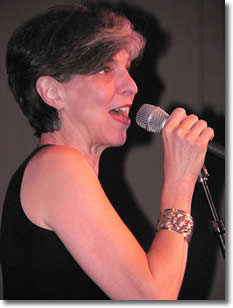 Marcia Ball appeared at the Sheldon, quite possibly the best venue in town to acoustically showcase the talents of this piano queen! She sits down to the piano, her legs start moving to the rhythm, and as she begins to get into her dance-hall swing the keyboard comes alive. Her louisiana influenced style reflects shades of Professor Longhair, yet Marcia's style is all her own. Two personal favorites 'Red Beans' and 'Enough of that Stuff' had the sell-out crowd showing their enthusiasm, some finding it impossible to sit still to!

Marcia recalled the first time she played St. Louis, "it was a Soulard Mardi Gras masked ball", and STLBlues was fortunate enough to be there. (The Underground Subterranean Ball, always a fun event produced by the Soulard Social Aid & Pleasure club)

Dean Minderman of the RFT says "Those performance skills have served her well as she's moved from small clubs to concert halls and festivals, earning several Handy Awards and a Grammy nomination along the way."

We've seen Marcia down at the King Biscuit in Helena, and even further south at the Jazzfest in N'awlins, where she's a perennial favorite, but seeing her in a small concert hall like the Sheldon almost gives a "living room" feel to the event. In case you missed Marcia, you'll find all her music at MarciaBall.com, where she's just announcing her newest CD. 'Live! Marcia Ball - Down the Road'.