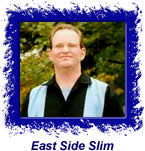 By East Side Slim
Smokin' Joe Kubek & Bnois King – Blood Brothers
Alligator Records, 2008
Blood Brothers is the 1st release on Alligator Records by the Smokin' Joe Kubek & Bnois King blues band. They've been performing together since the late '80s and have released close to a dozen albums in that time. An unlikely pairing at 1st thought, with Joe being a fiery Texas guitar slinger and Bnois – pronounced Buh-noys - coming up out of Louisiana with jazz/R&B leanings (and being Joe's elder by 13 years), the pairing of their styles compliments each other very well. While Joe is ripping off solos in his Freddie King inspired style, Bnois will be comping rhythm patterns in jazz chordings behind him. But don't underestimate Bnois' skills on guitar, because he can jump in and light some fires himself with his own solo work. Bnois handles all the vocals, singing in a warm, vibrato-laden voice that wraps itself around the songs.

I knew I liked this band when I heard an instrumental from them titled "Corn Palace" several years ago. As a South Dakota-born boy myself I couldn't help but dig a tune inspired (or at least named after) the World's only corn palace – especially as I grew up 50 miles from the place! I've been a fan for years, and hopefully you'll listen to this release, as well as several others from the band, and become a fan yourself. As Bnois says in the liner notes to Blood Brothers, "We're crazy. We'll go to any length to play a shuffle. Any length!" How can you not like that kind of commitment? Now, it's on to the songs:
The Songs:
1. My Dog's Still Walkin': -- This lead-off track to the CD is a contemporary blues/rock tune, with fuzzed out rhythm guitar from Joe. Bnois and Joe trade solos throughout the song, and there's heavy reliance on organ – supplied by guest musician Gentleman John Street (who played for a long time behind Anson Funderburgh.)
2. Don't Lose My Number: -- Joe and Bnois love to play shuffles of all shapes and sizes, and this song just happens to be a mid-tempo shuffle with stinging lead guitar lines. I can listen to good shuffle players (a good shuffle is deceptively difficult to play, by the way) all night long, and Smokin' Joe and Bnois excel at playing Texas-style shuffles. A good shuffle should make your hips want to start moving all on their own, without the brain even being aware of the fact.
3. Flamethrower: -- Bnois' singing style really carries this song, with his slow vibrato making this one sound very cool. The drum pattern is not your standard issue, and Joe's lead lines are icy and to the point. This is a very, very nice track.
4. Stop Drinking: -- This is a cover of an old Lightnin' Hopkins song. The band has slowed things way down after the 3 faster-tempo opening tracks, treating the listener to a deep, long (over 8 minutes!) slow blues. Bnois coarsens his voice for a tougher effect, enhancing the dark mood of the tune. Needless to say, this song is about what can happen when you let "demon" whiskey take control of your life… The length of the song allows Joe and Bnois to really stretch out on guitar without worrying about bumping up on a 3 minute time constraint, building up their opposing guitar lines slowly for great emotional effect.
5. Must Be Kharma: -- This is a mid-tempo contemporary blues shuffle, and which might be my favorite tune of the CD. The mood of the song is warm and uplifting, extolling the virtues of treating people by the Golden Rule - and what can happen if you don't. This is one if very good!
6. Freezer Burn: -- The 1st instrumental track on the CD. Smokin' Joe always puts a couple instrumental tracks on each of his albums. This one is an old Albert Collins tune, with other ideas added to it from Joe and Bnois. This one sounds so "Texas" it's crazy. If you dig cool groovin' instro tracks with deadly guitar work, then you just might like this one.
7. Coleman Avenue: -- This is a very nice contemporary blues played at a slower tempo, one that allows Bnois' voice to shine once again. He really digs in to this sort of track, this time singing about his upbringing and life story – how he came to get into the music business and becoming professional musician.
8. Midlife Crisis, Midnight Flight: -- This one is a fast roadhouse rockin' blues. Nothing pretentious, no hidden meanings, just the band ripping one off, and making it sound so easy.
9. Bumpy Ride: -- This song is taken at a slower tempo, with an ominous bass line and the tremolo set high on the guitar amp for a watery kind of sound. It doesn't sound at first as if the song is a love song, but it really is. The "bumpy ride" is life's knocks and pitfalls, with Bnois singing about how a couple's love can help smooth out those bumps of life for each other. This is a very cool song!
10. That Ring Don't Mean A Thing: -- Take a "Mannish Boy" stop-time thing and mix it with a cool Texas groove and you've got an idea of how this song sounds. Joe plays some great emotion-filled single-note guitar solos in the raw Dallas style. Freddie King made that kind of thing famous, and Joe has played that way his entire career. It's tough, man.
11. Cold Folks Boogie: -- This one's a straight Texas-style shuffle. It just sounds so right! Joe's biting guitar is balanced by Bnois' swinging rhythm chords. This track is almost as instrumental, with only a couple verses sung; the rest of the song is pure Dallas groove.
12. Out On A Limb: -- You can hear Bnois' jazzy influences here, as the guys play over a swinging shuffle beat. Don't worry though, as Joe gets to show what he's got a little farther on into the song.
13. The Pleasure Was All Mine: -- This is another contemporary blues, played in that slow- to mid-tempo pacing that Bnois likes to use. As I've mentioned before, this pacing fits his warm voice very well and also allows for the use of lots of chording work by Bnois and intensifying solos by Joe.
14. Troubled Dreams: -- The CD ends with this rockin' blues number, which wouldn't have sounded out of place on an old Free or Bad Company LP. This one likely goes over very well in their live shows.
The Verdict:
Blood Brothers is another solid effort from Smokin' Joe Kubek & Bnois King. You know, they just don't release any bad albums. If you like shuffles and loads of tasty guitar playing, then you should be very happy with this CD. At a solid hour in length, it can get a little bit long to listen to in one shot. I might've trimmed off 2 of the 14 songs in order to tighten things up a bit, but that's a minor quibble really. I have no problem at all with giving this CD a 4.0 STLBluesometer rating. The guitar skills of both men just keep getting better (which is hard to believe as they're incredibly good players already) and Bnois' voice keeps aging like a fine mellow whiskey. In addition, they slower songs that the band comes up with keep getting better with every release. Well, done guys, and well done Alligator for signing Smokin' Joe Kubek & Bnois King to the label. My only question is: why did it take Alligator so long to sign this band? Alligator's stable of blues talent has become much stronger with the addition of Kubek & King.

Lee Howland, aka "East Side Slim"