 By Cornbread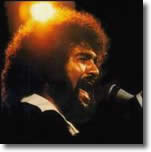 Rondo's Blues Deluxe – Live
{Recorded September 12, 1987, live at Blueberry Hill, St. Louis, MO | Blueberry Hill Records}
Note… It's late in the wee wee hours somewhere between today and tomorrow. I'm sitting at my computer in near dark fixin' to start another review for you. Gotta hot cup of joe and spilled it all over myself and my desk. Mama heard the ruckus, came out and yelled at me that I might wake the kids, now I got the blues. – Cornbread

Rondo is St. Louis' own blues guy. His singing is awesome, it's got a ton of feeling and emotion, it's full of soul – that's mojo baby.
Rondo • Vocals, Harmonica & Percussion
Dennis 'Chicago Slim' Lansing • Sax
Bobby Nickeson • Lead & Slide Guitar
(Bobby was 28 when we recorded this album, unfortunately, he died in October, 2002 at age 43)
Steve Waldman • Lead & Slide Guitar
Gus Thornton • Bass
Kirk Sarkision • Drums
Tracks:

1. Loving You Is Just A Gamble (5:07) – mojo abound, tasty sax solos (two of them) from Chicago Slim.

2. I Got A Problem (5:30) – blues funk, served up Rondo style.

3. The Sky Is Crying (4:06) – Rondo takes it all the way downtown from the U. City loop on this Elmore James song. An excellent version!

4. Dust My Broom (5:17) – red-hot, smokin' blues.

5. I'll Catch You On Your Way Down (5:37) – "if this ain't the blues then what is", great guitar solo by Steve Walman and good walkin' bass lines from the masterful Gus Thornton. By the way, the guitar solo was the majority of the song. Does it get any better than this?

6. Blues Medley (11:18) I'll Play The Blues For You, Cadillac Assembly Line, The Thrill Is Gone, Ain't Gonna Be The First To Cry – four well done snippets from classic blues tunes.

7. Medley Two (3:07) Manish Boy & Hoochie Coochie Man – two of my favorite Muddy Waters songs, Rondo does these right.
Here it is 18 years since this live album was recorded and Rondo tells me there will be another coming out in 2005 – as for me, I can't wait. Someone say yea'. Check out Rondo live, he is as good as ever (a lot less hair than pictured here). I really enjoyed this CD a lot. Rating 4.443.
"and I'm the hoochie-coochie man, everybody knows I'm here" – Willie Dixon

Ciao' for now, peace.
Peter 'Cornbread' Cohen, CBP

Email - Cornbread@STLBlues