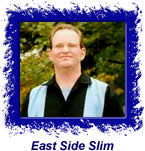 By East Side Slim
Blues Noir – Blues, Swing, and… – Artist Released, 2007
The band Blues Noir is a 3-piece unit working Vermont and Upstate New York. The members heard playing on the CD are Peter Corrigan (guitars, vocals, percussion), Chuck Brome (various basses) and John Nichols (drums and percussion). A couple tunes are augmented by guests on either piano or harmonica. While this is an electric blues band, the guys play in a stripped-down manner, achieving an effect not unlike that displayed by Hudson and the Hoo Doo Cats from St. Louis – although the two bands don't play the same styles of music (Hudson and band are definitely their own animal.) Most of the songs on this CD, Blues, Swing, and… are mid-tempo shuffles, almost half of the songs being nicely crafted instrumentals. The drummer's work is very important to this CD, always restrained yet still interesting. Some of the lyrical content can be a bit raw and/or a little too obvious – there's something to be said for innuendo and double-entendre.

The Songs:
1. Stop Me
--This shuffling tune is extremely catchy, and is one of my favorite cuts on the CD. It's even got "more" cowbell, which is used as a nice percussive effect.
2. Let Me Out the Car
--This is also a catchy tune, with a sort of cha-cha rhythm and a trilling piano line running throughout the length of the song.
3. Tiny's Blues
--This is an instrumental track dedicated to the influential guitarist Tiny Grimes. It's a fun, jazzy blues number, with snippets of familiar riffs and songs tossed in occasionally for kicks.

4. Woman of Means
--This is a story song, making a play on words on the word mean. Woman of Means doesn't end up meaning that the gal is rich – in fact, she's just plain ornery. The tune shuffles along in a familiar fashion, but the lyric is the focus of the song.

5. Zuyder Zee Blues
--This could very well be the only blues tune written containing the name Zuyder Zee in the title – ever. This instrumental blues has a late-night, after-hours feel, with some very tasteful chromatic harmonica work provided courtesy of Chris Hammond - I'm not familiar with Chris, but I just might have to find out more about this cat. OK, THIS is my favorite cut on the CD.

6. Way Past Late
--This mid-tempo track is definitely not child or radio friendly, due to the lyrics. No profanity, but let's just say that single-entendre would apply. It's all much too obvious for my tastes. Double-entendres can be clever and fun at times, but the band definitely did not go that route here.

7. All I Could Think of Was You
--The melody to this mid-tempo song is catchy and is pretty interesting. I like the music a lot. However, the lyrics didn't work well for me, as the writer seemed to be trying too hard to be topically poetic during a couple verses.

8. Playing With House Money
--This is a fun up-tempo instrumental, with lots of jazzy chicken pickin' going on. It's a really nice track.
9. Barbeque On My Shoes
--This is a mid-tempo shuffler of a bit too familiar feel, with lyrics about making a mess eating a bbq dinner. There is a nice Resonator guitar solo – I wish the guitarist would have focused more on that instrument on this song, as it would have been something different than what we've already heard.
10. Fat Bottom Blues
--No, this isn't a takeoff on an old Queen tune, nor is it a paean to women of abundant bottom proportions. The title here refers to the sound of the tune – it's an instrumental track heavy on the bass clef, and it sounds very cool. This is the something different I've been talking about. Good job, fellas.
11. Extra Attention
--This is another of the familiar shuffle tunes that the disc is fairly full of. It's nice enough, but becoming too familiar. It starts to sounds like the same melody with different lyrics slapped on top after awhile.
12. "Club Owner's Name Here" Blues
--This song is basically an instrumental version of the shuffle tunes heard throughout the disc. There is some fine lead guitar picking here. I liked this version of the Blues Noir shuffle the best, minus the lyrics. It allows the band to dig a little deeper and play a little more loosely.
13. When Mamma Won't Dance I Know Someday Who Will
--This is another version of the mid-tempo shuffle heard previously. The guitarist's lead work here is very nice. He is a tasteful player, displaying some fun ideas on many of the tunes on the CD.

14. These'll Fit Her Rhumba
--The set closer, it's another fine instrumental cut. There are some fresh ideas here, and the tune is played with a fat bottom-end and with jangly-twangy guitar lines played over that big bottom. This is another very fun track, kind of a blues-surf-dance number. Top notch.

The Verdict:
Simply stated, there are too many songs on this CD. A couple tracks could have easily been left off the album, which would have tightened up the entire effort. The 10 best songs would have led to a tighter, more interesting effort. A bit of sameness started to creep in by the end of the CD. With 14 songs on there, you need to vary the styles and tempos quite a bit in order to keep things fresh and interesting. For the most part, the instrumental tracks are my favorite songs on Blues, Swing, and… All of the instrumental cuts sound great, they are very entertaining and many are downright clever. Time to rate the CD; I'm assigning an STLBluesometer rating of 3.00 for the CD as a whole - and 4.00 for the instrumental tracks alone.
Lee Howland - aka "East Side Slim"