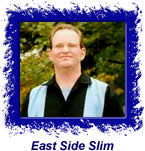 By East Side Slim
Robin Rogers – Treat Me Right
Blind Pig Records, 2008

Treat Me Right is the 1st release on Blind Pig by singer (and on CD, occasional harp player) Robin Rogers. I had been hearing good things about Robin over the last year, but hadn't had the opportunity to hear much of her work until now. I'm very impressed! I know we shouldn't have to compare one artist to another, but it can be an effective way to describe how someone, or some group, "sounds". In Ms. Rogers' case apply the following: her voice reminds me of Angela Strehli, her song selection reminds me of Janiva Magness, and her sass reminds me of Lou Ann Barton. If you enjoy the music of any of those women, you will definitely enjoy the music on Treat Me Right by Robin Rogers and her band.

Here is some background on Robin (with thanks to All Music Guide and Robin's own Website.) Robin was a runaway teen, attempting to escape from a troubled home. She eventually landed in reform school, being released from there at 15. From that point she was on her own, wandering the country, developing her musical skills, and developing drug and alcohol addictions.

Around 1979 she arrived in the Miami-Ft. Lauderdale area, spending a decade there. During this time she was managed to sign a recording contract with a subsidiary label of RCA and did some recording. Around 1989 she overcome her substance addictions, and decided to relocate to the Charlotte, NC, area. While there she met and married Tony Rogers, with the two of them performing as a duo through most of the 1990s.

In 2001 the Rogers' released Robin's first CD, titled Time for Myself. From this point they worked with a full band, and in 2004 the Rogers' released Crazy, Cryin' Blues. This CD proved a turning point for Robin's band, as the title won the "Best Self-Produced CD" award from the Blues Foundation/IBC Challenge in 2005, and the band was a finalist of 2004's International Blues Challenge. Robin Rogers signed with Blind Pig Records in 2008, leading to the release of the CD being reviewed here, Treat Me Right.

The Songs: (all songs written by Robin & Tony Rogers unless otherwise noted)

1. Treat Me Right: (B.B. King, Sam Ling - really just B.B. King, as Sam Ling, Joe Josea, etc… were not actually co-writers, but were producers and record executives "taking" some of the action on publishing rights.) --A swinging take on an old B.B. King tune. Not a bad choice to lead the CD off with; it gives Robin a chance to belt out the lyrics, showing us what she's got. The song also has some very nice horn charts.

2. Don't Leave Poor Me: (Leroy Kirkland, Charles Singleton) - More killer horn charts, some tough guitar work, and a rumba rhythm to the verses…this tune swings hard. This song is all good.

3. Ain't No Use: (Rudy Stevenson) - We've got a slow drag here after the two swinging tracks that led off the CD. This one reminds me of the countrified soul of Ray Charles or Leon Russell. It's all feel, baby, with a killer vocal and a beautiful single-note guitar solo from Tony Rogers. Oh, and the horns are still around, too!

4. Can You Hear Me Now: - This is the 1st of the Rogers' compositions on the CD. It's a nice soulful blues with a loping drum pattern. Tony gets to dirty up his guitar work some on this track, adding a little bite to his attack. You'll hear a sample of Robin's harp playing as the song fades out.

5. Color-Blind Angel: - This is a deep, mournful, slow blues written in tribute to the life of Viola Luizzo. She was a white civil rights worker from Michigan who was murdered by the KKK in 1965. The sound here goes back to the duo sound of the Rogers', as you'll hear Robin singing and playing a little harp and husband Tony soulfully picking his dobro. This song won 2nd place in the blues category of the 2007 International Songwriters Competition.

6. Promised Land: - This rollicking gospel/R&B song picks the mood up back up, with Robin joyfully singing of the joy of knowing she's going to make it into Heaven someday, reuniting with her loved ones and being with the Lord. Amen, sister!

7. Nobody Stays: - This song rides along a jazzy, Van Morrison-inspired groove. I suppose the flute being the featured instrument in the tune reminds me of Van's more jazzy songs. You'll also hear nice organ work and more clean guitar playing. Just about all the musicians get a little solo space on this tune.

8. Drunkard's Alley: - This is an up-tempo piano-based blues number, warning us all as to what can happen if you make too many visits to Drunkard's Alley – best not to go "down in the alley"! Robin coarsen up her voice here, gaining a toughness that fits the tune, and the Farfisa organ add a fun, carnival-like feel (especially when Robin laughs out loud during the start of the Farfisa solo.)

9. Nobody's Gonna Hurt You: (Eddie J. Cooley) - We've got a mid-tempo blues tune here, something like you can hear in Janiva Magness' set list. It's a little sassy, a little sexy, and has very cool horns, organ and guitar work. The band Robin has put together for this CD is incredible. I also like the production work on this CD provided by Jim Brock and Don Rice. Sonically, this CD sounds fantastic.

10. Moan: - This is a mid-tempo R&B tune with plenty of blues feeling and swing. The organ is definitely the king here, and Robin infuses the song with loads of expressive vocals. Tony Rogers rips off a grungy solo in the middle of the track helps to cement the bluesy feeling heard here.

11. Dark Love: - The set-ender, this is a slow-ish, late-night mood-filled R&B tune. It's probably my favorite song on the CD. You've got a bed of organ, clean guitar chording, and a devastating, heartfelt vocal by Robin. The muted trumpet solo near the middle of the song really captures the feel of the tune. Nice work!

The Verdict:

Treat Me Right is a great "big" label debut by Robin Rogers, and is a perfect length at just over 40 minutes long. Forty minutes of great music – NO filler. There's hard electric blues, late-night blues, R&B, jazzy numbers, slow drags, and more, and Robin and the band make them all sound great. Robin has an extremely expressive & soulful voice, and the band is top-notch. Her harp playing, at least on the CD, is solid and is used more for effect than for lead work. Special kudos should be given to the keyboard player on this CD, Mark Stallings. If you enjoy B-3 organ and piano then you have one more excuse to go out and buy this CD. Shoot, Mr. Stallings even lays a little Farfisa organ on us. Robin's husband, Tony Rogers, is the band's guitarist as well as a co-writer with Robin, and he shows that he knows his way around the less-is-more world of blues guitar. Nice work from everyone involved – great playing, great lyrics and great production. Let's give this one a 4.0 on the STLBluesometer.


Lee Howland, aka "East Side Slim"