 By Cornbread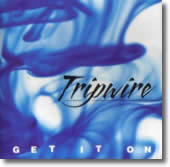 Tripwire – Get It On
{2005}
Get It On marks the debut release for Tripwire, the smokin' hot blues trio from Springfield, Missouri. The rhythm section is made up of brothers Stoney Lee Cottengim (bass, harp & vocals) and Jody Guy Cottengim (drums & vocals) leaving Nathan Boyce Melton on guitar and vocals. These dudes are good, real good. I had opportunity to catch them live in St. Louis for the Blues Royale. While this CD is really good it doesn't compare to the live show these three put on. Melton is a disciple of Stevie Ray, and he can tear that strat up like it's nobodies business. The Cottengim Brothers are tight and do a great job filling the blanks and giving Nathan plenty of room to roam.
Nine songs, five are originals. The tracks are:

1. Get Busy – plenty of bass

2. Nashville Blues – a tasty original with raw vocals and tame, well balanced guitar parts, until you get to the solo and Nathan cuts way loose.

3. Ain't Drunk Just Drinking – I really liked this version of Albert Collins song, it's now on my iPod.

4. Innocence – another full of feeling blues tune, yep, I liked it a lot.

5. Backtrackin' – dynamite guitar solo.

6. Cadillac Back – bit of rockabilly swing about selling his Cadillac for fifty bucks. I think Jody is singin' on this tune while Stoney treats us to his harp playing.

7. Get It On – funky Motown bass line and heavily distorted guitar.

8. 430-CRY – this whole song is a fast paced guitar solo. This one will give you an adrenaline rush.

9. Little Wing – an instrumental version of the Jimi Hendrix song.
I really get a thrill hearing a new CD like this – whatta' rush. I think these guys are outstanding and are one of the best blues bands to come from Missouri! Albert King once said "If you don't dig the Blues you gotta have a hole in your soul!" This is in your face intense blues – you gotta like it otherwise, you need help. Visit these guys on the web at their cyber home www.tripwireblues.com.

Ciao' for now, peace.
Peter 'Cornbread' Cohen, CBP
~ Cornbread@STLBlues.net ~