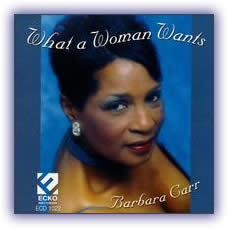 Barbara Carr - What a Woman Wants
Ecko Records 1999
Barbara Carr - vocals; John Ward - guitar; Tony Black - keyboards; William Brown, Bertram Brown, and E. Nelson - background vocals.
With two previous albums, "Footprints on the Ceiling" and "Bone Me Like You Own Me" there seems to be some subliminal message coming through with Barbara's recordings. "What a Woman Wants" completes this trilogy of recent ECKO efforts.
With the writing of Ray Moore and John Ward, the central theme of Barbara Carr's vocals seems to be of a sexually fulfilling nature. Get out of the way! This woman is in charge and she knows what she wants. If she wants your man, she's going to tell you. And then she's going to take him. If you got a good man, and you ain't treatin' him right, she's gonna' tell ya' and then she's gonna' take him.
Extreme vocals and just a general good feel to the music make this a great CD. Barbara's vocals are sweet on every cut. With the hot and suggestive nature of Barbara's urgings in these songs, this is the CD you play to settle a dispute. How would Barbara say it? What would she do? The addition of this CD in this collection could make you a winner in your own mind's eye. Trust me, your girlfriend and your other friend will like it.
Cuts I like:
"If I Don't Holler" Wow! A Denise LaSalle tune! Done very nicely.

"Got My Name On Your Thang" Wow! Sometimes a name just says it all. I'm not going into the particulars, just get the CD and see for yourself.

The laments of bad love done poorly are given their due in "Your Kind of Lovin' Ain't Good Enough." Seems like all the songs had a message, but it ain't so bad for us guys, we're given our due on "The Man Knows How to Love." The rest of the time we damn better sure pay attention! Right Barbara?
Just my views from the Left Coast,

Jim