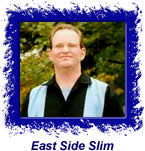 By East Side Slim
Mike Zito – Today
Eclecto Groove Records, 2008

Mike Zito is a St. Louis home-boy who is getting very close to breaking out nationally in the music biz. Being signed to Eclecto Groove, a subsidiary of Delta Groove Productions, is a major step in that direction. Zito has worked very hard on his vocals. While not blessed with a classically great voice, Mike has worked hard and made himself into a very good vocalist. He's able to convey great emotional depth through his singing – frankly, he's become a very soulful singer.

Zito has been known in the past as a blues-rocker (which fits into Eclecto Groove's bag), and while never losing touch with this style this CD, Today, displays heavy soul influences, not unlike those displayed by Sean Costello on his last couple of CDs. Mr. Zito shows that he is a good song writer; his maturity is showing. Mike recorded this CD in Los Angeles, and was fortunate enough to get to work with some of L.A.'s top session players. Today could very well be the piece of work that propels Zito to the next level.

The Songs:

1. Love Like This: --
This swaggering track kick-starts the CD very well. It's got a sing-along chorus with some nice female backing vocals.

2. Superman: --
This is a very soulful track, with organ, female backing vocals and nice lead guitar lines by Zito. This is a good tune.

3. Holding Out For Love: --
Another soulful track with jazzy guitar work by Zito, driven along by a percussive piano line.

4. Little Red Corvette: --
Yep, Zito is covering Prince's tune. It's been drastically rearranged into an acoustic guitar driven slow soul tune.

5. Universe: --
Zito hasn't forgotten his rockin' side, and he visits it here. The song reminds me very much of Mato Nanji's work with Indigenous. It' got deep lyrics, a great groove and husky vocals, and it held my attention for all of its 7 minute length.

6. Blinded: --
This song has a Latin feel with its percussion work and Zito's acoustic guitar chording. Think Los Lonely Boys meet Santana for an idea of what this tune sounds like.

7. Slow It Down: --
Zito's SRV influences show here in his guitar work. This song itself is a slow-burner featuring Mike's soulful vocals and lead guitar. This is a very good track!

8. Today: --
The title track from this CD, the song is a gentle tune, with Zito singing about how faith can help a person get through the tough times in life. The percussion work here adds greatly to the feel of the tune. This song would not feel out of place on a Dave Matthews CD.

9. No Big City: --
Mike's taking us back into blue-rock territory via a jazzy path on this song – shades of Steely Dan? Zito's maturity as a songwriter shines through on this CD, and most definitely on this song.

10. Deep Down In Love: --
Funky hard chording ala SRV; cool horn lines; insistent drums; electric piano; backing vocals – one cool funky tune! I bet this one goes over great at Mike's live shows.

11. Dirty Things: --
This song is a nice blues-rock tune, but one with a nature edge. It also has some nice harmonica work present, courtesy of Mitch Kashmar (who happens to record for Delta Groove.)

12. Hollywood: --
This song is a funky blues-rocker, with Mike singing about his views on the culture of Hollywood, CA. It sounds like Hollywood is a little sleazy to me. Nice tune!

13. Time To Go Home: --
This song is the set closer. It's a slow acoustic guitar-driven track with more than one meaning to the lyric. I can't state strongly enough how good a songwriter Mike Zito has become. I don't tend to be a ballad guy, but I'm telling you that this is a good one.

The Verdict:

Mike Zito has a very nice CD on his hands with Today. It's one of those sneaky albums, where with each listen it grows on you and you hear different things revealing themselves in the music. It has a very soulful feel, is very mature in themes, and the music is complex. You get cool guitars, different keyboard sounds, lots of percussion, horns, female backing vocals, etc…what more can you ask for on one album? STLBluesometer reading on Today is 4.0. Mr. Zito should be very proud of this CD!

Lee Howland, aka "East Side Slim"