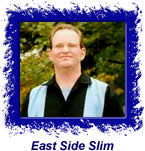 By East Side Slim
Carlos Del Junco – Steady Movin'
NorthernBlues, 2008
Mr. Del Junco, a Canadian, happens to be one of the preeminent harmonica players in the world. Some of his accolades include: winner of the Canadian Maple Blues Award for best harmonica player 7 times in the 11 year history of the award (Canada is blessed with at least a couple dozen absolutely amazing harp players!); 1996 Blues Musician of the Year from Jazz Report Magazine; and 1993 Hohner World Harmonica Gold Medal Champion (held in Trossingen, Germany) in 2 categories – diatonic blues and diatonic jazz.

Carlos is an innovator on harp, and is one of the leaders of the "overblow" method of harmonica playing. He was a master pupil of noted jazz harp virtuoso Howard Levy, who is widely considered the originator/master of the overblow technique. Carlos spent a year in Chicago in the early '90s studying under Levy. Basically, the overblow method allows a diatonic harmonica to be played chromatically. A diatonic harmonica only has 20 notes built into it (10 blow, 10 draw), and when you combine cross-harp methods with overblow methods, most all the other notes on the chromatic musical scale become available (very easy to say; extremely difficult to perform well.)

Del Junco is a master player, and does not confine his music to only blues. His albums tend to be on the eclectic side, featuring a few blues numbers, a few jazzy tunes, maybe a Latin-styled track, and always a few songs that defy categorization. At the base of all his work is a great sense of taste and melody. If you find that you enjoy Steady Movin', and desire to hear a little more of Carlos' more bluesy work, I would recommend seeking out his live cd, titled "Just Your Fool", which was released in 1996. It's an amazing piece of work, as is Steady Movin'.

Carlos' past couple of CD releases appeared on the NorthernBlues label (out of Canada.) This label has been doing amazing work with great artists (Canadian and American) over the last several years. Some of these artists include – but are not limited to: Del Junco (of course), Janiva Magness, Watermelon Slim & The Workers, Homemade Jamz Blues Band, JW-Jones, Kevin Breit, Mem Shannon, Paul Reddick, Eddie Turner and Toni Lynn Washington. All of the NorthernBlues releases feature fantastic sound and first-class artwork.
The Songs: (all instrumentals unless indicated otherwise)
1. Diddle It -- This 1st track on the CD is a hot little instrumental, showcasing Del Junco's shops. The blues influences are strong here, and it will make you smile just listening to it – unless you're a harp player. In that case it might make you want to put your harps down and give them up! While the playing seems simple on the surface, it's really incredibly difficult - and it swings like crazy!
2. Dull Blade -- This song sounds like it would have been perfect for a street race or for some surfing back during the '60s surf music days. It's got a great vibe, and definitely sounds very cool. You'll here lots of textures and some really nice guitar work courtesy of Mr. Kevin Breit. It might not be blues, but it sure sounds nice!
3. Jersey Bounce -- Carlos almost always includes a variation of this type of bouncing tune on his CDs. It's called the Jersey Bounce for good reason, as the tune bounces along, and it will have you bouncing along with it. It's a shuffle variation, and a very interesting one at that – image a jazzy feel-good shuffle and you would be in the ballpark. The harmonica work here is incredible. The man is a players' player.
4. Mashed Potatoes Canada (with vocals by John Dickie, of John + the Sisters) -- This one is dedicated to the one-and-only Godfather of Soul, James Brown. By the time the band is finished with this funky Canadian geography lesson you'll feel like you know the country much better. The song is by no means hard funk (not that there's anything wrong with that!), but it grooves along fine just the same. According to the Del Junco's liner notes, this is the only song on the CD on which he double-tracked his harp playing (he multi-tracked the "horn section" used in the intro and outro to this tune.) You'll find it almost impossible to believe he didn't double-track on other songs when you hear them, as he makes it sound like there are at least 2 harps playing at the same time on many of the songs on this CD.
5. Movin' Down the River Rhine (with vocal by Carlos) -- Carlos states in the liner notes that this is his favorite Sonny Boy Williamson (Rice Miller) tune. It's a hard one to come by, as it was recorded in Europe originally. It gives Del Junco a chance to improvise on the acoustic harp to a large extent. All the sounds are man-made, with no gimmicks or electronics - Carlos wasn't a 2-time World champion of harmonica playing for no reason. It's a cool, funky track definitely played with great reverence in mind to Sonny Boy's original version. This one is an eclectic blues, and it sounds great.
6. Paradise (vocals by Carlos) -- This is a pretty song, very much in the style of something you might hear Eric Bibb play, run through a little Ry Cooder thing. It's another feel-good track, one which I enjoy more with each listen. What's amazing is how strong the harp playing is, even when he plays very much in a low-key, understated manner on the song. The hand percussion on the song gives it a nice warm feel, too.
7. Amazing Grace -- this is performed as a tribute to Carlos' harmonica mentor, Howard Levy. You'll hear a lot of the overblow technique used on this song. Personally, I don't particularly enjoy the sound of overblow-derived notes, but I do recognize the technical difficulty involved. I love the song Amazing Grace, as it is one of my favorite hymns, but I did not enjoy this version very much as it became too self-indulgent for me at times. However, the bagpipe simulation Carlos achieves during the last segment of the song is pretty cool and very impressive; it sounds like 2 men are playing harp, but it's only 1 man with 1 harp. Amazing indeed!
8. The Simple Life -- This song is a jazzy, after hours, Latin music excursion. This is very much a jazz tune, and Carlos' playing serves the song well without overplaying. Del Junco is definitely eclectic with his tastes, and there's nothing wrong with that. This is a nice track, one that you will appreciate more each time you listen to it.
9. Bailey's Bounce -- This is a tribute to the great Deford Bailey. Bailey was an African-American who was a star of the early years of the Grand Ol Opry. Check into his story some time; his time with the "Opry" didn't end well. Anyway, Bailey was famous for his "sound-a-like" songs, such as trains, fox chases and the like. This song features only Del Junco on harp – no other instruments or vocals are present. I wrote earlier that Carlos is eclectic, and this song sure proves that fact out. The Simple Life was a Latin-flavored after hours jazzer, and this song is a combination of train trip and fox chase, all on one acoustically played harp. Amazing!
10. Bye For Now -- This is probably closest to a folk song, and was written by guitarist Kevin Breit. Genres are such a pain in the backside sometimes, as good music is good music. This features Del Junco on harp and Breit on acoustic guitar. It's a pretty little tune.
11. Doodle It -- The album closer, it's played with some of what I call the sideshow or carnival-like atmosphere that Del Junco often plays around with, much of which is attributable to Kevin Breit (check out his work with The Sisters Euclid for 1st hand examples.) The song is a too-cool bouncy jazz number, with a very cool stand-up bass line running throughout. I can picture some beatnik kicking back and grooving on this one. But, I'm no beatnik and I enjoy it a lot. This is a nice one, and the studio chatter left on at the end of the track shows that the musicians sure had a pretty good time laying it down.
The Verdict:
Well, this may be one of the most eclectic albums directed at the blues market that you'll hear this year. It's got a few straight blues tunes, a few jazzy numbers, and a few other tracks that are combination of both – and more. This CD will please those folks who enjoy great variety in their listening, and it will please harmonica junkies for sure. Carlos is one of the World's greatest musicians, and his skills show on all the tracks here. He very rarely overplays, instead relying on taste and economy where each is called for. Even when the tracks are a bit eclectic they are still very melodic and easy to listen to. The band is also incredible, and Kevin Breit's name deserves mention one more time. He's played with Carlos on and off for years, and has made quite a name for himself playing with Norah Jones and Cassandra Wilson. As I'm getting long-winded here, let's get to the Blue-O-Meter rating; I'm giving this one a 4.5 on the old meter. This CD is by no means a straight blues release, but it is wonderful music that you just might find very rewarding to listen to.
Lee 'East Side Slim' Howland