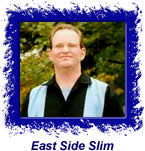 By East Side Slim
Cedric Burnside & Lightnin' Malcolm – 2 Man Wrecking Crew
Delta Groove Music, Inc., 2008

Cedric Burnside and Steve "Lightnin'" Malcolm are two young men doing their best to carry on the rich traditions of the Mississippi Hill Country Blues. Cedric Burnside comes by his love of the music naturally, as he is the grandson of R.L. Burnside, and the son of drummer Calvin Jackson (who played drums behind R.L. for years.) Lightnin' Malcolm grew up near the railroad tracks in rural Southeast Missouri and was bitten by the blues bug before he even reached double-digits in age. By his early teens he was sneaking into jukes and bars in order to hear the blues. Eventually he moved to the Mississippi Hill Country and completely immersed himself in the music – and the lives – of the Kimbrough, Burnside and Turner families.

When Cedric and Lightnin' perform as the 2 Man Wrecking Crew, Cedric plays drums and sings, while Lightnin' plays guitar and sings. They are both multi-instrumentalists, as they will switch instruments occasionally during their lives show and do switch on three tracks on this CD. No matter who is playing what, you've got an instant house party starter in this CD.

The Songs:

1. R.L. Burnside: This song is Cedric's tribute to his grandfather, Mr. R.L. Burnside (well, well, well.) This is a slow, intense Hill Country groover, with Cedric's lyrics detailing his life story and the influence "Big Daddy" had on him.

2. So Much Love: Lightnin' Malcolm takes the lead vocals on this ultra-intense track, performed very much in the style of Junior Kimbrough. This sound on this tune is downright dangerous!

3. My Sweetheart: This is a much-too-short tune, which as far as I'm concerned should have stretched out to 5 minutes or so. It's nothing fancy, just a great groove and cool vocal that gets right into your soul

4. Nobody Else: Malcolm takes the lead vocal here, once again performing in the Kimbrough family style – with incredible faithfulness, too. It's all power and groove. You have to truly "feel" this type of music to play it faithfully, and Lightnin' Malcolm feels it deep down into his soul.

5. Don't Just Sing About The Blues: This is one of Cedric's tunes, which usually follow in the Burnside family groove. Cedric is a heck of a drummer – you have to see him play in a live setting to truly appreciate how good he is. Most of Cedric's lyrics are biographical in nature, as is the case here. He tells the listener that he doesn't just sing the blues – he lives them every day!

6. That's My Girl: Cedric's having trouble with his girl, but he still loves what that woman can do to him back home in the wee hours. The groove sounds simple and easy, but Cedric's hands and feet are all over his trap set.

7. She's Got Somethin' On Me: Lightnin' is on drums and Cedric is on guitar here. This song is scaled way back, all the way to the backwoods. Cedric is playing acoustic guitar and Malcolm is keeping up a very simple, dirge-like backbeat. As a bonus, Jason Ricci blows nice acoustic harp on this cut. For those who don't know, Jason lived in the Hill Country early in his career, absorbing the essence of the area's music (playing in Junior Kimbrough's band), even releasing a CD of juke joint-styled tunes. It's tough to find, but a lot of fun to listen to.

8. Fightin': Next up – Lightnin' Malcolm! This guy's guitar style is raw and righteous, and always dangerous. Cedric's groove is a killer! This track combines Kimbrough-style menace with Burnside-style funkiness.

9. Stay Here In Your Arms: If the duo can be said to play pretty, then this is the track that shows it. While still raw, the song is very melodic and has a gentle "nature" to it. Malcolm's got the vocal turn here, and he makes you believe he is looking forward to getting home and holding his woman again.

10. She Don't Love Me No More: Here is the 2nd track that features the Cedric/Malcolm instrumental switch. Once again it features a heavy beat and acoustic guitar, along with Jason Ricci blowing incredible acoustic harp. It's all acoustic, but incredibly funky. It just shows that the groove isn't in the electricity; it in the souls of the musicians.

11. World Full Of Trouble: Heavy, raw guitar, polyrhythmic drumming, anguished vocals…everything that makes me love Mississippi Hill Country blues! And don't forget the groove – its here, too, no doubt about it.

12. Mad Man Blues: This is one of Cedric's tunes; it's incredibly heavy electric blues. Jason Ricci plays harp, but is heard more in an atmospheric role than as a lead instrument. Lightnin' riffs along until his solo break, then cuts loose…I really thought my speakers were going to melt down by the end of this track. I love this stuff!

13. Tryin' Not To Pull My Gun: Well, well, well…if the lyrics to this song of Cedric's are true, it might be best to never cross with the man. He might not be large of stature, but he can sure enough take care of his business.

14. Time To Let It Go: This is the set closer, and is the 3rd (and last) of the tunes featuring the Burnside/Malcolm instrumental switch. As usual, this track maintains its groove even with the acoustic instruments, and might just be the coolest song on the entire CD – which is saying something as this CD is full of great cuts.

The Verdict:
The style of music featured on this album can be very difficult to translate to CD, or any studio recording for that matter. Heard in a juke or at a festival, it can be almost transcendent. But when recorded, it can suffer from lack of energy. That being said, such is NOT the case here. This CD contains all the raw power, grit, menace, groove and vitality of the best of the Mississippi Hill Country musical style. Big Daddy Burnside, Junior Kimbrough and Othar Turner would be proud of what these two young men have put together. 2 Man Wrecking Crew – indeed! STLBluesometer rating = 4.50 – this one is all good!

Lee Howland, aka "East Side Slim"