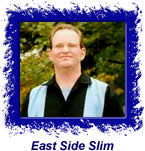 By East Side Slim
Magic Slim & The Teardrops – Midnight Blues
{Blind Pig Records, 2008}
Midnight Blues is the ninth release (including a best-of compilation and a DVD) by Magic Slim & The Teardrops released on the Blind Pig Records label. Seriously, there have been a lot of them, and this one is ranks right up there among the best of them. Magic Slim (born Morris Holt) is in his 70s now and is one of the last old-school Chicago shuffle-kings, but he can still burn through the blues like a man half his age when he wants to. He used most of his touring band in recording this CD, including long-time 2nd guitarist Jon McDonald and bass player Danny O'Connor, so you get the true Teardrop sound throughout these recordings.
Speaking of recordings, Midnight Blues was produced by Nick Moss. Nick is a familiar face and name to St. Louis blues fans. He records with his own band (The Flip Tops) and owns the Blue Bella record label out of Chicago. He's been producing artist for his own label's releases, as well as for other labels' releases, for some time now and he specialized in the old-school, no-frills, gut-bucket, butt-rockin' feel-like-you're-alive Chicago blues sound. Moss has definitely brought that sound to this new Teardrop release, and as if that weren't enough, Slim and Nick recruited a few special guests to add a little seasoning to a few tracks on the CD. The guests include James Cotton, Lil' Ed Williams, Lonnie Brooks, Elvin Bishop, Gene Barge and Otis Clay, and each man adds something special to their respective tracks, even while each track remains solidly a Magic Slim & The Teardrop performance. Now, on to the songs…
The Songs:
Let Me Love You -- What a great leadoff track to this CD! A ½ minute instrumental intro sets the stage to one of Slim's patented Chicago shuffles. You just gotta smile when you listen to this song!
You Can't Lose What You Ain't Never Had -- This song features the hurricane-force harp work of Mr. James Cotton! James can still blow a mighty harp and does so on this track. Slim and his Teardrops tackle an old Muddy Waters tune and do it justice. Picture yourself in a '50s Chicago basement blues club and you'll have an idea of what this song sounds like – deep blues!
Give Me Back My Wig -- A signature song of Hound Dog Taylor, done up here in the Teardrops style - how righteous it is! Slim brought in Lil' Ed Williams (Lil' Ed & The Blues Imperials) to play slide on this one. As Ed is one of the best (last?) practitioners of the Elmore/Hound Dog/Hutto school of Chicago slide guitar, his smokin' slide fits this cut like, well, a wig! Tight baby, tight!
Lonely Man -- The Teardrops cover a Little Milton Campbell song here. It's got the old Magic Slim sound, but the track didn't click with me all that well. Maybe it's mostly due to the strength of the 1st 3 tracks, or maybe it's the fact that Little Milton's music was less raw than Slim's. Whatever the reason, this one just didn't quite take off.
Spider In My Stew -- This song was written by the King of blues songwriters, Willie Dixon. What a fantastic legacy of great songs Willie left behind! This is a slower blues, with gritty guitar by Slim and perfect backing by the band. This song jells very well; pure ensemble Chicago blues (a Nick Moss specialty by the way.) As a bonus, Lonnie Brooks guests on guitar. Nice track!
Going Down The Road Feeling Bad -- Here's a loose-sounding take on an old traditional tune. This one takes you back to the countryside of Mississippi, back to the jukes. It's a quick shuffle with an old-timey feel, and is a lot of fun.
Full Load Boogie -- Yes it is! A full load of boogie, indeed. Just 2 ½ minutes of the band boogying and vamping, no vocals necessary. I think this song was custom made to get backsides moving out on the dance floor. I had to take time out from writing this review to get and shake my moneymaker some. Ahh, that felt good!
Crosseyed Cat -- Slim and the Teardrops take on another Muddy Waters tune here. Muddy featured it on his mid-70s Hard Again LP if I'm not mistaken. Slim changes it a bit, recasting it as a mid-tempo shuffle from Muddy's very hard electric blues. It doesn't have the same bite as Muddy's tune, but is a great song for dancing and carrying on, and pretty darn good for listening as well.
House Cat Blues -- I think we've got a theme going now, with two "cat" songs in a row. This song is an up-tempo jukin' blues. It's nothing fancy, just good old groovin', dancin' ensemble blues music made to make you feel good – which is a Magic Slim & the Teardrop specialty.
Carla -- Slim is slowing it down here for a nice change of pace after the last three up-tempo tunes. Needless to say, Slim's been waiting up on "Carla", late on into the night, and she just hasn't been coming on home… This song is raw and slow, but it sure sounds right.
Cryin' Won't Let You Stay -- The title might lead you to believe this is another slow one, but it's not. It's a raw jukin' mid-tempo shuffle, the kind of thing The Teardrops are masters of. This is a real good one, folks! You could imagine Slim playing this one for 25 minutes in a crowded club, with the dancers shaking and moving to the groove the whole time, never wanting it to end.
What Is That You Got -- The Teardrops are laying another slow blues on you here. It's all groove, trebly guitar lines, and Slim's impassioned vocals.
Loving You Is The Best Thing That Happened To Me -- The set ender is a Teardrop take on another Little Milton Campbell classic. They've kept the horns from the original version, which is a nice touch, but mixed them in with The Teardrops much more raw sound (Little Milton's music was much more "urban" in style than that of Magic Slim & The Teardrops.) It's definitely different from anything else on the album, but it's also a nice change-up from Slim's more typical shuffles and boogies. This song works better than their take on Milton's "Lonely Man", found earlier on the CD.
The Verdict:
I like this CD quite a bit and whole-heartedly recommend it to everyone. It's a nice move back to what The Teardrops do best. I didn't care much for Slim's last couple of studio CDs, which were produced by Popa Chubby. Chubby "updated" Slim's sound at times, which just wasn't necessary. Nick Moss was recruited to produce this new CD, and his sympathetic ear has brought Slim's sound fully back to the full-on electric Chicago blues – no dubbing, scratching, rapping or hard rock guitar, just 100% pure blues content. If you're planning a house party anytime soon make sure to include this CD among your music! On to the STLBluesOMeter rating; I'm giving this one a solid 4.50.

Lee Howland, aka "East Side Slim"