 By Cornbread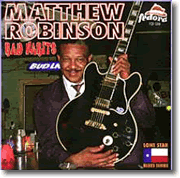 Matthew Robinson – Bad Habits
{1998 | Fedora Records}
Matthew Robinson, born February 27, 1948 in Austin, Texas. In '64 he and schoolmates formed the Mustangs (they had a huge hit – Tender Loving Care), which toured with James Brown, Jimmy Reed, Big Mama Thornton and Johnny Winter. Now over thirty years later Robinson gives us Bad Habits. After a couple of listenings, Cornbread says it was worth the wait!
Robinson describes his music as the result of the natural evolution of gospel, R&B, blues and the Texas sound he grew up around.
Matthew Robinson - vocals & guitar; Larry D.C. Williams - saxophone; Donald "Duck" Jennings - trumpet; Mickey "Tickey" Bennett - keyboards; Eddie James Stout - bass; and William Norman Fagen - drums
Track listings:

1. Got To Leave This Woman – a solid bass shuffle, organ highlights, sax throughout, and James Brown'esque vocals.

2. Mr. Pawnbroker – vocals are secondary, the guitar playing makes the song.

3. You Just Can't Take My Blues – man this is a great blues song, plenty of guitar and excellent vocals.

4. Sunday Morning Love – vocals are dominant and have a ton of emotion. It's a bluesy/jazzy combo with the guitar/vocals and backing saxophone.

5. Just Your Fool – another blues funk song. Blues funk don't you love it? I do.

6. I'm Gonna Stop You From Giving Me The Blues – good song, I can picture Tony T. doing this song and bringing the crowd to their knees.

7. Sugar Sweet – I liked the guitar solo.

8. Don't Lose Your Cool – a fast tune with a big band sound, really good guitar instrumental.

9. My Tomorrow – the guitar was blues at its best, the rest of the song was OK.

10. Give Me My Blues – lots of soul, "I can play a blues song all night long, some people seem to dig it y'all."

11. West Side Baby – I liked the organ playing, getting tired of hearing horn playing though.

12. Bad Habits – a rock solid blues shuffle and rock solid song. I liked this song.

As a side note for you instrument heads (I'm one of the biggest) - the guitar pictured on the album cover sure looks a lot like a B.B. King Gibson Lucille.
Bad Habits is a good CD, the vocals and guitar playing was right on, less horn and more piano or harmonica would'a been a good thing. Rating 3.977.

Ciao' for now, peace.
Peter 'Cornbread' Cohen, CBP

Email - Cornbread@STLBlues