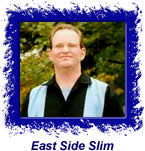 By East Side Slim
From the Inside Out by Michael Burks
– Vent Records, 1999

As those of you in St. Louis likely already know, Michael is in incredibly hard working blues guitarist/singer from Arkansas. From the Inside Out was Michael's first CD and it was released on the now-defunct Vent Records label. This CD is very difficult to come across, but well worth the effort involved in locating a copy.

It captures Michael's fire and soul better than his 1st two Alligator releases (in my humble opinion.) There were a lot of comparison of Michael to Albert King, especially early in Michael's career, and you can hear those influences on From the Inside Out. If an upcoming blues artist has to be compared to someone, Albert King is great artist to be compared to!

The songs:

1. Find Me a New Love – This kicks-off the album in overdrive. It's has a Texas shuffle beat with prominent B3 organ and Michael blazing on guitar.

2. From the Inside Out – The title track of the CD. A nice, moody, slow blues number, with percolating B3.

3. Talk to Me Baby – Not the Elmore James song of the same name. Back to an up tempo song again with a hard shuffle beat. It has very strong guitar work. You can envision the dancers all getting up and moving to this song!

4. Little Did I Know – Bringing the tempo back down, but there is a very intense mood/feel to this track. The B3 rises and falls, building tension throughout the song, with Michael punctuating the proceedings with short bursts of notes. Close your eyes tilt your head back and enjoy! The song ends much too soon at just over 4:00.

5. Lyin', Cheatin' & Sneakin' – Very similar to Tyrone Davis' "Turning Point" musically. The song has a nice funky groove and wah-wah rhythm guitar by Michael. This is Michael's version of the old "cheatin' song". He came home early from work one day only to find….

6. Play Hard For My Money – This is not one of the strongest tracks on the CD. The vocals seem a bit subdued somehow. That being said, Michael's typically fearsome guitar work is present.

7. Lonely Heart – Another one of the slower, moodier tracks that Michael really excels at. These types of songs allow his fine vocals to take center stage. This track is reminiscent of a B.B. King slow boiler, with loads of single note fills on guitar.

8. Nothin' Else to Do – A mid-tempo track that is very much a showcase for Michael's guitar. You can hear the Albert King influence very strongly on this track.

9. Can You Feel It – An incredible slow blues tune with very prominent B3 work. This track is still in his live show to this day, and it is a show stopper. If you don't "feel" this track, there's a hole in your soul! Like many of the songs on this cd, it ends much too soon. When performed live it can easily stretch out to 10 or 15 minutes in length.

10. Too Hard to Please – This track kicks off right up in your face and never lets up. It's full of gritty, growling guitar work. Michael pulls out all the stops on this track. Can you smell his fingers burning?

11. Jammin' at the Wheel – A set ending instrumental jam track. Michael is tearing up the fret board and the B3 gets some tasty solo space as well.

The Verdict:

You will hear many standard or familiar blues song structures on this CD. Michael performs them all with great intensity and fire, making this album a definite keeper. Fans of B3 organ will also take a liking to this CD. It's like Albert King rose from the grave at times, although Michael is definitely his own man. Let's go with a rating of 4.5 for From the Inside Out.