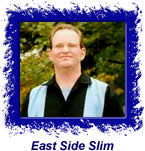 By East Side Slim
Bud Summers – Golden
Self Released, 2008
Mr. Summers is a St. Louis-area guy, most likely from the East Side. There's sure nothing wrong there! His personal web site describes Bud having a very nice music pedigree, including a B.A. in music performance-classical guitar from SIU-Edwardsville.
This CD was a tough one for East Side Slim to review, as far as blues, or even bluesy content, is concerned. Bud just isn't a bluesman. The majority of the songs fall into Adult-AOR, soft jazz and progressive rock. Bud isn't a particularly strong singer, with his voice becoming obtrusive on some of the songs – especially the prettier ones. Most of the tracks on this CD feature acoustic guitar work over a synthesizer-produced bed. A few tracks do utilize a band format featuring live (real) drums and bass. For purposes of the STLBlues.net fans, I'm going to review only the songs with at least a somewhat bluesy feel.
The Songs ---

Freeway Ride: This tune is an acoustic guitar-driven blues rock song
Now You're Gone: This song is basically a hard rock tune with a bit of a bluesy edge.
Mail Man: Blooze rock (yep, the "oo"'s apply). This one is acoustic guitar-driven, with a synthesizer solo?!?!
Don't Bother: This is a nice little blues rock tune, which contains some electric slide work – not the "dance", but guitar work. Bud was on to something here, and I would really enjoy hearing him play more tunes in this vein.
The Verdict: Mr. Summers is an accomplished guitarist, and if your musical tastes veer more toward soft jazz or prog rock, you will likely enjoy many of the songs on this CD. Unfortunately for blues fans, there just isn't a lot of soul, or grit in these tunes. If you're a fan of blues and soul music, "Golden" just isn't the disc for you. STLBluesometer rating = 2.0, due to very little bluesy content on this recording.

Lee Howland, aka "East Side Slim"