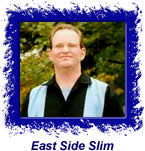 By East Side Slim
Murali Coryell – The Same Damn Thing
Murali's Music Records, 2008 (self release)

If Murali Coryell's name seems familiar to you, it should. Murali, who is the son of jazz fusion guitar legend Larry Coryell, has been acclaimed by several journalistic outlets as one of the most soulful singers working today. Murali's 1st instrument of choice was drums, but made the inevitable switch to guitar at a young age. Inevitable, as both his father and his brother were already playing guitar. In order to avoid competition with Dad and brother, who were playing jazz-based styles at the time, Murali perfected his own eclectic style of blues and soul guitar.

It's been said of Murali's father (Larry Coryell) that he is a true eclectic, possessing amazing technique and able to play with comfort in most any musical style he chooses, from loud, distortion-heavy rock workouts to delicate, gentle acoustic guitar. Well, the very same statements can be applied to the music of Murali. He also possesses amazing technical abilities on guitar, rarely overplaying. Murali is very much his father's son musically as far as eclecticism and ability are concerned. He's just chosen to follow his own muse with the types of music he tends to play and to record.

Here are a few items of note concerning Mr. Coryell (Murali that is.)
• Murali, who will turn 40 in October of 2009, earned degrees in music theory and composition while in college.
• His latest CD, The Same Damn Thing, has been entered for Grammy nominations in 2 categories: Best Contemporary Blues Album and Album of the Year.
• His album "2120" was the 1st album released on the Czyz Records label. The label was formed by Marshall and Kevin Chess, who are the sons of Chess Records owners Leonard and Phil Chess, respectively. For those of you interested in this sort of thing, Czyz is a close approximation to the family's original Polish surname that became Anglicized into Chess when the family immigrated to the United States.
• TRIVIA: what does the title of Murali's album "2120" refer to? No googling it, either!

The Songs:

1. In The Room With Jimi: This song is pretty firmly rooted in the "jam band" camp. It's definitely bluesy, but it isn't blues. I enjoyed the melody but the lyrics become a bit monotonous by the track's end. The song might have been better served if it would have been performed as an instrumental.

2. The Same Damn Thing: This song will definitely appeal to STLBlues.net users, especially if they dig old Fab T-Birds material, or the work of Mike Morgan or Doyle Bramhall. Murali's voice is very expressive here (he's coarsened it up, well, down) and he plays with a warm guitar tone. This tune will make you smile – and will make you wish you were cruising down the road in a convertible!

3. The Blues Is Taking It's Place: This cut is a contemporary blues track that certainly would be embraced by the jam band crowd. It's got a funky bass line and Murali's lead work is very crisp, very clean. He also played rhythm guitar here, which maintains that Texas feel heard on "The Same Damn Thing", although the feel here is a little cleaner through most of the track.

4. I Just Can't Stand It Anymore: This song is much more of a pop/jam kind of thing. The guitar work is excellent, but as in track #1, the lyrics become a little monotonous as the song is long (5 ½ minutes.)

5. Way Too Expensive: Ahhh, back to Texas roadhouse blues… Murali performs this style extremely well. His rhythm work is so nice, and his coarsened voice sounds like a natural fit. When he plays lead things really get cookin'… the man can play that guitar. This is a very good cut!

6. Standing The Test Of Time: This song is much more contemporary in style. It's very funky, almost urban R&B rhythmically, but the guitar lines stay bluesy throughout. Not for blues purists, but if you like funky, "jammy" stuff you will enjoy this song.

7. Calling From Another Place: Well, there's no blues (or bluesy content) here. This is pretty firmly in the contemporary urban R&B vein. This one's kind of lost on me, although Murali's vocals on the verses are extremely soulful.

8. Please Please Baby: Please, please, back to the blues… yep, this is the ticket! This song is most definitely in that Texas style Murali excels at so much (OK, I admit it. This author is a died-in-the-wool shuffle-head.) This track is a little heavier than the earlier tracks played in this style, but it's all good. Murali's vocals on these kinds of tunes remind me of somebody… maybe Lee McBee in his early days with Mike Morgan? Nice track – think Mike Morgan meets early Chris Duarte!

9. You're The Only One: This song starts off with a very nice solo into, then moves into a contemporary R&B/bluesy hybrid of sorts. Murali plays two distinctively different guitar parts: an overdriven modern blues lead, and a much cleaner rhythm guitar line. I really didn't care for this song the 1st time I heard it, and am still not crazy about the vocal/lyric, but I enjoy the melody quite a bit.

10. Fun (Gonna Have A Good Time): The name of this song says it all – this is just good old fun track. It's built around a VERY cool rhythm guitar groove; Murali plays amazing rhythm guitar lines. This song is fun to listen to and allows Murali and his band to, well, have a good time!

The Verdict:
This CD turned out to be one of those that took me multiple listens in order to get my ears around it. With apologies to Murali and his band, I just didn't care for some of it at first. The CD is very eclectic, moving among several styles, sometimes within the same song; it is blues, jam band, urban R&B, and soul. I really dug the Texas-bluesy-roadhouse tracks; they're very, very good.

I'm a pretty opened-minded music fan as a rule, so I'm not sure why I took so long to come around here. With each listen I began to take to more of the tracks on this album, especially as I listened to Murali's rhythm guitar work. You know, you can have all the fancy lead guitar work in the world going on, but it there's not some solid rhythm playing of some sort going on (guitar, organ, harp, piano - whatever) it's all just noodling. I can honestly say now that I enjoy the majority of the songs here, and I think you will, also - if you listen to this CD with open ears. Blues purists, if you can't do that then you should probably pass on this one. STLBluesometer rating = 3.5

Lee Howland, aka "East Side Slim"