 By Cornbread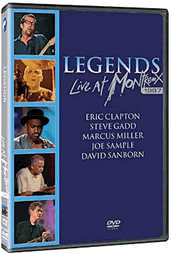 Legends Live at Montreux 1997
{Sept. 6, 2005 | Eagle Vision}
Since it's start in 1967, Switzerland's Montreux Jazz Festival has been the host to many timeless performances that will always be remembered. For me, this DVD featuring the 1997 collaboration between guitarist Eric Clapton, bassist Marcus Miller, drummer Steve Gadd, pianist Joe Sample, and saxophonist David Sanborn is one such performance. Somebody pinch me I must have died and gone to heaven.
As you'd expect Clapton brought his deep blues influenced guitar and vocals to the groups jazz stylings. So it was bluesy jazz funk or would that be funked-up jazzy blues? Call it what you want – I liked it!
While I prefer the songs with Clapton singing, the jazzy instrumentals included a bluesy and even funky feel (c'mon, Marcus on bass – poppin' and thumpin', what would expect). Much like M-TV's unforgettable acoustic version of Layla, this performance was equally great.
The songs on this DVD are:

1. Full House
2. Groovin'
3. Ruthie
4. Snakes
5. Going Down Slow
6. The Peeper
7. In Case You Hadn't Noticed
8. Third Degree
9. First Song/Tango Blues
10. Put It Where You Want It
11. Shrevport Stomp
12. In a Sentimental Mood/Layla
13. Every Day I Have the Blues
While I personally did not get to see this live, the DVD will have to suffice. With Christmas right around the corner get this DVD for that music lover on your list. Five outstanding musicians with followings of their own, coming together for a superb performance – it just doesn't get any better than this!
Ciao' for now, peace.
Peter 'Cornbread' Cohen, CBP
~ Cornbread@STLBlues.net ~