 By Cornbread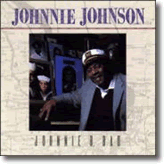 Johnnie Johnson – Johnnie B. Bad
{1991 | Elektra Entertainment}
Recorded at Ultrasonic Studios, New Orleans, Louisiana November & December 1990 and Sorcerer Sound, New York January 1991.
This is the first solo album by the 67 year-old Rock-and-Roll Hall of Famer, Johnnie Johnson. Johnnie delivers 44 minutes of piano boogie-woogie blues served up St. Louis style.
Personnel: Johnnie Johnson (piano, vocals); Eric Clapton (guitar on Creek Mud and 1st solo on Blues #572); Keith Richards (guitar, vocals on Tanqueray and Key To The Highway), Steve Ferguson (rhythm guitar on Creek Mud and 2nd solo on Blues #572, lead guitar on others), Al Anderson (guitar, vocals); Terry Adams (harmonica on Fault Line Tremor); Michael Ray (trumpet on Cow Cow Blues); Bernie Worrell (keyboards, background vocals on Tanqueray and Key To The Highway); Joey Spampinato (bass, background vocals); Steve Jordan (drums, background vocals on Tanqueray and Key To The Highway); Tom Ardolino (drums); Bernard Fowler (background vocals on Tanqueray and Key To The Highway).
Pull up boogie-woogie in the dictionary and you'll find: A style of blues piano playing characterized by an up-tempo rhythm, a repeated melodic pattern in the bass, and a series of improvised variations in the treble. Think good ol' Webster was listening to Johnnie Johnson when he wrote that definition?
12 Tracks:

Tanqueray – fastly becoming one of Johnnies staples when performing live. The guitar solo is fairly mellow in comparison to other Keith Richards electric riffs. Rumor has it Keith Richards located Johnnie for the Hail Hail Rock n Roll documentary, introduced him to Clapton, wrote this song with him and vwallah we get the second coming of Johnnie Johnson, this time and never better as the leader of the band.

Hush Oh Hush – the highlight of this song is Al Andersons low vocals, a bit raspy and very bluesy.

Johnnie B. Bad – a faster, swingin' blues instrumental song, with plenty of guitar and piano. Go Johnnie Go.

Creek Mud is another instrumental this one with Eric Clapton on guitar.

Fault Line Tremor – an up tempo instrumental with bizarre percussion.

Stepped In What? – my guess is this is JJ's attempt at a humorous party song.

Can You Stand It – reminiscent of a 50's sound, try and keep from tapping your feet, bet you can't.

Key To The Highway – covered by Eric Clapton, Derek & the Dominoes, Bob Dylan, Steve Miller, B.B. King and many others I'm sure. This time KTTH is served up JJ style with some piano blues and jive thrown in for added flavor.

Blues #572 – Blues 572 or 573 whatever it takes. Excellent guitar, would have liked vocals, yes another instrumental.

Baby What's Wrong – I liked this song, good vocals, guitar solos and piano.

Cow Cow Blues has horn horn, I guess you'd call a cow with horns a bull. Cow squared is the 5th instrumental, but hey who's counting?

Movin' Out – yes kids another instrumental.
A very good CD and a requirement for all St. Louis blues fans. Tangueray and Hush Oh Hush are the two best songs on the CD. Six instrumentals, that's a bit much, every blues CD should have one or two, but not half the songs. I happen to like Johnnies vocals. Keith Richards and Eric Clapton have great vocals and would have been a welcome addition to some of the music only tunes.
Rating 3.6
Ciao' for now, peace.
Cornbread