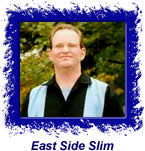 By East Side Slim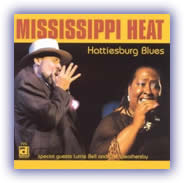 Mississippi Heat – Hattiesburg Blues
Delmark Records, 2008

Pierre Lacocque, the leader of the band, is an interesting cat, besides being a master harp player from the Walter Horton school of playing. Pierre born in Israel of Christian Belgian parents, moving to Germany and France at an early age, returning to the family's native Belgium by the age of 6 (around 1957.) Pierre's father (a Protestant minister and eventual world-famous Old Testament Biblical scholar) enrolled Pierre and his siblings in a Jewish Orthodox school in order to learn of the Jews suffering and about Judaism in general, including its philosophy and theology.

At night Pierre listened (quietly!) to the radio, becoming exposed to African-American artists such as Ray Charles, Otis Redding and Aretha Franklin, instilling in Pierre a love of R&B/Soul/Blues music. Eventually, the family moved to Chicago for his father's career (1969 timeframe) where Pierre heard for the 1st time real blues music – and he was hooked, especially after attending a concert where the harmonica player happened to be Big Walter Horton. Pierre was around 16 at this time. Immediately after this concert learning the harp become an obsession for Pierre, with it being usual for him to practice 6 hours or more a day.

Around 1970 Pierre moved to Montreal to attend college, and here he joined his 1st blues band. He stayed in Montreal for 6 years, going to school and playing in bands at night, but at 24 years of age he moved back to Chicago. He chose to go the "intellectual route", furthering his education and working as a clinical psychologist in order to support his family, foregoing the music he loved so much. But, around 1988, the continual tug of the music became too much to ignore – he realized he missed playing the blues. So, at 36 years of age, he began playing out again, eventually forming Mississippi Heat around 1991-92 with Bob Covington, Billy Flynn, James Wheeler and Bob Stroger. From the start the band had an emphasis – or mission, really – of resurrecting the vintage 1950s-style ensemble blues band sound.

Mississippi Heat has had a constantly revolving membership - other than Pierre Lacocque. Past members of the group include: Robert Covington, Billy Flynn, James Wheeler, Bob Stroger, Deitra Farr, Allen Kirk, Mary Lane, Zora Young, and Barrelhouse Chuck – pretty much a who's who of contemporary Chicago blues. The band has been releasing albums on several different labels since the early 1990s. They released CDs on the Van der Linden label through most of the 1990s, moving to Crosscut in 2002 for a couple of releases, then to Delmark in 2005. "Hattiesburg Blues" is the band's 2nd release on Delmark.

The Songs --

1. Tiger Man: Nothing but straight ahead ensemble blues heard here – as it should be! This is a great shuffle tune with fun double entendre lyrics. Inetta Visor's vocals here remind me very much of Katie Webster in her swamp boogie queen mode. That's meant as the utmost compliment, as Katie was one of my favorite artists (RIP). Oh, and the harp playing is mighty fine, too!

2. Chicago Is My Home: This song features a guest spot by Lurrie Bell on vocals and on lead guitar. Lurrie has been a member-emeritus of Mississippi Heat for years and was brought into this project to contribute to this song and to "Gone So Long". This song is a strong shuffle very much in the style of Magic Slim. While at first listen it might sound like there isn't that much going on, open your ears wide-open and give a listen to all the musicians. Perfect ensemble blues – you don't notice everyone because the whole sounds so fine!

3. Forgot You Had A Home: This one is a slow, simmering blues featuring Inetta on vocals again, still sounding like Katie Webster with maybe a little Irma Thomas thrown in for good measure. Pierre uses his harp more like a horn, both as a solo instrument and as a rhythm instrument. In addition, there's a full horn section used on the track. This is a nice change of pace and a very solid tune in its own right.

4. How Much Worse Can It Be?: This is the first of several tunes on the CD bearing a marked Latin influence – possibly due in part to the fact that Pierre has been married to a Cuban-American woman for 30-some years. You've got a nice rumba groove going on, with Latin percussion (courtesy of guest Ruben Alvarez) really spicing up the mix. There's some very nice harp work to be heard here, understated, always in control, but with killer tone! Giles Corey's lead guitar work is a lot of fun to listen to here as well. Corey is the band's actual guitar player on this album, and his work is good enough that neither Lurrie Bell nor Carl Weathersby really needed to be brought in. I think we'll be hearing more from this bluesman, as he's also a great vocalist (check out track 11 – "Say Something Good".)

5. Soft-Hearted Woman: We've got a nice mellow shuffle here, one of those gentle tracks that just makes you feel good while listening to it. Of course, the lyrics are deceptive as they are anything but gentle in meaning - sweet and sour chicken is similar that way…but I digress. Inetta is telling her no-good man to take his bags on out of her door to never return. Again, you hear the great tone Lacocque has on harp; he plays mostly in the background here. He really is a master player.

6. Hattiesburg Blues: This is the 2nd Latin-influenced song on the CD. Frankly, it's very cool! The harp is playing parts you could just about hear a trumpet or accordion playing, and Inetta does a very nice job with the vocals. Turn this up loudly enough to be able to hear all the little percussion touches – it'll be worth the ire of your neighbors – cha cha cha.

7. Gone So Long: This song is the 2nd feature for Lurrie Bell, although the piano player (Chris "Hambone" Cameron) pretty much steals the show. Lurrie's voice is beginning to sound more like Magic Slim's or like Lurrie's father's (Cary Bell) as he gets older. This is a quick shuffle with stinging guitar, barrelhouse piano, and chugging rhythm harp. Enjoy – I did!

8. Light From Within: The band is slowing things down here a little bit, playing another slow blues anchored by Inetta's vocals. She really shines on this sort of tune as her voice is very expressive. There have been a lot of women vocalists come through Mississippi Heat's line-up over the years, but I think Ms. Visor might be the best - or at least the best match - yet. This song also features a wonderful harp solo from Pierre near the 3:30 mark; he reminds me very much of Walter Horton style-wise. Walter Horton was The Man on harp; don't let anyone tell you differently.

9. Calypso In Blue: Needless to say, this is the 3rd Latin blues on the album, but this time it's an instrumental track. It is a calypso-style tune for sure, and it features the organ and harp. Listen to the very cool unison playing that occurs with harp and organ near the beginning of the song; the harmonics of the dual sound gives me chills! I sure wish I could play harp like this guy… After some dual playing each player, as well as the other band members, are given solo runs of their own. This song could go on for 15 minutes and remain fresh sounding. Excellent!

10. Hell And Back: This song is of a more contemporary blues variety, with the vocals and lead guitar taken by guest Carl Weathersby (he play rhythm or lead on every track on this CD.) He employs a stinging single-note style of playing, and is a fine singer. Carl's been making his own albums for years, and has been a frequent contributor to Mississippi Heat's work. Frankly, I think he sounds at his best when playing with 'Heat, as the band members are incredibly talented and are very sympathetic players – they help to pull out Carl's best work.

11. Say Something Good: On this song, band guitarist Giles Corey takes the lead vocal, and takes it very well! As stated earlier in this review, Corey is a talent to keep an eye on. This tune has a sort of funky southern feel in the vein of a BobbyRush number, only with a tougher, rawer edge to it thanks to Corey's tough guitar work. Pierre really shines on harp here, too, both on lead and on rhythm. He's an expert rhythm harp player, which has become sort of a lost art over the years.

12. Foolish Man: This song is B.B. King-styled tune, with guest vocals by Devin Thompson and guitar solos courtesy of Carl Weathersby. The song has nice dynamics, passionate singing, cool horn charts and gurgling organ. It really reminds me of something Weathersby and Billy Branch would have done back in the day with their S.O.B. (Sons of the Blues) band. This is a good tune.

13. Nature Is Cryin': This set closer brings Inetta Visor back to the vocal chair, singing a message song about the how mankind is destroying the planet. Years ago message songs were very common in blues music, but after the mid 1950s or so they become much less common, falling out of fashion to feel-good danceable music. The musical backing to this song is in a funky blues style with bleating horns, electric piano (or clavinet?), and a head-bobbing beat. I love the clavinet – remember Stevie Wonder's funky early to mid 1970s songs, such as "Superstition"? That's clavinet!

The Verdict:
I've been listening to Mississippi Heat's music for years now, and I honestly think this is their best album (CD, record, whatever…!) Bandleader Pierre Lacocque always emphasizes an ensemble sound, and he's achieved it on a grand scale with this CD. In addition, it contains the usual high production values associated with Delmark releases – it sounds great! The guest players, such as Lurrie Bell, Carl Weathersby, Rubin Alvarez and Devin Thompson, all add their own special talents to the project, without taking away from Mississippi Heat's band mission.

Pierre Lacocque is one of the best harmonica players in the world and should really be better known, but he's not a flashy player as a rule so maybe that prevents him from attaining more notoriety. His playing is in a style similar to players like Big Walter Horton and Lee Oskar – tone is king, rather than flash and volume. I can't sign-off without mentioning the vocal work of Inetta Visor. She's an incredible vocalist, with a definite resemblance vocally to Katie Webster. Mississippi Heat has almost always featured female vocalists, and Inetta might be the best of the bunch; she a good 'un! Well, it' time to rate this album - I'm giving this one a 4.00 on the STLBluesometer.

Lee Howland, aka "East Side Slim"