 By Cornbread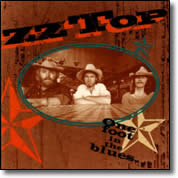 ZZ Top – One Foot In The Blues
{1994 | Warner Brothers}
ZZ Top, the down 'n' dirty Texas blues-rock trio dishes up some of their older bluesier songs on this 17-track collection. My favorite songs are "A Fool For Your Stockings", "She Loves My Automobile" and "My Head's in Mississippi".
The CD is chocked full of classic Billy Gibbons electric guitar riffs you'd expect from ZZ Top. The rhythm section; bassist, Dusty Hill, and drummer, Frank Beard continues to provide the boogie blues feel consistent with every ZZ Top recording. I found the CD very foot stompable, in fact I cranked up the stereo to an enjoyable high decibel level and forgot my own sorrowful blues.
ZZ Top formed in 1969 as Gibbons' psychedelic blues band, the Moving Sidewalks was crumbling. Billy hooked up with Beard and Hill, who had played in the band American Blues.
Some of these songs date back to the good ol' early days of 1972.
1. Brown Sugar – I would easily describe this as red-hot Texas blues.

2. Just Got Back From My Baby's

3. A Fool For Your Stockings – If it's possible for ZZ Top to have a slower song I guess this would be one. Dominant beat and bass shuffle.

4. I Need You Tonight – crosses the line to pop rock, from the Afterburner era.

5. She Loves My Automobile – great head bobbin' tune. Sounds like the guitar is straight into the amp, it's clean and I like it that way.

6. Hi Fi Mama – a bit on the funky Little Richard side.

7. Hot, Blue And Righteous – excellent slower track with great harmonies.

8. My Head's In Mississippi – "the blues has got ahold of me, I believe I'm getting dizzy."

9. Lowdown In The Street

10. If I Could Flag Her Down

11. Apologies To Pearly – fast paced instrumental, I was not familiar with this tune, it's good one.

12. Sure Got Cold After The Rain Fell – long distorted notes and outstanding emotion in vocal.

13. Bar-B-Q

14. Old Man – excellent song, excellent lyrics.

15. Certified Blues – similar in sound to cheap sunglasses.

16. 2000 Blues – this would be their interpretation of blues for the new Millennium.

17. Heaven, Hell Or Houston – ask a Texan and they'll tell they are all one in the same, at least two out of three.
You get a lot of music from this three-piece band, but being Texan's what else would you expect. Oh, everyone of these is original too!
This "little ol' band from Texas" known for their spicy-hot Texas boogie has never forgotten the blues over their thirty plus years of cranking out hits or being inducted into the Rock n' Roll Hall of Fame (1994).

In 1988, they began raising money for a Delta Blues Museum in Clarksdale, Mississippi. Check it out: deltabluesmuseum.org
According to the STLBluesometer the rating is 4.317.

Ciao' for now, peace.
Cornbread