 By Cornbread


Jas. Mathus & Knockdown South –
Old School Hot Wings
{2006 – 219 Records}
James (Jimbo) Mathus, the side-man of legendary Chicago Blues Great, Buddy Guy appeared on Buddy's 2001 Grammy Nominee, Sweet Tea and 2004 Grammy Nominee, Blues Singer.
Old School Hot Wings is a Country Blues CD and a darn good recording! Jimbo's CD will take you back to his home of Mississippi, to a simpler time when mountain men would make their own instruments. Listenin' to it took me back to the Delta, sittin' round the porch drinkin' a lemonade from a mason jar with a bit of my favorite Tennessee black label added for flavor. Note: not that I've ever done that, but if I did I imagine that's what it would be like. Old School Hot Wings adds elements of cowboy Gene Autry and highwayman Johnny Cash. This CD is "roots" as it gets.
Instruments used on this recording: guitar, kazoo, bass, mandolin, dobro, tub, snare, piano, tuba, typewriter, train whistle, washboard, lap steel guitar, fiddle, banjo and drums.
The tracks are:
1. Voice of a Pork Chop
2. Ben Dewberry's Final Run
3. Peaches
4. Tappin' That Thing
5. Bullfrog Blues
6. Old Rugged Cross
7. Carrier Line
8. Dixie
9. Torture Blues
10. Wouldn't Treat A Dog
11. No Monkey Business
12. Bright Sunny South
Total Time 50:51.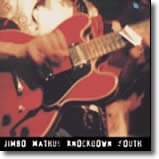 Jimbo Mathus Knockdown South
{2004 – Knock Down South Records}

I was lucky enough to see Jimbo open for Buddy Guy at the The Roberts Orpheum Theater 9/9/05. I was easily impressed with this casual, guitar-slingin' blues man. He played an old Gibson with his dog Sue on the stage. His style was electric delta with southern soulful vocals. Every song provided an opportunity for a guitar solo.



The tracks are:
1. Crazy Bout You
2. Hypmotized
3. Let Me Be Your Rocker
4. Boogie Music
5. Skateland Baby
6. Mule Plow Line
7. Loose Diamonds
8. Be That Way
9. State Line Women
10. Rolling Like A Log
11. Loving Arms
12. Asked My Captain

Total Time 52:38.

This CD has hints of classic/psychedelic rock – and I really like it! Of the two CD's I preferred Knockdown South, for the most part it was almost Jimi Hendrix like, song 5 was more like Bob Dylan and #6 sounded like Cream – Hendrix, Dylan and Cream, how's that for a combination. Visit Jimbo on the web at www.jamesmathus.com.

Ciao' for now, peace.
Peter 'Cornbread' Cohen, CBP
~ Cornbread@STLBlues.net ~