 By Cornbread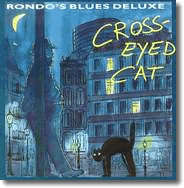 Rondo's Blues Deluxe – Cross-Eyed Cat
{recorded in 1991 in Volendam, The Netherlands |
Timeless Records}
Rondo • Vocals, Harmonica, Percussion
Dennis 'Chicago Slim' Lansing • Sax
Jack Inglis • Keys including a Hammond B-3 organ
James Connor • Drums
Craig Thornton • Bass
Rich McDonough • Guitar
This is Rondo's 2nd CD and one of the best CD's I've heard from a St. Louis band! Excellent. - Cornbread
This effort was the result of a last minute invitation to substitute for Oliver Sain and band, it caused a mad panic to get passports and make arrangements to get these six musicians from St Louis to Amsterdam, on barely a three-day notice. Well, they got there. They played and were invited by Timeless to record a CD. We get ten songs, all covers (including songs of Muddy Waters, Robert Johnson, Willie Dixon, Elmore James, Albert Collins and others). All tracks were all first cuts and the album was recorded in one day.
1. Cross-Eyed Cat – some piano, tasty sax solos, even some hummin' and Hammond B-3 towards the end. Whatta combination, whatta song.

2. Black Nights – slow rooty vocals.

3. I've Got To Leave This Woman – a bit faster than the others, has a good beat. I really liked the Hammond backing.

4. Dust My Broom – an excellent bluesy shuffle with great guitar playin' (McDonough) and some piano boogie-woogie. Personally, I'd like to hear more guitar like this on the other songs.

5. Give Me An Hour In Your Garden – blues served up St. Louis style at it's best. Wow!

6. It Hurts Before You Heal – reminiscent of a slow almost Joe Cocker'ish song.

7. The Same Thing – man, this song is tight, killer classic Rondo vocals with a dab o' piano.

8. Three Hundred Pounds – this song is all about the motion of the ocean baby.

9. It Hurts Me Too – slow, in your face intense blues.

10. B Flat Minor Blues – bluesy vocals, blues guitar. An excellent track, I'd like it called Cornbread's song!
OK y'all this makes for darn good listenin' and should be a staple of St. Louis Blues aficionados and blues fans globally. You won't find the rawness and abundance of "say yea" as you would on their live CD, this is 60-minutes of excellent blues, and I really liked this recording. Buy the CD! Rating 4.75.

Ciao' for now, peace.
Cornbread
Cornbread@stlblues.net